Let's Save Some Money: The Eat from the Pantry and Freezer Challenge!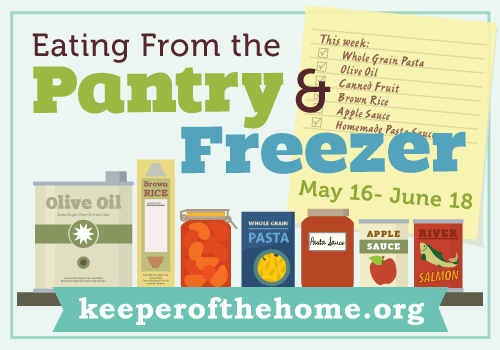 Would you like to join me in saving literally hundreds of dollars on your grocery bill over the next month?
It's time to eat from our freezers and pantries!
The impetus for this challenge was the fact that each summer I save up extra cash for purchasing fresh, seasonal fruit and vegetables for preserving.
And maybe also the fact that my pantry and freezer are both in need of a good cleaning. An actual scrub down, yes, but also cleaning out foods that we have in abundance, rather than continuing to go to the store every week or two to add to ALL the food that we already have. Have you ever wondered exactly how much food is hiding in your kitchen? 
Here's the plan:
Wednesday, May 16th- Challenge launch date (get ready, get set…)
I'll kick things off and share a bit about my own process and goals next Wednesday, and welcome you to share your goals as well.
This launch date will give you a few more days to figure out what you have on hand and get those meal plans ready to go for the following Monday.
Monday, May 21- GO!!! Eating from the pantry and freezer commences.
I'll share my own meal plan for the first week of the challenge, and open a link-up for you to share yours as well. I'll be tracking how much I spend each week of the challenge, and it would be great if others shared their financial goals and spending as well!
Each Monday from May 21- June 11 (4 weeks in total), I'll be posting my meals plans and sharing my progress and you'll be able to check in and do the same.
How to join in with the challenge
What you need to do between now and May 21st:
Decide how much money you want to save and how long you think you'll do the challenge for. I'll be at it for 4 weeks and you can join in for a little or as long as you want.
Do a detailed inventory of your freezers, pantry and fridge
Write up a meal plan for at least the first week of the challenge
Make a short list and purchase any fresh foods you need to complete your meals (I'll still be buying eggs, dairy and fresh produce during the challenge)
If you need extra help, particularly with the inventories and the meal planning, download a copy of my book Plan It, Don't Panic: Everything You Need to Successfully Create and Use a Meal Plan. It includes printable planning pages (for inventories, meal planning, and grocery shopping), as well as plenty of tips for taking inventory of your food and (of course) on how to make and use a meal plan.
During this month-long challenge, I will be putting all of my ebooks on sale. Use the coupon code CHALLENGE25 to take 25% off any single ebook, OR use code BUNDLE50 to buy all 3 of my ebooks at 50% off!
Sound like fun? I love the chance to clear out my kitchen, make good use of the food that we have, and save a lump sum of cash while I'm at it.
Will you join me as I eat from my freezer and pantry?