Real Food Makeover- The Anderson Family, Pt 2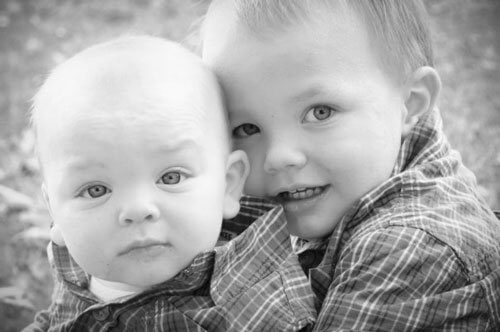 This is a continuation of last week's makeover for the Anderson family.
This week I want to share a sample menu plan. It won't look quite as specific as the menu plan for the W family, because mom Andi is already a regular menu planner and has certain meals/themes that she uses each week, so instead I'm going to make a lot of overall suggestions.
In the first post, I discussed how her biggest priority is to make things that will help her husband with some health problems and to be able to lose some weight, but also that he will like. He really wants to be on board with making healthy changes, but finds it hard to change his food preferences. My suggestions are geared towards helping her to help him change what he eats, in a very manageable and gradual way, so that the changes will stick rather than be thrown out the window.
A Sample Weekly Meal Plan
Breakfasts:
The family sticks with a regular breakfast schedule each week, so I'm going to simply suggest some small ways to change and improve it.
Mon-Thurs: Cold cereal with milk, and a bread item (toast, bagel, etc.)
Friday: Biscuits and gravy
Saturday: Go out for breakfast wraps every other week
Sunday: Eggs, toast, hashbrowns, sausage/bacon
There are a few things that can be done here. The first is to simply add/substitute some other foods, while keeping this basic framework in place. A few good changes to make would be:
Try making a homemade granola and substituting that for store bought cereal a couple times each week. Here are a few recipes that might work well. This is the soaked granola recipe that we enjoy, but there are lots of granola recipes out there. Also, see my discussion on buying cold cereals.
Add more protein to the M-Th breakfast- peanut butter or almond butter on toast, a hardboiled or fried egg, a small bowl of yogurt, some cheese, etc. This helps to balance out the blood sugar high from all the carbs, and filing up more on protein might help to slowly decrease how many carbs are being consumed.
Try adding a piece of fruit or a simple fruit smoothie each day. It can be something as easy as an orange or a couple slices of melon. The fruit smoothie could be some plain yogurt, frozen or fresh berries, a banana and some honey.
Fridays could easily be improved by adding some protein as well, like eggs or breakfast meat. An omelet would be a great addition, with one or two finely chopped veggies (peppers, mushrooms, asparagus, zucchini, or even just herbs).
Instead of going out for breakfast wraps, make them yourself! We love to make these using sprouted or whole grain tortillas, scrambled eggs, boiled potatoes, grated cheese and salsa or sour cream (or both).
For any of the weekend breakfasts, a dish like Baked oatmeal might be a tasty way to try to add some variety. If the family really doesn't like the soaked version, you could try it unsoaked like this instead.
Another way to substitute the cold cereal/toast routine is with hot (soaked) oatmeal . Try it just once a week, add lots of nice toppings to it to make it appealing (milk/cream, honey, dried or fresh fruit, nuts, etc.), and see how it goes!
The other way to improve upon breakfast is to improve specific ingredients that are used (the type of bread, eggs, milk, etc.) but I will get into this in a few moments.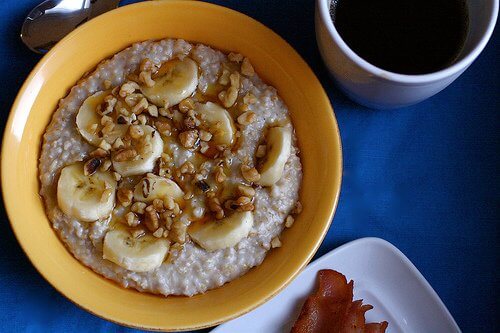 ;
Lunches:
Andi makes bagged lunches for her husband each day (good for her!). He's a man who likes routine, and his standard lunch is a PB sandwich, some crackers or chips, and a banana.
The main problem with this lunch (especially for him) is the predominance of carbs and the lack of protein and more nutrient-rich foods. I would start to slowly change this by choosing one aspect of the lunch at a time. Don't try to change the sandwich and the chips and the banana at the same time, but pick just one element.
If it's the sandwich, try different ingredient combos. Perhaps meat and cheese with mayo and lettuce, or a wrap with shredded chicken. Last week I linked to some fun sandwich variations in the Lunch discussion. These might inspire, and hopefully you can come up with some ideas that your hubby would enjoy!
For the crackers or chips, I would suggest trying to find things that are salty, crunchy or a better homemade grain snack. Muffins might work well, and you can make them with things like zucchini (toss in a few chocolate chips), carrot, applesauce, berries, etc. Other ideas are veggie sticks with a dip, a bag of trail mix, homemade crackers or cookies, or even occasionally something like Terra Chips (made with veggies like sweet potatoes, parsnips and beets, these are surprisingly tasty, though the oils still aren't the best).
It would be good to see more variety with the fruit as well. Bananas are so portable, I understand. But so are apples and pears, oranges (mandarins are nice), grapes, kiwis, strawberries, or even a few slices of melon in a container.
As for her and the boys at home, they usually do sandwiches, leftovers or pasta. I think leftovers are a fantastic way to keep lunch nutritious but quick!
This would be a good time for her to get more adventurous, to help the boys develop an appreciation for some new foods! She could serve things like yogurt with fruit and homemade granola or nuts and seeds, salmon or tuna melts, fruit salad, wraps with finely chopped veggies (if they're hard for little hands to hold, serve the filling in a bowl with the wrap alongside it).
Pasta is a great place to add in veggies, like some diced tomatoes or peppers, grated zucchini, peas, etc. and make sure to include some protein as well. Another quick and easy option is cheese quesadillas, which can include beans (refried or whole), a good food to teach the boys to eat.
Dinners:
Andi currently has a great system where she uses themes to plan out her dinners (beef, meatless, chicken, etc.). I'm going to leave her to what she's doing in that regard.
Instead, I want to offer some husband-friendly but more nutritious recipe ideas. Though I'm fortunate to have an adventurous hubby who goes along with my crazy experimenting, he also really enjoys "meat and potato" kind of comfort meals. I have learned to tailor what I make so that the meals are up his alley, but the ingredients are top-notch, the methods are traditional, and the veggies are abundant.
Here is a list of meals/recipes that I think might work in Andi's repetoire:
I also think it would be a great goal for the Anderson's to start eating at least 1 fresh (not canned) veggie per night, and a fresh salad once a week. My post on how to cook vegetables is a good place to start, including lots of yummy recipe links. Some of the more complex dishes like Cauliflower Casserole might make for easy transitions into eating more fresh vegetables.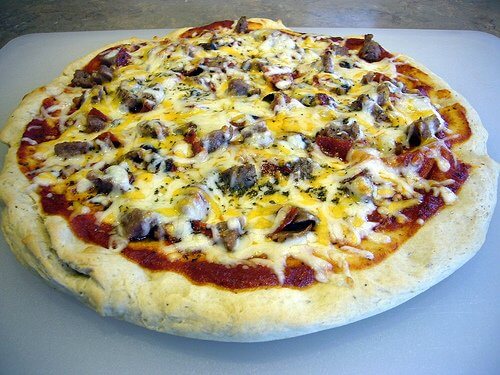 Image by Theodore Scott
Replacing Like With Like
You may have noticed a theme during this week's suggestions… to replace like with like.
By this, I simply mean that you take what you currently eat and find similar, but more nourishing, options to replace it with. Do it a little at a time, slowly improving different aspects of each meal, and gradually you will find that your diet has become much healthier, but in a fairly painless manner.
I mentioned above that the other main way to improve what they eat is to replace certain ingredients with better versions of the same one. This is a concept I've discussed before in my Nutritional Foundations series. The very first place to begin to make changes can be simple- by cooking and eating the same types of foods, but making the change at the time of buying the food instead!
Here are the top 3 places that I would suggest the Anderson family start with replacing foods:
White, refined grains with whole grains
Conventional beef with grass-fed beef
Milk with raw, grass-fed milk
Next priorities after these could be finding a source of free-range eggs, and then beginning to switch over to natural sweeteners instead of refined ones. This post is a good starting place for finding resources where you can purchase better quality foods where you live.
Just one more thing…
I said it in the first makeover, and I'll say it again. It would be worthwhile to add cod liver oil as a supplement for all of the family members. I've linked to a good information page on the Weston A. Price Foundation website, which can do the soapbox preaching about the merits of cod liver oil for me so that I don't need to be a broken record.
To further help the Anderson family with their Real Food Makeover, they will also be receiving:
What are some of your favorite husband-friendly, comfort food type meals? Have you used the concept of "replacing like with like" at all in your own journey towards better health and nutrition?