Nutritional Foundations: Finding high quality sources for a whole foods diet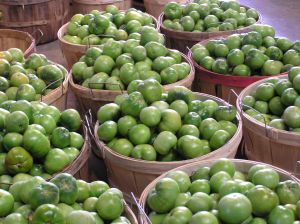 Only slightly long winded (seriously, it's a talent of mine!), it's time to end this series on how to lay the best nutritional foundation by starting with the foods you use. I'm hoping to end it with a bang, and leave you with something entirely, utterly practical and helpful!
I wanted to compile as many resources as I possibly could to help give you a bit of a jump start in your search for better, local sources. This list is not complete (not by a long shot!) but I think that it's a great start, and I'm very much hoping for your help in continuing to add to it!

General Resources:
Local Harvest (Excellent US resource for farms, CSA's, farmers markets, co-ops, and more)
Eat Well Guide (Includes product and location searches, as well as local guides for each US state and Canadian province with long lists of farms, markets, delis, etc. and even a tool that  helps you plan your next trip to include wholesome, local eating- this is definitely worth looking at!)
Grass-fed, free range meat and poultry:
Eat Wild (primarily USA and fairly extensive Canadian listings)
Seeds of Health- Grass Fed Meat Producers (UK)
Grass Fed Meats Online (seems to bring together producers from all over the US, and is actually run through Amazon.com, so I assume they ship anywhere Amazon ships, though it may possibly only be US).
Thundering Hooves (all kinds of pasture-finished meats and poultry- they will ship by UPS, or deliver to Puget Sound, WA area- thanks Michelle!)
Raw, grass-fed milk:
Real Milk (though I have searched and searched, this is the main site I have been able to find. Fortunately, it is quite extensive, and includes Canada and international countries, mostly in Europe, Australia and New Zealand)
Local Harvest (there isn't a big focus on raw milk, but from the homepage, you can do a type "raw milk" into the product search, and see if anything comes up for your local area- again, this is US)
Naturally grown, organic and/or local produce:
Eat Kind (directories for Canada, USA and some international- provides links to smaller, more focused directories for CSA's, farmers markets, organic growers, health food stores, etc.)
Local Harvest– (excellent resource for finding farms, farmers markets and CSAs)
General Grocery Items (teas/coffee/herbs/spices/oils,etc.)
Frontier Coop (seasonings, flavor extracts, food mixes, teas, body care, etc. Also, they have a wholesale site. Thanks Michelle!
Hummingbird Wholesale (sweeteners, oils, spices, grains, beans, nuts and seeds, etc. Thanks Michelle!)
Cafe Mam (fair trade coffee- wholesale- thanks Michelle!)
Grocery Co-ops and delivery services:
Azure Standard (excellent source for bulk grains, baking supplies, general groceries- well, really anything bulk!)
Coop Directory Service (American- extensive list of co-ops by state)
Food Coops and Other Coop Resources (mostly American again, with just a few international listings- Canada, Australia, Europe)
Ontario Natural Food Co-op (this is the only co-op I could find for Canada- surely there are more out there? Where are they?)
Ethical Superstore (UK- not much for bulk sizes, but they do carry a lot of organic groceries for delivery)
Suma (natural foods co-op in UK)
Organic Grains, Beans and Legumes:
Paul's Grains (wide variety of bulk grains- seems to be only US shipping, though I can't tell for sure- does anyone know?)
Anita's Organic Graing and Flour Mill (Canadian- can be picked up at Chilliwack, BC store or shipped directly. Some lower mainland stores carry a small selection).
Azure Standard (specifically great for their bulk grains and other pantry staples)
Bob's Red Mill (awesome selection of whole grain and often organic grains, beans, seeds, cereals, etc and lots of options for those with allergies, too! Often availble through co-ops or in your local stores, but also through their online site. Thanks Leslie!)
Rancho Gordo (located in CA, but available online for US shipping, they have a great selection of heirloom dry beans, plus amaranth and quinoa, and other Mexican-inspired herbs, seasonings, chilis, etc.- thanks again Leslie!)
Where you live:
This is my attempt to pull together some of the places where we (you and I) really shop, week to week. They are listed alphabetically, by state or province. I've started it with my own local resources. If you have a resource to pass on, just leave it in a comment and I'll add it to this post!
Canada

British Columbia
Anita's Organic Grain and Flour Mill
Ennis Farm Meats (small, local meat shop specializing in natural and grass fed meats and poultry, where they also make some of their own sausages, sandwich meats, pepperoni, etc. with little or no preservatives)
2 EE's Produce Market (amazing, year round market, where they grow much of their own produce naturally/organically and the prices are incredible- located in Surrey)
Home on the Range Dairy
Ladybug Organics (organic delivery service)
Ontario
Ontario Natural Food Co-op (this is the only co-op I could find for Canada- surely there are more out there? Where are they?)
USA
Oklahoma
Oklahoma Food Co-op (grass fed meats, produce, eggs, even house items- all natural or organic. One time fee of $50 to join. Thanks Megan!)
Oregon
Local Buying Club (purchases from Hummingbird Wholesale, Frontier Wholesale, Cafe Mam, Thundering Hooves- Thanks Michelle, and I think you can find out more by contacting her as well!)
Washington
Thundering Hooves (pasture finished meat and poultry- available for delivery to Puget Sound area, or through a number of local buying clubs in WA and somewhat in OR- thanks Michelle!)
You're next…
If you have local resources that you want to share, please, please leave a comment (or email if you prefer- keeperofthehome (at) canada (dot) com) and I will try to add your resources to this list as quickly as I can! I would love to see this list become much more extensive and useful of a resource, so let's help each other out by sharing what we know!