Organization in the Garden: Evaluating What You Have and What You Need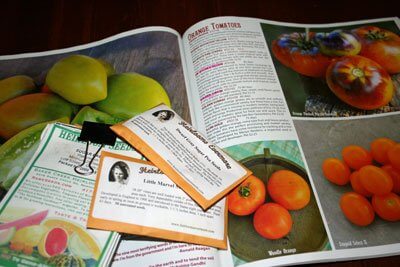 January tends to find me just a little bit giddy. Throughout the fall and early winter, I am just pooped from gardening and preserving season. I don't really want to see another canning jar, or hardly even another fresh tomato, and going out to get the garden prepped for over the winter is the last thing I feel like doing.
And then comes January. Christmas is finished. Plans for the new year have begun. Seed catalogues begin to look oh-so-appealing once again. Suddenly I am smitten with my love for all things glorious and green and growing. I can't stop thinking about what I will plant in the spring or how early I can work my soil. Planning out my seed shopping list is a deliciously fun and inspiring task, as I sort through what new and unique plants I will add to my repertoire this year!
So how exactly does one prepare for the coming spring and summer of gardening?
There are two major areas that I look at when I begin to plan and scheme for the upcoming season:
Seeds- what I already have, what I need, new things I want to try, placing my order as quickly as possible
Garden Planning- a seed starting schedule, outdoor planting dates, drawing up my garden layout of what will be planted where
Today, let's talk seeds. Later in the week we'll look at garden planning.
I've spent a lot of time over the past week or two sorting through my seeds and determining what to buy for this upcoming season. To get ready and make my decisions, here's what I did:
Sorted through all of my remaining seeds from other years and made a list of exactly what I have- which varieties and how much of each seed
Made a list of what I want to plant this year, and a basic garden layout sketch to ensure that it's actually feasible
Dreamily read through my Baker Creek Heirloom Seeds catalog and highlighted everything that looked good or interesting to me. So yes, I highlighted approximately 3/4 of the book. Just kidding. Sort of.
Went back through the catalog with my list of what I actually need to buy, narrowed down my choices to what I thought were the best or most intriguing varieties
Made my order as quickly as I could, because I want to be sure that I have plenty of time to receive my seeds, get my seedlings started and growing well in time to harden them off and have them out in the garden even earlier than last year.
I almost wrote a post describing how to choose seeds, and then I realized that I had already written a fairly thorough one last year, so why reinvent the wheel?
I have learned a few things over my 3 years of gardening and my seed selecting criteria is growing a bit more refined. Here are a few tips that I would add to the above post, knowing what I know now. When selecting your particular varieties of each plant (ie. which tomato out of the hundreds of options you could choose from), these are some things that I've learned to look closely at:
Days to maturity. Where I live we have a pretty good spring and fall growing season, but the actual part of summer that is really warm and sunny is a bit shorter. When I look for something like a melon or pepper to attempt, I'm aiming for something in the 60-75 day range if possible, rather than 80-90. Consider the length of your season, how long it's truly hot for, etc.
Characteristics of a variety. Do I want a soft leaf lettuce or a crisp romaine style? Do I want really large, juicy tomatoes or smaller, firmer ones? Am I really cool with (and will my family willingly eat) something that looks a bit different, like a brown bell pepper or a yellow carrot or purple broccoli?
Specialty features. Among heirlooms, sometimes you can look for specific things, like the insect-resistant purple cauliflower I grew last year. Or the slow-bolt cilantro I discovered this year, since my cilantro bolted last year before my first tomato ever ripened. So much for salsa!
Early and Late varieties. With my tomatoes, it's nice to have both. This year I'll have some early, some mid-season, and I'm adding one called Long Keeper for toms that I can pick unripened and will slowly ripen up until Christmas!
Yields. Many garden catalogs will tell you if a particular variety is heavier yielding (or if its lower), whether it yielded for a longer season than other varieties, etc. When you're growing in a relatively small garden and want to maximize your space, it helps to keep your eyes out for types of vegetables or fruits that have more abundant yields. Because who doesn't want to get more for their efforts?
Have you bought your garden seeds yet? How do you choose which seeds to buy?
Other Related Posts You May Enjoy