Buying seeds for your garden
It's that time already! (Does that excite you or scare you?)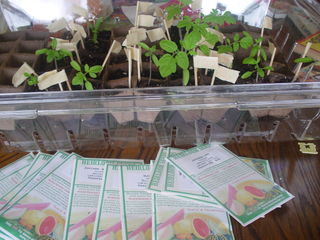 If you're planning a garden for the spring, now is definitely the time to start deciding which seeds you will buy, and go ahead and order them. Many warm weather seedlings, like peppers and tomatoes, need a really good jump on the growing season (6-8 weeks minimum) unless you live somewhere very warm. That means being prepared to plant some of your seedlings by the end of February or beginning of March.
Ordering online or from a seed catalogue will usually require a 2-4 week wait for your seeds to arrive (always double check when ordering). Considering it's the middle of January, I'd say it's time to get moving, wouldn't you? 🙂
A few things to consider as you decide on your seed varieties and quantities:
1) Choose only vegetables that your family really likes. Much as green beans sound like a fun and easy crop to grow, if you really don't care to serve them more than once or twice a summer, save your seed money and garden space and just get some from your farmer's market instead! On the other hand, if your family just can't enough fresh snap or snow peas, or cherry tomatoes, make sure that you are prepared to grow plenty of those.
2) Consider buying heirloom seeds. For amazingly different, delicious and intriguing types of vegetables (pink or striped tomatoes, purple cauliflower, lemon cucumbers, etc.) and a variety that will make your local garden center absolutely pale in comparison, heirloom seeds win hands down. If you're unsure of what heirloom seeds are, try reading Heirloom Seeds, and Why it Matters to Buy Heirloom. Check out my very favorite seed company, Baker Creek Heirloom Seeds, as well as Heirloom Seeds, Seed Savers Exchange, and Salt Spring Seeds (a Canadian company).

3) Always double check what you have left from previous years. If your seeds have been carefully stored away from moisture and warmth (I keep mine in a ziploc bag in my fridge), they should last you for several years. A few days ago, I sorted through all 37 packages (yes, that's right- 37 and I'm still buying more!), wrote out a detailed list of what I had and whether I needed to buy more seeds. To check whether your old seeds are still viable, try this germination test.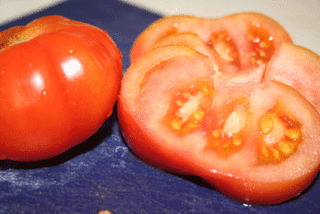 4) Decide on any new varieties you will try, or vegetables you haven't grown but feel ready to try your hand at. This year, I am replacing my basil and trying a new lettuce, since I didn't love what I grew last year. I'm also adding a few herbs (chives and lavender), some more carrots and peas because I'm running low, cauliflower (a deep red-purple Italian variety with good insect resistance), and a new tomato (Tigerella, just for fun, because 5 other varieties aren't enough for me!). Here's my list of which seeds I loved, liked and am leaving, from 2008. What's yours?
5) How much of each seed is needed? With things like winter squash, your seeds will likely go bad before you use up the entire package, as you only need just a few each year (remember- 1 squash plant can easily yield from 4 up to around 10 squash!). One package of carrot seeds, however, will likely only last you one season, and you may need even more than one package depending on how thickly you plant them and if you're planting for both spring and fall. Most seed companies tell you how many seeds come in each package (it varies depending on the vegetable), so pay attention and make your decisions accordingly.
6) Don't be overzealous. It's so easy to want to overbuy on seeds, because they're just, well, tempting! If it's your first year gardening, choose varities that are known to be easier to grow, or stick with the more common varities that you know your family will enjoy (save that funky squash or red oriental cucumber for next year, when you're feeling more confident, and instead go with standard Butternut and a long, green cuke). Also, take into account the size of your garden and how much you can realistically grow. Remember, you can always add a few things to the garden as the season goes on, or try something new in the fall after you've already had the spring to figure some things out. Plus, there's always next year!
Happy Seed Buying!

Any other tips to share with the rest of us? Have you started deciding on your seeds for this year's garden? Have you beat me to the punch and ordered already (I'm ordering this afternoon!)?

Visit Works-for-me-Wednesday for oodles of other great tips!