Clothing Kids Without Breaking the Bank: Part 2
See the other posts in this series:
Clothing Kids Without Breaking the Bank
Clothing Kids Without Breaking the Bank, Part 3
Here is the next part in this series, continuing on where we left off. I wasn't planning to make this such a long series, but I've got one more part after this one, with some really practical tips.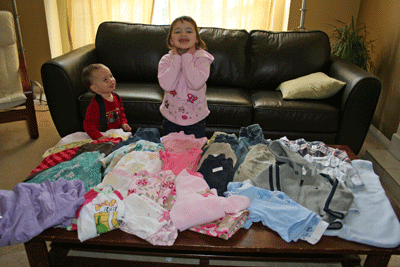 **These are my goofy kids (and yes, Caden has a shiner if you look closely) in front of the clothes I recently bought at the swap meet.**

5) By knowing where to shop
Rare is the day that I actually shop for my kids in retail stores. My main sources of cheap clothing are:
garage sales
kids swap meets
thrift stores
and occasionally clearance retail sales
Garage sales are the biggest gem of them all. I usually don't pay more than $1 a piece, and often less. Try to hit the ones in nicer neighborhoods, because you will find oodles of name-brand clothing in excellent condition, and the people mostly just want to get rid of it.
Kids swap meets are popular in the area where I live. They usually happen once a month, in a large gymnasium or similar building. Moms come and rent out tables, where they sell their kids outgrown clothes at near garage sale prices. Sometimes they charge slightly more, because they want to cover their table cost and bring home a bit of extra cash, but they are almost always open to bargaining, and since I'm a haggler, it works out well for me. 🙂
The best thing about the kid swaps is that there are tons of different tables, with every size from newborn even up to size 8 or 9 etc. all under one roof so you can usually find everything you need, unlike garage sales which are so much more hit and miss. Try calling local rec center to find out if any are happening in your area.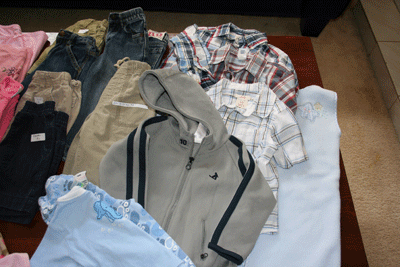 This and the picture below are from the last time I went to the swap meet. Just to give you an example, up above you see 4 pairs of shorts, a pair of jeans, a pair of khakis, 3 button up shirts, one light jacket, one pair of pajamas and one sleep sack.
Below is Abbie with her stash, which consists of 5 long sleeved shirts, 4 t-shirts, 3 skirts, one fleece hoodie (she's wearing it already), one windbreaker, and 4 pairs of pajamas. The total for both pictures was about $48, including my entrance fee. Nearly everything is name brand and in excellent shape.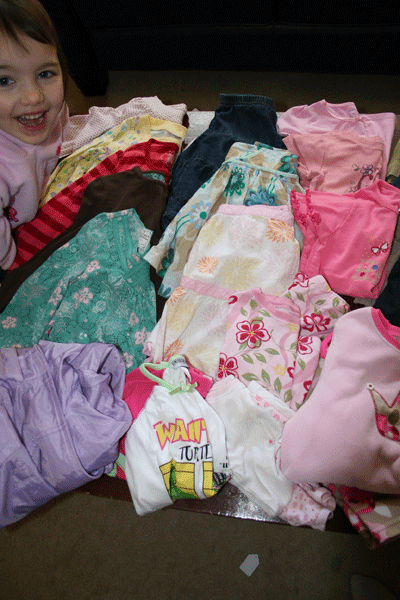 Thrift stores in Canada are definitely charging too much for their clothing these days, but they can still be valuable. It's nice to be able to just walk in and find the section you are looking for, to get those few items that you need to fill in the gaps. Sometimes they're great for things like jackets and shoes.
My best experiences are on 1/2 price days, like the one I just shopped at Value Village. It took me over two hours (with a bit of shopping for myself mixed in, of course) in a crowded store with two little ones, but it was worth it. I came away with a good 20 items that were still on my list for the spring/summer/fall, paying between $1-3  per item, including a really nice Carter's winter jacket for my little guy, as well as a pair of runners and a pair of casual dress shoes for him, and several adorable dresses and sweaters for my daughter.

Retail clearance is definitely pricier, but still occasionally worth it. Especially if you are planning to have lots of children, and here's why. We've been blessed to receive several gift cards to Gymboree and Children's Place for our kids. With these, I have either scoured the online clearance sales or shopped the sales at the outlets. The clothing I have been able to by is very high quality (especially Gymboree), and I'm confident it will last through at least a couple of children, which sometimes makes it worth it to pay more than you would for used.
Where do you most frequently buy your children's clothing? What are your strategies for where and when you buy?