How to Be Debt-Free in 2013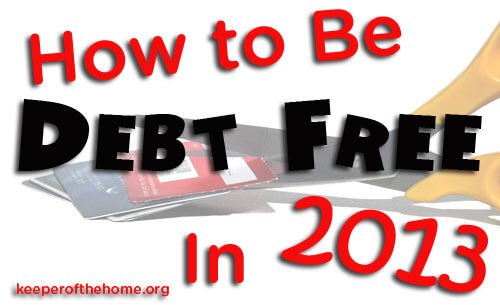 By Stacy Myers, Contributing Writer
Some of you clicked on this post out of sheer curiosity…you want to see what this kook has to say. After all, it's not something you really believe. You don't REALLY think it's possible to live free from the bondage of debt.
Some of you clicked on this post because your heart's desire is to live debt free – but you're not there…you want to know how to get there and you need encouragement. You need to hear from someone who is on the other side – someone who is FREE.
And then some of you clicked on this post because you already live debt free. You know what a blessing it is, and so you've come here to commune with a like-minded kook. Welcome, all debt-free kooks!
Today I want to tell you that it really is possible to live debt free. It IS possible to not have a car payment. It IS possible to own your home. It IS possible to rent a car without a credit card. It IS possible to use your credit card at Chick-Fil-A, but why should you when you can pay cash. It IS possible to go three days straight and only eat chocolate. Oh, wait. Nevermind. *Cough*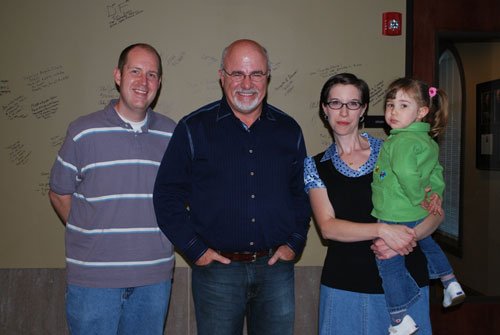 First, a little bit about me – I want you to know that I do know a bit about this topic…unlike some people who write about things but they've never lived it: like men who write books about pregnancy and birth – what is THAT about?
When my husband and I got married, we knew we wanted to live debt free. We worked hard at paying off our car (our last car payment!) and then we purchased a townhouse – which we knew we could pay off quickly. We were debt free, including our home, before I was 30 years old. We never looked back.
We were able to purchase a home with cash, which is mostly unheard of. We drive two paid-for cars – not the prettiest things ever, but they function – and when you OWN them, they look a lot nicer. 😉
We even made our own funny music video about being debt-free! And guess what? You can be debt-free, too! It's TRUE! Here's how to break free from the bondage of debt: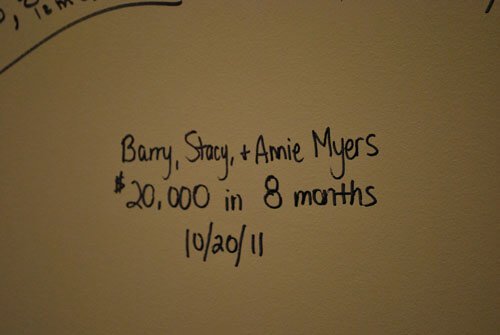 1. Decide to be debt-free.
It's hard to get anywhere if you don't have the mindset that you CAN be debt free. Believe it. Pray it. Then, start living it.
2. Make a budget and stick with it.
It's hard to be debt free without a budget. You don't know where your money is going and you can't tell it where to go…it just ends up at JC Penney or Amazon. If you need help setting up your budget, check out the forms in my husband's free eBook on how to set up a budget.
3. Attack your debt with a vengeance.
Use the debt snowball. Start paying off your smallest bill and then work up. It's nice to see the smaller ones disappear. It gives you motivation.
4. Cut expenses and get extra work.
This is the hardest one for most people. They don't want to cut out things…they hold tight onto what they HAVE. But folks, you can't take it with you. If you love something, set it free. Ha! One day you can afford it again. Bye-bye, cable television and eating out three days a week.
Extra work is easy to pick up! Baby sit, clean houses, bake for people, set up an Etsy shop, or help with someone's hit-list. TOTALLY KIDDING on that last one!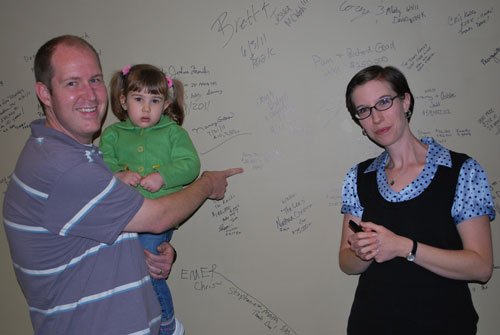 5. Make a phone call.
When you have the money ready to pay off a bill, call and ask if you can have a discount – for real, dawg. A lot of the time, they'll knock off interest or other various fees. When we got the bill from the hospital for both of our children, when we called to pay it, they gave us 20% off because we paid cash.
6. Stay encouraged.
It's easy to get discouraged if you have a lot of debt to pay off. It can feel like you'll NEVER be done. When you need encouragement, just stop and look back and where you WERE. You're not there anymore. You're breaking free.
I've seen it many times, that when someone gets FOCUSED to pay off debt, the Lord blesses their efforts: they get a raise, find extra work, etc. Often you'll find that you pay off your debt quicker. You CAN pay your debt off in 2013 or at least get a really good start at it…you CAN.
7. When you're debt-free, bless others.
This is what the Word calls us to do. We have been given blessings, so that we can give it to those in need. And THAT is why Barry and I live debt free.
You can, too – we'll be there waiting for you…on the other side. 🙂
"Charge them that are rich in this world, that they be not highminded, nor trust in uncertain riches, but in the living God, who giveth us richly all things to enjoy; That they do good, that they be rich in good works, ready to distribute, willing to communicate; Laying up in store for themselves a good foundation against the time to come, that they may lay hold on eternal life."  I Timothy 6:17-19
Stephanie's note: Stacy's just being bashful, but her husband Barry is a financial counselor and he has fantastic book called From Debtor to Better, which will show you step by step how to start your own journey of getting out of debt as quickly as possible, just like Barry and Stacy did! For what it's worth, my husband and I also followed steps just like these ones to get out of $30,000 of debt in the early years of marriage. If we could do this, you can, too!
What is your advice on becoming debt-free in 2013?
Disclosure: This post includes affiliate links.