7 Gardening Lessons from a Novice Gardener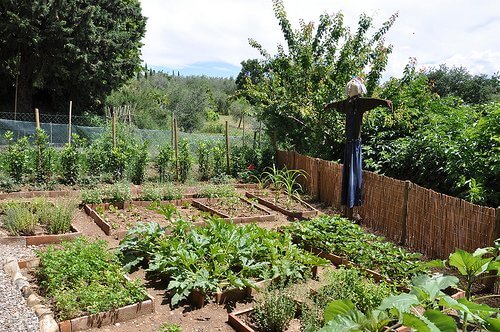 Written by Emily McClements, Contributing Writer
Growing your own organic vegetables is a great way to provide your family with nourishing and frugal food. Last summer was my first real attempt at growing our own food in a garden. Although it did not go nearly the way that I envisioned, I learned some important lessons that I am excited to put into practice this year.
I know many of you reading are seasoned gardeners, much more knowledgeable than I am, but if you are a garden newbie, like I was (actually still am) I hope to give you some encouragement and a few pointers to help you as you set out on your gardening journey this year.
1. Pick a few types of vegetables and plants lots of them.
I wanted to start off with a simple garden last year, I didn't want to overwhelm myself with gardening on my first attempt. And while I only planted 6 types of vegetables, I didn't plant nearly enough of them to actually get the kind of yield I was looking for.
For example, my family loves sugar snap peas, so I planted about 20 plants, but the most peas that I harvested at one time was only nine. Usually it was more like only four or five, and while I loved eating them right off the vine, I never had enough to actually use for a meal.
I think that as long as you keep the number of different types of vegetables lower, you can plants lots and lots of the same ones because they won't require different care or a lot of extra effort. If they are veggies that you love and know you'll use, you may as well plant enough to have lots to eat and maybe even some left over for preserving.
2. Don't over plant.
While I realize that I didn't plant nearly enough plants to feed my family, my other mistake was actually that I over planted the garden boxes that I had. Granted, the boxes were small – about 2 ft. by 4 ft., because hubs didn't want the garden taking over the yard, and neither of us realized how much room the plants would actually need.
I wanted to maximize my space, but I planted too many plants in one box and some of them ended up getting shaded out by the bigger plants (which may have also affected my yield).
This year we are expanding our garden to a much larger area in our front yard which is southern facing, and I am going to make sure I pay attention to the spacing of the plants given on the seed packets!
3. Set a watering schedule, and stick to it.
We were fortunate to receive a fair amount of rain last summer, but that meant I got a little lazy with my watering. This year, I am going to set a watering schedule, and make sure that I stick to it because I've learned that it is important for plants to get consistent watering,
I'm planning to use soaker hoses for much of my garden because they are supposed to be the best for getting water down to the roots, which is where the plants really need it, without wasting much water. I'm hoping to be able to hook the soaker hose up to our rain barrel so that we can use the rain water we've collected to water the garden.

4. Plant in the spring and again in the fall.
I didn't realize that some of the vegetables I was growing, like snap peas, lettuce, and spinach can be planted and harvested again in the fall, extending your gardening season.
I'm planning to plant for the fall around mid-August to early September, no later than Labor Day. Especially if you have seeds left over from your spring planting, it really doesn't take much extra effort to plant again in the fall, and you get to enjoy a second crop of the vegetables that your family loves.
5. Fences are important.
We have a lot of rabbits in our neighborhood, I think there is even a family of them that live under our deck. I definitely underestimated the effect that little critters can have on your garden!
This year I will be prepared by putting up chicken wire fences around my plants that rabbits like to nibble, like lettuce, spinach, peas and carrots. It's so sad to go out to your garden and find that something other than your family has been enjoying the fruits of your labor!
6. Keep a garden journal.
A good friend gave me this advice last year, and I didn't follow it as closely as I should have. I did write some things down about my garden at the beginning, but then I got lazy and didn't write much for the rest of the season – which is when stuff is really happening that is important to take note of.
Keeping a garden journal will help you to see what works for you and your garden and what doesn't, so you can learn from your mistakes, and successes, and put those lessons into practice the next year (like this!)
Write down when you planted, what you planted, how many you planted. Write down when your seedlings sprouted, how long it took for them to produce, how much you harvested, how long they produced for, and if you had any problems or issues. All of this will be valuable information as you plan your garden for the next growing season, so you can plant in succession, and plant enough so that you will get the kind of yield you are looking for.
7. Now is the time to start thinking about your garden!
Last year I didn't realize how quickly the spring would creep up on me, even though I was waiting for it and felt like it would never come! I didn't know that if you want to start plants indoors, most of them can be started by mid- to late February, so really, now is the time to decide what vegetables you want to grow, get your seeds, and get started!
I just found this great tutorial for using toilet paper rolls for seed starters, as well as this handy chart for when you should start your seeds inside, based on your last frost date. I need to get started!
If you are new to gardening I really encourage you to jump in and go for it this summer! You will have fun, and learn a lot! It is such a great feeling to  serve your family food that you just picked right out of your own yard!
What lessons have you learned in gardening that you will put into practice this growing season? Have you started planning your garden yet?
Other Related Posts You May Enjoy