Getting Organized in the Garden: Seed Starting and Planting Schedule
One step to ensuring a really good gardening season is knowing in advance what needs to be done and when it needs to be done. This will help you to avoid planting things too late because you weren't ready or didn't have the right supplies on hand at the right time.
This year I found a really simple tool to help me make my garden plans: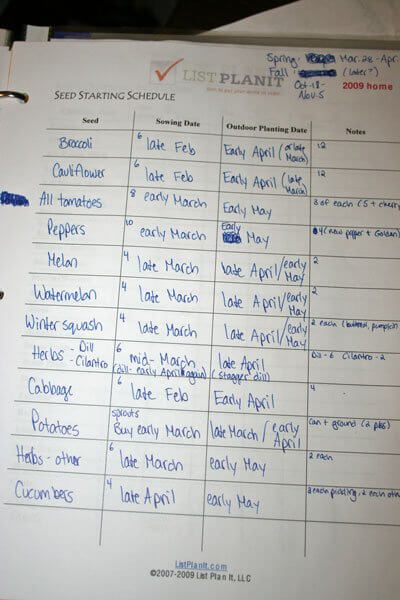 This is my seed starting schedule from my ListPlanIt membership. It's simple as can be, but it forced me to take a bit of time to think through what I need to do this winter and spring to have everything ready for the garden when I need it to be ready. It took me about 45 minutes to do the quick but necessary research to complete mine.
Here are some steps for making your own seed starting and planting schedule:
Figure out which plants are going to need to be started or prepared early. You can see my list above. The only one I may not actually start early indoors is cucumbers, as I have good success with them straight in the ground, though getting a slightly earlier harvest would be really nice. We'll see.
Determine your last Spring frost date and your first Fall frost date. Here's a good site for Americans. Canadians, try this one. I just wrote both dates at the top of my seed starting page for easy reference (and you can see that I wrote the wrong ones first and crossed them out- this doesn't have to be perfect or polished!).
Figure out how long each type of seedling should be started before being transplanted out to the garden. I found this page at Victory Seeds helpful, as well as this one at the Old Farmer's Almanac. I looked up the number of weeks that each type of seedling needed and wrote it in the upper left corner of the Sowing Date box.
Figure out when those seedlings can be transplanted to the garden. I didn't write exact dates, but just a general time (ie early April or mid May). Again, I got these off of the links in #3 and partly from my experience from past years of what worked well.
Get out a calendar and count backwards. Take your transplanting/outdoor planting dates and go back however many weeks you've specified that each seedling needs, and that will give you your Sowing Date (the day you start your seedlings). For example, my broccoli and cauliflower seedlings can go outside as soon as it begins warming up and nearing my last frost date, around late March or early April at the latest. They need 6 weeks to grow indoors, so that brings me back to late February to have them started.
Write any other notes that feel relevant to you. I noted how many of each seedling I would like to start and put that number in my Notes box. I would like to start 12 each of cauliflower and broccoli, so you'll note the 12 there. For my tomatoes, I want to start 3 seedlings of each type I'm planting (one cherry and 5 other tomato varieties). The plan is to actually plant 2 of each variety, but I want to start 3 of each just in case I have one that doesn't do well for some reason.
That's it! A little bit of research and effort, and now you have a blueprint for your seed starting and transplanting. This page could also easily be used for all of your other seeds that will go straight into the ground. Just skip the Sowing Date column and only write down the approximate time that you will plant these seeds directly into your garden.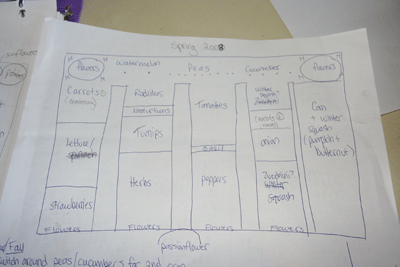 To get ready for your garden even more, a next step would be to draw yourself a garden layout plan. You can see some examples of mine from last year in this post on succession planting. I haven't yet made mine for this year, although it is in the works. This is a very helpful tool to make sure that you have room for all that you want to plant and to start thinking strategically about which vegetables will go where (and why). One excellent book that I am referencing as I make my layout this season is Carrots Love Tomatoes, a book on companion planting.
How do you plan out your garden seedlings and planting? Have you started to make your plans for this gardening season yet?
Other Related Posts You May Enjoy