7 Reasons to Square Foot Garden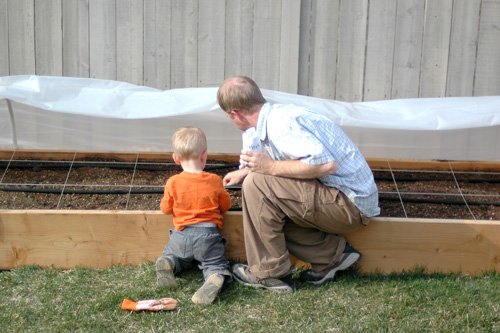 Written by Stacey T, Contributing Writer
Spring is right around the corner, literally. The first day of Spring officially arrives on Sunday!
With the arrival of spring, there's lots of talk here on Keeper of the Home about gardening this month. Yet Gardening 101 wouldn't be complete without mentioning Square Foot Gardening.
Square Foot Gardening is the perfect solution for those that would love to garden but feel they don't the space, time or experience.
What is Square Foot Gardening?
Square Foot Gardening is a simple and unique method of raised bed gardening. It was developed by Mel Bartholomew in the 1970's as a more efficient way to garden. The seeds or seedlings are planted in clearly marked 1×1 square foot plots, hence the name.
The size of the mature plant determines how many plants go in each square foot. For example, smaller plants such as carrots, radishes and onions may be planted 16 or more per square where larger plants such as broccoli, peppers and tomatoes have only one plant per square or may even use multiple squares for one plant.
This time last year, my husband and I were gearing up for our first ever season of Square Foot Gardening. We researched and planned for months, trying to figure out the best way to have a garden in our small backyard. We decided on square foot gardening and, overall, we were really happy with the outcome. In the future, we'll do a few things differently (I'll explain later in the post), but we will definitely have square foot gardens in the future!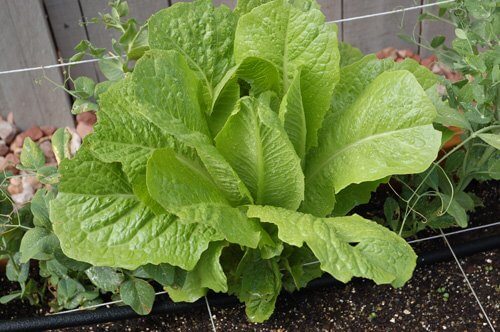 Here are 7 reasons to have a Square Foot Garden:
1. Easy Start Up
This method of gardening really is easy. Those with basic woodworking skills can easily build their own frames for the garden, or if tools and skill are not available, the frames can be purchased at a variety of places.  The gardens can be small to fit in nearly any space, and they do not rely on the quality of the local soil.
My husband, Mason, built our frames out of 2X12 untreated lumber. He also rigged up a cold frame using heavy painters plastic and PVC pipe so we could plant even earlier in the season.
2. No soil improvements
For those who have worked to make their soil just right for gardening, you know that that is back breaking work and often it requires the use of special equipment such as a rototiller.
With square foot gardening, the raised beds are placed above the ground, right on top of your existing soil, and a special soil mix is used for the garden, so there is no need to worry about improving your existing soil.
The soil in our previous home was clay and very difficult to work with in most areas of the yard. In instances where we were planting in other areas, we spent a lot of time and effort trying to improve our soil. We mixed in manure and compost but the results always seemed mediocre.
On the other hand, our square foot garden had it's own special soil that was easy to create and use.
3. Mel'x Mix
While many facets of the square foot gardening method are adaptable to your preferences, space and situation, Mel's Mix is the area in which you'll want to follow the instructions exactly. Mel's Mix is the recommended soil for use in your square foot garden. It is a combination of ⅓ peat moss, ⅓ vermiculite and ⅓ compost so it may be the most expensive part, yet it's likely to be the most valuable too.
We really liked working with it and found many advantages. Mel's Mix absorbs and holds the moisture such that you don't have to water as often or as much as typical soils, saving water costs. It's also naturally very loose, making weeding a breeze, saving you a lot of time and effort. Planting and harvesting are also simple because of the looseness of the soil.
Although we don't have any experience with this yet, it seems that the upkeep of the soil from year to year would be minimal. You may need to add to the soil after a few years but for the most part, the soil will remain intact and ready for planting year after year without much effort between plantings.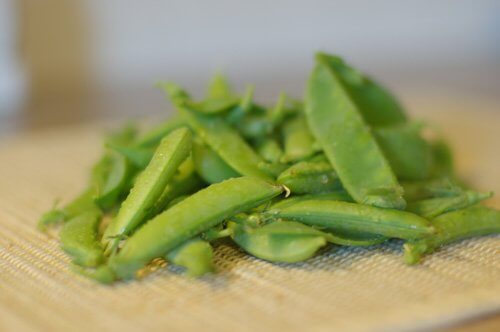 4. Low Maintenance Garden
Is there such a thing as a low maintenance garden? Yes, there is! Mel's Mix remains loose and crumbly so it's very easy to work with, whether planting, weeding or harvesting.
I'm one of the few who actually enjoys weeding (to a point) but I didn't have much work in the garden to do all summer long. You are far less likely to get weeds in the first place – because you're not using soil that has existing weed seeds in it – and if you do get a few, they are very easy to pull out. In our square foot garden, we only had a couple weeds pop up each week or so but they were very easy to pull out. This made managing and weeding the garden very easy.
I had a flower bed in the front yard of that same house where I was constantly fighting weeds and trying to keep the soil moist enough to nurture the plants. I spent more time in my little flower bed last summer than I did our entire garden!
5. Raised Beds
The raised beds used in Square Foot Gardening are useful for several reasons:
They extend the growing season. The soil warms earlier in the spring and stays warm longer in the fall allowing you to stretch your gardening calendar. In addition, many plants such as tomatoes and peppers prefer a warm soil so they will thrive in your raised beds.
They have better drainage than typical gardens given that they are up off the ground.
They eliminate soil compaction. This method of gardening encourages beds that are small enough that you can reach everything from the sides without walking through them. You don't need to worry about compacting the soil, which can adversely affect your plants.
They allow the garden to "breathe" better – due to excess moisture being able to drain and also because the soil remains light, your plants will receive more oxygen than in a typical garden.
6. Very adaptable
Your square foot garden can be made to almost any dimensions according to what will work best in your yard and in your available space. It is recommended, however, that you keep your garden at a maximum of 4 ft. deep so that you can always have easy access and can reach each square.
We actually made two Square Foot Gardens, each 8×2 ½ feet, and we lined them up end-to-end. That's what worked best for the space that we had available. In hindsight however, and something that we will do differently in the future, we placed our gardens too close to the back fence and so managing the last ½ foot of garden was more difficult than it should have been.
In the future, we'll allow for plenty of room on all sides of the garden so planting, thinning, trimming and harvesting will be much easier. We won't need much, just a couple of feet around the entire garden will be perfect.
Another adaptation that I've seen recently is raising your square foot garden to waist level creating a table top garden. This is particularly good for those who don't want to have to bend over in order to work in the garden. And if you have kids, animals or pets that might be tempted to disturb your garden, having a tabletop garden is also advantageous so you can raise it up out of their reach.
7. High Yield
It seems counter-intuitive that a smaller garden would produce a higher yield but it's true. Without needing walking space in order to reach every plant, you're able to plant in each and every inch, which enables you to get the most out of your garden.
Our little garden harvested over 14 lbs. of produce in June and July alone. August and September were very hectic for us so we lost track of what we were harvesting, but I'm sure we more than doubled the first two months' harvests.
Whatever your situation, your gardening experience and expertise, or the lack thereof, give square foot gardening a try!
Here's some references for more information:
Have you had a Square Foot Garden? What did you enjoy most about it?
Top Image by a GOOD and SIMPLE life
Other Related Posts You May Enjoy