5 Ways to Use Oil as Part of a Natural, Skincare Routine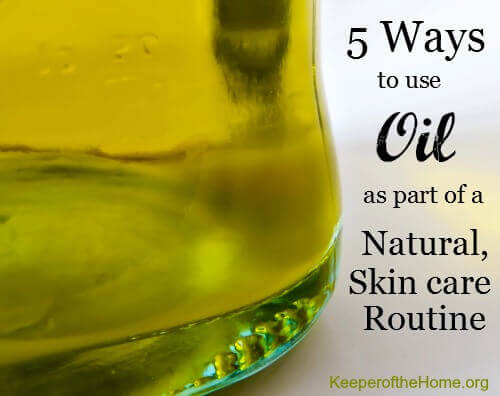 Written by Stacy Karen, Contributing Writer
Switching to non-toxic skin care is a logical step for those wanting to lead a healthy and natural lifestyle. Using natural products on our skin is helpful in reducing the toxic load we carry since the skin so readily absorbs whatever we put on it.
Many mainstream skin care products contain a number of harmful substances, such as parabens, phthatalates, and a variety of other synthetic ingredients.
Thankfully, creating your own skin care products is not difficult and can be fairly inexpensive. In fact, you might be able to dig in your cabinet and put some of the following suggestions to use right now!
Today I want to share five ways to use one ingredient: oil.
Oil is used in many home remedies–sometimes in combination with other ingredients and at other times alone. Different oils have different qualities, but in general, most natural oils are moisturizing, nourishing, soothing, and detoxifying to the skin.
1. Wash your face with oil
Washing your face with oil is known as the oil cleansing method.
To clean your face with oil, create a mixture of castor oil and sunflower oil. (Read here for more information about creating the correct blend for your skin type). Apply the oil to your skin using circular motions. Run a clean wash cloth under warm water and ring it out. Hold washcloth up to your face so the steam can begin to open the pores. Once the wash cloth is cold, run it under warm water again and use to gently wipe the oil from your face.
I know it sounds strange, but washing your face with oil works very well. This method removes make up, dirt and other impurities. It also gives the skin a soft, dewy glow.
For more information (and quick demonstration) watch Stephanie's video: How to Wash Your Face Using the Oil Cleansing Method.
2. Moisturize your body with oil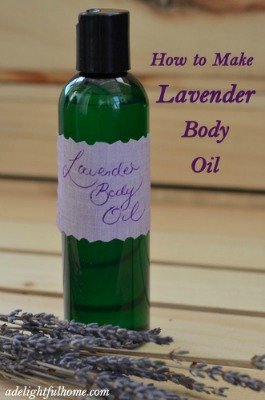 Oil is a wonderful moisturizer. It softens and nourishes the skin without leaving you to wonder what ingredients you have just applied.
Coconut, safflower, sunflower, olive, and jojoba oil are all well suited for use as an all-over moisturizer.
To moisturize with oil, simply keep a bottle of oil in the bathroom and apply all over after a shower (and after you have dried off). Or, create your own customized body oil by adding a few drops of essential oil to 8 ounces of oil and/or mixing a variety of oils together.
For further instructions see: How to Make a Simple Lavender Body Oil.
3. Remove eye make up
Oil also removes eye-make up, including mascara, very well.
Lori, of Laurel of Leaves, shows you exactly how to use coconut oil to remove eye make up (which involves little more than smearing it on an wiping it off. So easy!).
Or, make your own eye-make up remover blend: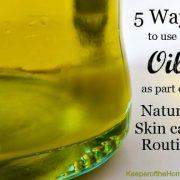 Print Recipe
Homemade Eye Makeup Remover
Ingredients
1

tablespoon

safflower oil

1

tablespoon

castor oil

1

tablespoon

olive oil
Instructions
Mix the oils and pour into a clean container. To use, pour a small amount of oil onto a cotton ball or pad and wipe eyelids and lashes gently.
4. Create a night-time eye cream
Have you seen the price of eye cream these days? Craziness! Well, you won't have to pay that much once you see how easy it is to make your own.
Simply apply a small amount of oil to the outer corner of your eye, where the wrinkles form. That's it!
Be careful not to get oil in your eye, as this could potentially clog the tear ducts.
The moisturizing properties of oil make it perfectly suited to softening and smoothing fine lines and wrinkles around the eyes. The best oils for use around the eyes are: jojoba, avocado, apricot kernel, or extra-virgin olive oil.
5. Make a body scrub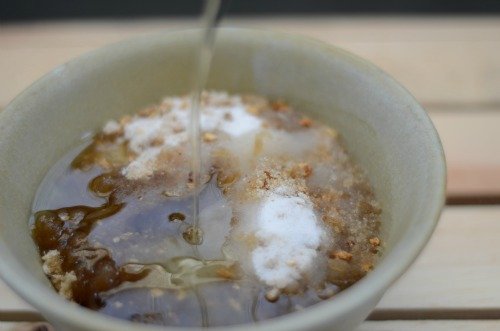 Body scrubs are great for removing dead skin cells and giving the skin a healthy glow. The inclusion of oil in a body scrub also gives a slight moisturizing effect.
To make a simple scrub: Mix 1 cup of brown sugar (or a mixture of white and brown) with 1/4 cup oil (such as grapeseed, olive, safflower, or sweet almond oil). Add a few drops of essential oil to create a customized scent, if desired. Spoon into a clean jar and label.
To use: Apply the scrub to damp skin using circular motions. Wash off with warm water. Do not use scrub on sunburned, windburned or cracked skin.
Do you use oil as part of your skin care routine? If so, how?