A Month of Smoothies — 31 Recipe Links to Keep You Happily Slurping All Summer
Our blender sees a lot of action once the warm weather hits.
We're smoothie fiends all year long, but our cravings go into overdrive during summer. For my family, there is nothing like a frosty glass of something smooth and sweet, not to mention how easy it is to use smoothies to add superfoods into our diet.
I aim to always keep several types of frozen fruit, as well as fresh fruit, kefir or yogurt or coconut milk, greens (fresh and dried), and other smoothie ingredients like nut butter, cocoa powder, matcha (green tea powder – I learned to love this when we lived in Japan and its extremely high in antioxidants), etc. at the ready.
In fact, each summer we buy berries and tree fruit locally and freeze it, aiming for at least 150-200 lbs so that it lasts us all the way until the next summer. It takes a lot of work, but it's so worth it because of the excellent quality of the fruit, the fact that I can usually buy it from no or low spray farms, I'm supporting local growers, and it's far cheaper than buying them from the grocery store all winter.
One thing I've noticed is that I sometimes get in a smoothie rut. I'll make the same variations like strawberry/blueberry/banana, blueberry green tea, healthy coffee "fraps", berries with greens, and mango with some type of berries or banana, over and over again. Sometimes I branch out and add in pineapple, blackberries, raspberries, oranges, nut butter, etc. but I'm not always as creative as I wish I was.
To challenge myself, I decided to come up with a list of 31 smoothie recipes I'd like to try this summer.
Knowing how many of my readers are also smoothie fans, I thought you'd enjoy my list. Go ahead and pin this post full of recipe links, so that when you hit that rut like I do, you'll have new recipes to try!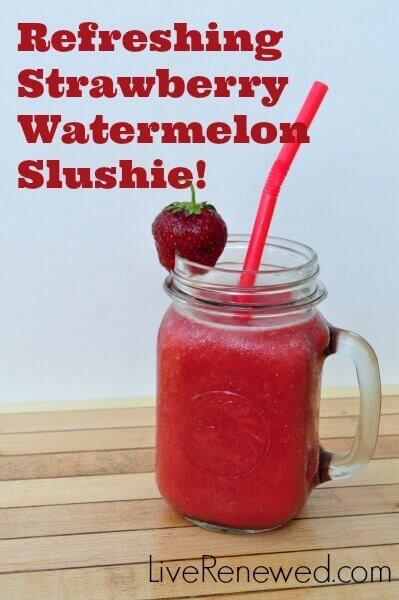 Bountiful Berries
Pomberry Smoothie @ Tradishen
Simple Blueberry Smoothie @ Kleinworth & Co.
Raspberry Coconut Smoothie @ creme de la crumb
Healthy Cranberry Orange Smoothie @ Frugal Granola
Strawberry Watermelon Slushies @ Live Renewed (pictured above)
Strawberry Pineapple Smoothie @ Six Sisters' Stuff
Blueberry Banana Green Tea Smoothie @ The Humbled Homemaker
Green Tea Berry Smoothies @ A Delightful Home
The Unexpected (but surprisingly good)
Apple Pie Smoothie @ Kitchen Stewardship
Maca Matcha Magic Green Smoothie @ The Soulful Spoon
Brain Power Smoothie (Blueberry Avocado) @Gimme Some Oven
Make-Ahead Oatmeal Smoothies @ The Yummy Life
Applecado Smoothie @ Keeper of the Home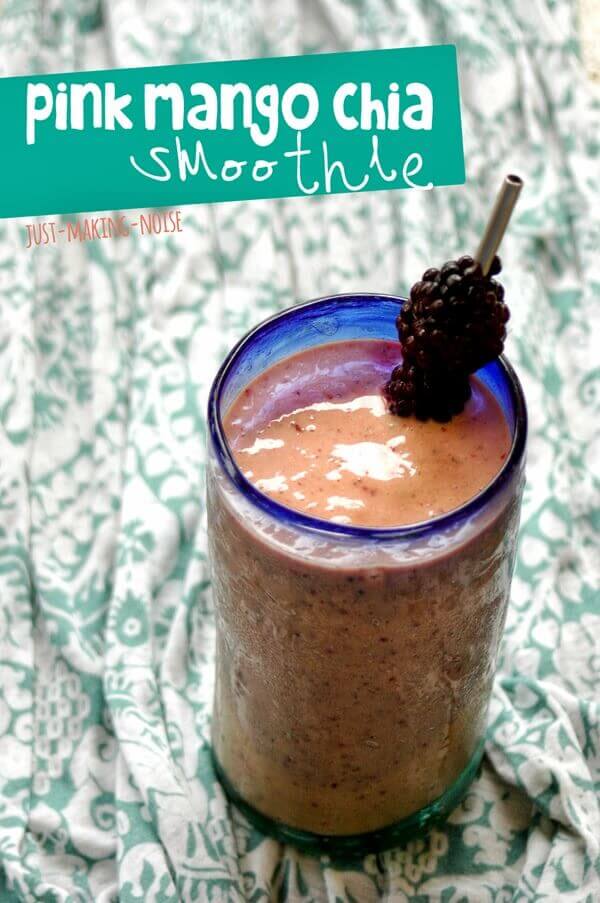 Better Than a Pina Colada
Pineapple, Banana & Coconut Smoothie @ Make and Takes
Cherry Mango Water Kefir Smoothie @ The Humbled Homemaker
Pink Mango Chia Smoothie @ Just Making Noise (pictured above)
Mango Orange Smoothie @ The Nourishing Gourmet
Ain't No Dairy Here
Walnut Date Smoothie @ Aida Mollenkamp
Pumpkin Cream Smoothie @ The Humbled Homemaker
Orange Creamsicle Smoothie @ Red and Honey (no dairy)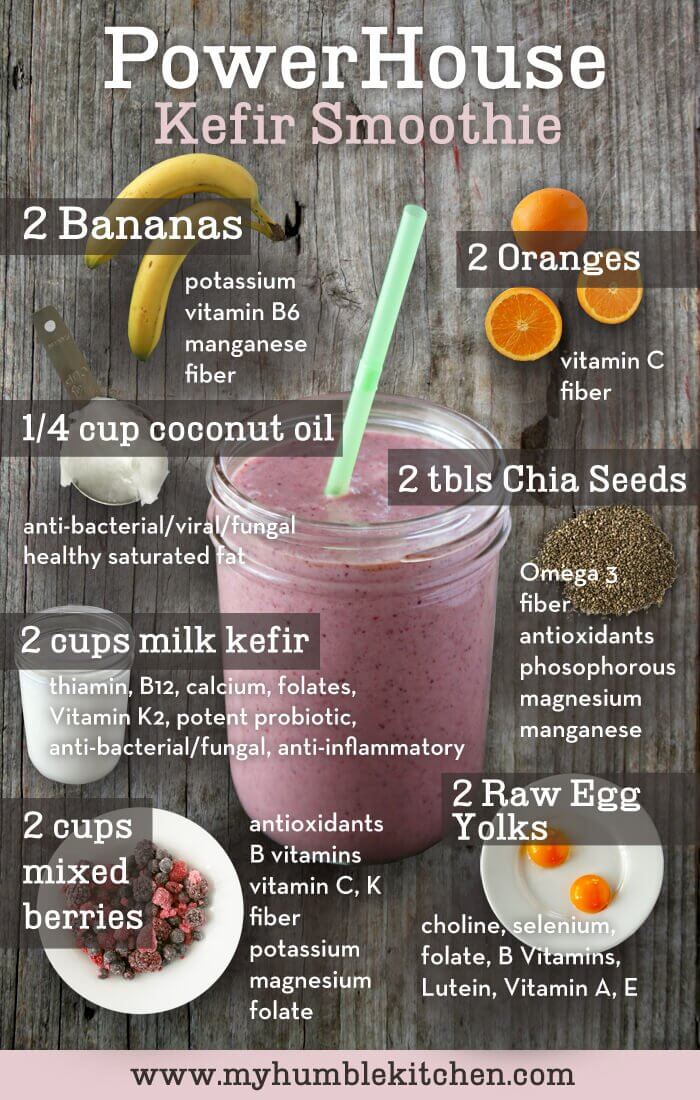 Superfood & Greens
Orange Pineapple Green Smoothie @ Tradishen
Power House Kefir Smoothie @ My Humble Kitchen (pictured above)
Super Food Smoothie @ Tradishen
How to Make Delicious Green Smoothies @ Live Renewed
Tropical, Berry-liscious and Go Green Smoothies @ The Nourishing Home
Get Your Protein In
Spiced Banana-Nut Smoothie with Blackstrap Molasses @ Tradishen
Chocolate Hazlenut Banana Smoothie @ The Nourishing Gourmet
Nut Butter, Banana Smoothie (Protein Rich, Easily Dairy Free) @ The Nourishing Gourmet
Creamy Clementine Smoothie @ The Humbled Homemaker
Indulge Your Chocolate Cravings
Raspberry Banana & Dark Chocolate Chip Sweetheart Smoothie @ Uncommon Designs
Chocolate Hazlenut Banana Smoothie @ The Nourishing Gourmet
And continuing on with the chocolate, let's indulge a little more.
This recipe is used by permission from the new book "Best 100 Juices for Kids" by Jessica Fisher. I received the book a couple months back and now that we've hit hot weather, it's been getting a lot of use (confession – pages in my smoothie section have gotten sticky, which is usually a sign that a recipe book is a good one).
Beyond smoothies, the book includes about 70 juice recipes, 45 fruit-based and 25 veggie-based. They're made using a juicer, but it doesn't have to be a fancy one (and summer time is the perfect time to score a juicer at a garage sale!). Our family particularly liked "The Produce Basket" juice, with pears, lemon, lime, apple, carrot, beets and oranges. Pink, sweet, and bursting with flavor.
Though we don't drink juice frequently, when we do, we prefer to make it fresh ourselves, with no additives, colors, or sweeteners of any kind. Plus, it's a great way to get veggies into the mix, as they blend nicely in with fruits. A standard in our house is apple, carrots and beets. We also love to make fresh "lemonade" by juicing lemons together with apples for a sweet but tart combination with zero sugar.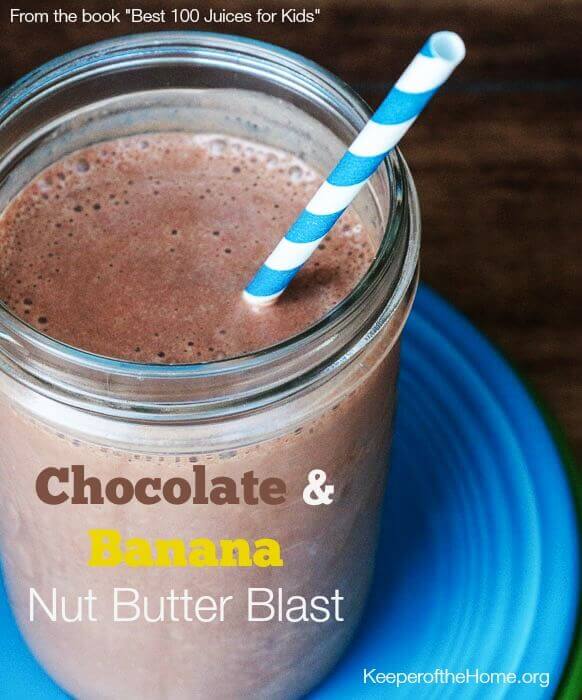 Chocolate & Banana Nut Butter Blast

Used with permission from "Best 100 Juices for Kids" by Jessica Fisher

Stephanie's note: When I made this for my kids and I, just as a small afternoon snack, I doubled the recipe and used half fresh banana and half frozen, because we like our smoothies really cold. For the 5 of us (hungry mama plus four hungrier kids), tripling it would have been better, although it is more filling than you expect it to be because of the nut butter. But when it's chocolate and peanut butter together? I think there's always room for more. 🙂

1 cup crushed ice
1 small banana, broken into chunks
1/2 cup milk (I use whole, raw milk)
1 Tbsp. unsweetened cocoa powder (why we choose fair trade)
1 Tbsp. unsweetened peanut butter (or other nut/seed butter of your choice)

1. Place the ice, banana, milk, cocoa powder, and nut or seed butter in the blender.

2. Blend until very smoothie (ours had a nice, thick, frosty sort of texture).

Planning to make lots of smoothies this summer? Here are some other resources I like:
Smoothies for a Diabetic – Awesome post for those who are diabetic and need some meal planning help (without it being bland).
High Protein, No Powder – This ebook has excellent recipes for making both smoothies and bars that are high in protein, but without using protein powder. Whole foods only!
Smoothie freezer packs – Such a great idea to make smoothies even faster and more convenient! Stacy also shared her method of doing this here.
Vitamix – The blender I've been using for 8 years and am still in love with. In case you were wondering, this is what I recommend if you're in the market for a new one. It has a fantastic warranty and just keeps on ticking no matter how much you use and abuse it. We use it multiple times per day and it's still working amazingly.
Smoothie Pinterest board – I've started pinning smoothie recipes since summer began. Follow along!
Free Smoothie eBook – From my friend Erin at The Humbled Homemaker, you can get her free smoothie ebook when you subscribe.
Totally Primal Smoothies – This ebook is just 95 cents, and includes 150 smoothie recipes, all paleo-friendly, but more than that, they're just made with healthy, real foods.
Got a smoothie recipe you LOVE? Share it with us in the comments!
Disclosure: This post includes affiliate links. Thanks for your support of this site!