Pear and Ginger Slow Cooker Oatmeal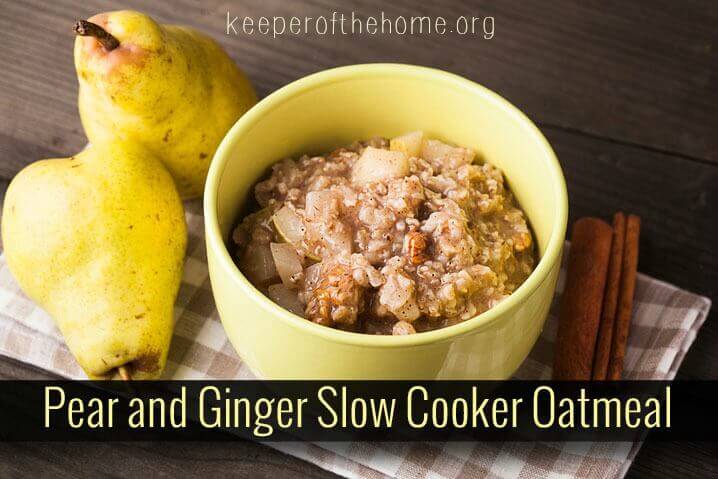 By Kresha Faber, Contributing Writer
If breakfast time in your house is anything like mine, there's a prerequisite that it be quick and easy.
Even on our "slow" mornings, making breakfast just isn't something I want to take the time to do, despite the fact that I love sitting down and sharing breakfast with our kiddos.
So, lately I've been relying on the slow cooker to provide morning meals that don't take any thought or time to prepare. Just serve and go!
It started when I began to make Sunday Morning Slow Cooker Bread Pudding to expedite getting out to door to church on time, and when I realized how well that worked for keeping our family organized in the morning, I started adding other recipes to the repertoire, of which Slow Cooker Hash Brown Breakfast Casserole and Caramelized Apple Slow Cooker Oatmeal tend to show up most often.
And of course, Beth Ricci's e-book, The Breakfast Revolution, has provided on-going inspiration on the journey! I can't even tell you how many times that book has solved a morning-time dilemma in my house.
The best part about my recipe for Pear and Ginger Slow Cooker Oatmeal is that it's totally adjustable and you can serve it with whatever toppings you love.
Oh, and eggs in oatmeal?!? I hear you exclaim. I include eggs in this recipe for two reasons: one, they help the oatmeal have a better scoopable texture, and two, they provide a bit of protein, which at least in my family, is a necessary part of breakfast or everyone is clamoring for snacks about 35.7 minutes later.
It's also a great recipe for kids to make themselves. You might have to cut the pears up for them, depending on their age, but measuring, stirring, and dumping are great ways to get your kids cooking!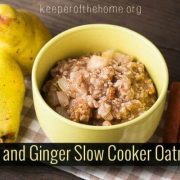 Print Recipe
Pear and Ginger Slow Cooker Oatmeal
Ingredients
2

pounds

pears

about 5-7 pears, any variety, chopped into 1-inch pieces - peeling is optional

1

cup

brown sugar

more or less to taste (see how to make your own brown sugar)

Pinch

of sea salt

2

tablespoons

freshly grated ginger

1

teaspoon

Chinese five-spice

optional

1/2

teaspoon

freshly-ground nutmeg

2

cups

rolled oats

2

cups

whole milk

2

eggs

optional

1 1/2

cups

water
Instructions
Generously grease the bowl of a 3-quart slow cooker.

Toss the pears, brown sugar, salt, ginger, 5-spice, and nutmeg in a large bowl, then add the oats and stir again. Pour into the greased slow cooker insert.

Whisk the eggs into the milk until the mixture is very smooth. Add the water and whisk again. Pour over the pear-oat mixture.

Cook on low for 6-9 hours or on high for 4-5 hours.
Notes
Cook time will vary considerably according to brand and size of slow cooker, so if you don't like crispy edges on your oatmeal (which actually can be really yummy - sort of like an oatmeal crisp), make this recipe for the first time during the day when you can gauge the progress of the oatmeal.
Disclosure: As an affiliate, Keeper of the Home earns a commission on each copy of The Breakfast Revolution that goes through this page's links. Thanks for your support of this site!