Raspberry Coconut Popsicle Recipe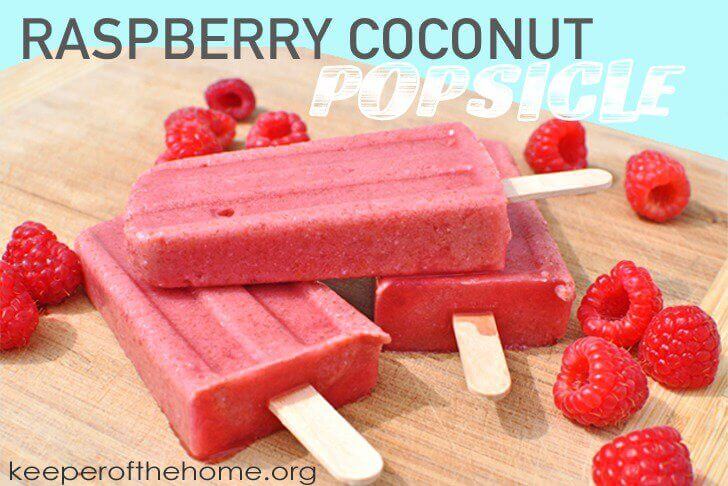 By Leigh Ann Dutton, Contributing Writer Go with me here. It's a sticky kind of hot outside. Your t-shirt clings to your skin. The air is so thick you don't just breathe the air, you eat it, chew it really. Sweat rolls down your spine, and you crave something sweet and refreshing – like a popsicle.  If you're 8, then you don't care what's in the popsicle. You just know it will taste so good, make your tongue turn a fiery red or orange or purple, and get you nice and sticky to the point you know Mom will let you play in the sprinkler to get clean. But if you're mom, then you know the popsicles you get from the local grocery aisle are laden with high fructose corn syrup, food colorings, and other unmentionables. The organic kind will cost you an arm and a leg, and quite frankly, you're still not 100% sure what's in them. What's a mom to do? Easy!
Make your own homemade popsicles!
Homemade popsicles are so easy to make, and there are ideas galore!  If you make smoothies, then you can make homemade popsicles. Just about any smoothie can be turned into a popsicle just by popping it into a mold! Plus homemade popsicles are a great way to keep cool and stay hydrated during the hot, summer days. Personally, I love adding popsicles to my healthy snack list during the summer. With a busy toddler and baby, I love knowing that I can hand one of these sweet treats to either of my children and feel good about what they are eating. Recently, my toddler and I spent some time in the kitchen creating a brand new homemade popsicle recipe together. Today, I'm going to share with you our Raspberry Coconut Popsicle recipe. This popsicle is so yummy even the neighborhood children started asking for them!
Print Recipe

Raspberry Coconut Popsicle

Ingredients

1

cup

frozen

or fresh raspberries

1/2

cup

frozen

or fresh peaches

1/4

cup

coconut flakes

1.5 to 2

cups

coconut water

2

tablespoons

sugar

2

tablespoons

chia seeds

juice from 1/2 a lemon

Instructions

Blend all the ingredients in a blender until smooth. If you're using fresh fruit, consider adding some ice to thicken your concoction just a little bit.

Pour your mixture into popsicle molds and freeze.

A little tip: When you're ready to pull the popsicles out of the molds, then just run a little hot water over the mold to loosen the popsicle. Give it a little wiggle and gentle pull. Pop! Out comes your popsicle!
Enjoy!
What's your favorite homemade popsicle recipe to make?