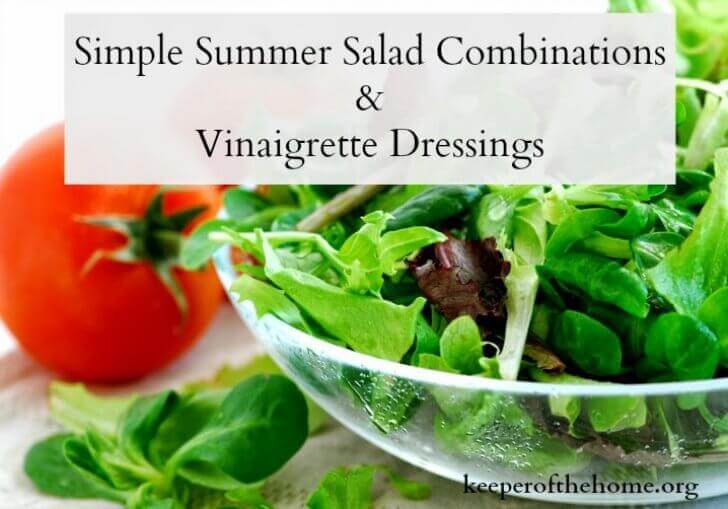 Guest Post by Marci Ferrell
I do enjoy summertime with the abundance of fresh produce whether through a home garden,  CSA, farmer's markets or your local grocery store. I didn't used to be a salad lover but it could be because a salad used to consist of head lettuce and ranch dressing. Not too healthy or tantalizing on the taste buds.
Since being captivated by real food and love for a good salad with a tasty homemade dressing, salads have become a staple on the dinner table. (They sometimes make an appearance for lunch, too!).
Simple summer meal
Salads are a great addition to a summer dinner as they simplify and complete it. With a simple protein served on the side and some fresh bread, you can have a complete meal without heating up the house and clean up is quick.  Top your salad directly with cooked beef, chicken, tuna, shrimp or even beans (kidney beans are yummy) for a meal all in one.
Greens storage tips
Wash and store your greens as soon as you get home with them. Make sure you remove as much of the water as possible. Using a salad spinner makes this task almost effortless.
Store your greens in a large bowl with a paper towel on top of them to absorb moisture. They should last up to ten days depending on the freshness of the greens.
Salad combinations
There are no measurements below but just fresh ingredients and you can put them together as is or use the combinations as a base to create your own original salads.
Our Favorite House Veggie Salad

Add a protein and bread for a complete meal; top with Oil & Vinegar House Dressing

Washed and mixed greens
Halved grape tomatoes
Red onion slices
Cucumber slices
Pepper slices
Carrot slices

Quick Weeknight Salad

Top with Oil & Vinegar House Dressing

Washed and mixed greens
Broccoli cole slaw mix (Mann's is a brand at our local stores in the produce section)
Summer House Salad

(adapted from my friend Vicki's recipe)
Top with Sweet Oil & Vinaigrette

Washed and mixed greens (baby spinach is a great option)
Sliced strawberries
Mandarin orange slices (optional)
Chopped pecans or walnuts
Feta cheese crumbles

Simple Tomato Salad

Layer on a  beautiful platter and drizzle with olive oil & balsamic vinegar

Sliced tomatoes
Fresh minced garlic
Sliced red onions
Crumbled feta cheese or shredded parmesan
Salt and pepper to taste

Corn & Tomato Salad

Top with Oil & Vinegar House Dressing

1 ear of corn per person (cooked and off the cob)
Halved grape or cherry tomatoes (or diced whole tomatoes)
Diced red onion
Fresh basil
Salt & pepper to taste

Mix together and add your favorite oil and vinegar dressing combination. I use our family house dressing on this one and make it several hours ahead so the flavors can blend together.

Salad Dressings
A tasty dressing makes the salad so I encourage you to get creative in your dressing recipe. A basic olive oil and vinegar dressing is composed of usually 2 parts oil to 1 part vinegar.  By adding your own unique combinations of spices and herbs you can have a different dressing every week.
You can keep a basic vinaigrette dressing in your fridge for up to two weeks. When you add fresh garlic or shallots you will want to use the dressing up within a week.

You do not need a fancy salad dressing shaker; a simple mason jar works well. Below is a basic oil and vinegar dressing along with our family's "house" dressing. I encourage you to try different herbs and other additions to change the flavor depending on what type of salad you are serving.
Greens like arugula may need a bit of honey or maple syrup to sweeten them or mild butter lettuce does better with 3 parts oil to 1 part vinegar. Taste test your greens with the dressing by dipping a leaf in and seeing how the flavors work together and then adjust accordingly.
Any of the recipes below can be but in half. Blend together in your favorite salad dressing container.
Basic Oil & Vinegar Dressing

1 cup olive oil
1/2 cup vinegar (apple cider or balsamic are usually my options)
salt & pepper to taste

Oil & Vinegar House Dressing

1 cup olive oil
1/2 cup apple cider vinegar
1 teaspoon Italian seasoning (you can get creative here)
1 teaspoon onion powder (optional)
1 teaspoon sea salt
2 tablespoons mustard of your choice (honey mustard is a favorite)
3 cloves minced garlic

Sweet Oil & Vinaigrette

We use this recipe on the Summer House Salad

1 cup olive oil
1/2 cup balsamic vinegar
1 tablespoon honey or maple syrup

Beautiful presentation
Make sure you mix your salads in a big bowl with room to toss and then place in your serving bowl. For a salad with greens, I usually serve the dressing on the side and let each guest add their own dressing to their salad. You can toss them with the dressing but do it just before serving so the greens don't wilt.
Keep some pretty veggies or sliced fruits aside to top after you've tossed the salad for a pretty presentation.
What are your favorite summer salad combinations? Do you have a favorite oil & vinegar dressing combination?
Marci is a lover of the Lord Jesus Christ, married to her sweetheart Doug for over 28 years, mother, mother-in-law, and grandmother. She is here by God's grace and overwhelmed by His kindness in redeeming her as His daughter. Loving her husband, children and grandchildren, reading, sharing my faith, home keeping, cooking, sidewalk counseling, feeding lots of people and making lists are some of her favorite pastimes. You can find her sharing at Thankful Homemaker, Facebook and Pinterest on celebrating the joy, freedom and beauty of being a wife, mother and homemaker.