Quick and Easy Chicken Pasta with Tomato Cream Sauce
By Leigh Ann Dutton, Contributing Writer
The days are getting longer and my desire to spend a lot of time in the kitchen is beginning to dwindle. Wait, my desire to spend a lot of time in the kitchen always dwindles. I love to cook, but I don't love to cook all day.
I'm always experimenting in the kitchen, which is a nice way of saying that I rarely have the right ingredients on hand when I need them even though I menu plan and try really, really hard to do better.
However, I've found that this season of "experimenting" has resulted in some really amazing recipes and concoctions. Since I follow a basic process for creating meals from scratch, this meal came out of my kitchen piping hot and completely delectable. Every single member of my family (ages 1 to 31) cleared their plates and went back for seconds.
I want to share my recipe for Chicken Pasta with Tomato Cream Sauce because it was so good and you need to try it.
My family is currently gluten and dairy free because of my youngest; therefore this Chicken Pasta with Tomato Cream Sauce can be made gluten and/or dairy free or not. It's entirely up to you! This recipe is very easily adaptable.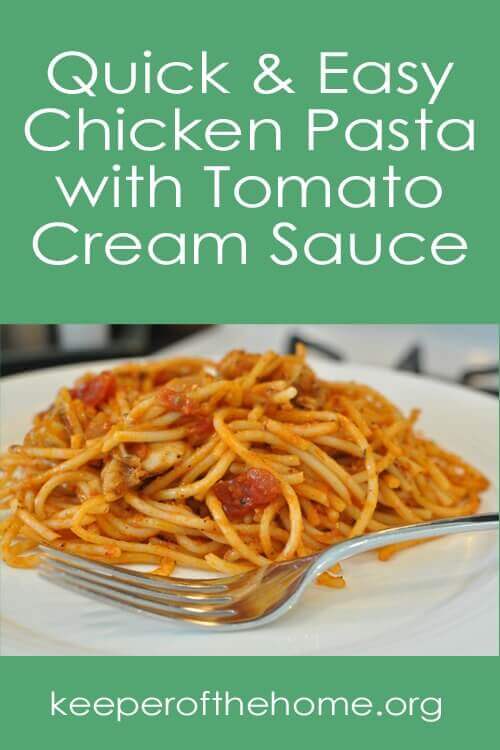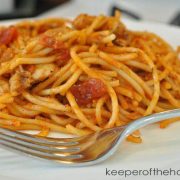 Print Recipe
Quick and Easy Chicken Pasta with Tomato Cream Sauce
Ingredients
4

Tablespoons

coconut oil

or 2 Tablespoons olive oil + 2 Tablespoons butter

1

medium onion

diced

3-5

cloves

of garlic

minced

28-30

ounces

of tomato sauce of your choice

1

lb.

chicken

cooked

Salt and pepper

to taste

Dried basil

to taste (start with 1/2 a Tablespoon and work your way up)

Dried parsley

to taste (start with 1/2 a Tablespoon and work your way up)

1

can of coconut milk

or heavy cream if you don't want dairy free, though the coconut milk is delectable!

1-1.5

lbs

of your favorite pasta

spaghetti, linguine, etc. and choose gluten-free if you need to

Grated Parmesan

optional
Instructions
Cook your pasta according to package instructions.

Cook your chicken anyway you like. I used chicken tenders grilled with lemon pepper seasoning because that's what I had on hand. You could also use shredded chicken or pan-fry you diced chicken in a cast iron skillet with a little coconut oil.

Melt coconut oil in large skillet over medium-high heat. Add onion and cook until translucent. Then add the garlic and cooked chicken.

Let your garlic cook for about 30 seconds. Then add tomato sauce, salt and pepper, basil, and parsley to your skillet. Stir to combine.

A note on tomato sauce: You can use whatever tomato sauce you like! You can used canned tomato sauce, jarred spaghetti sauce, homemade spaghetti sauce, etc. It's really up to you. If you do use a plain tomato sauce, you'll want to adjust your seasonings a bit to compensate. Just do some taste-testing as you cook.

Bring the sauce to a simmer. You can let your sauce simmer for 15-20 minutes to let the flavors develop, or you can move right into the next step. I let mine simmer when I have time.

Add coconut milk to your sauce and stir well. Let it heat for a few minutes and then remove from heat.

Combine pasta and sauce into a pot. Serve hot with a garnish of grated Parmesan cheese (optional) and a little parsley (optional).
This meal goes great with some homemade crusty bread and a tossed salad. Enjoy!
What about you? What is your favorite quick and easy meal?
This post is sponsored by Plan To Eat. If you know you need to make strides towards regular meal planning and you're looking for a tool to make it easier, I highly recommend you check out Plan To Eat's virtual tour. Sign up for a free 30-day trial to see how it works! Plan To Eat was born from a desire to eat real food — great food — prepared at home, together as a family. Plan to Eat is an online menu planner that uses your recipes, scheduled for the days you want them, automatically generating your grocery list, organized the way you like to shop. Eat well. Eat together.