No-Bake Pumpkin Seed Chewy Granola Bars
I needed to come up with a new granola bar recipe that was both wheat-free AND rice free since my son is allergic to both. And since I usually make my favorite granola bars with crispy brown rice cereal, I wondered what I could use that would be remotely close.
On the cereal aisle, I explored my options. The choices were slim, but one bag of cereal that I'd never tried before caught my eye.
Puffed millet. I decided to give it a whirl.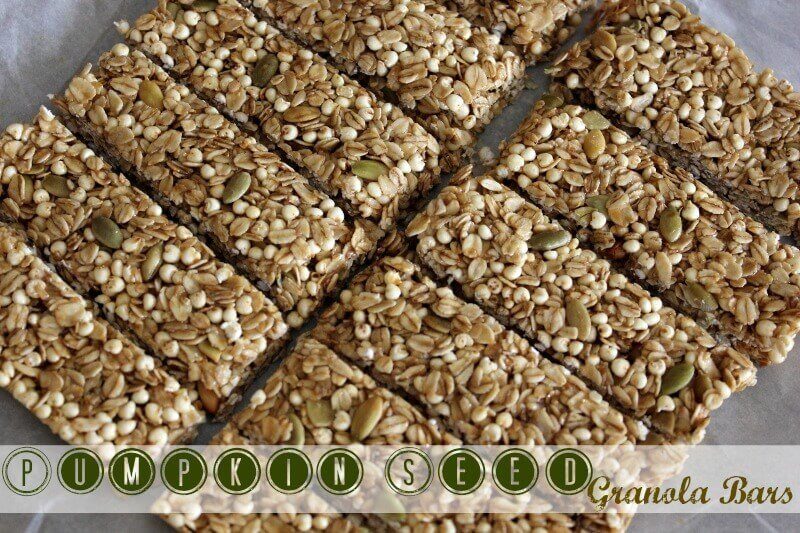 On its own, puffed millet's texture reminds me of tiny popcorn pieces. The flavor is subtle and very similar to a rice cake.
And for granola bars? Well, puffed millet works out perfectly, providing just the right amount of texture and flavor for this delightful treat!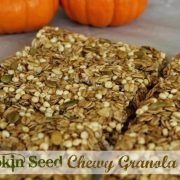 Print Recipe
No-Bake Pumpkin Seed Chewy Granola Bars Recipe
Instructions
Stir oats and puffed millet in large bowl.

In small saucepan over medium heat, melt oil, honey, and sugar until bubbly, for no more than two minutes. Stir constantly.

Let oil/honey/sugar mixture cool for 2-3 minutes, then add vanilla and stir.

Pour liquid mixture over oats, millet, and pumpkin seeds, and stir thoroughly.

Grease an 8×8 glass pan or

parchment paper

-lined pan; then pour mixture into pan.

Press down firmly. This step is just as important as the mixing. Packing down the granola helps the bars stay together!

Place granola in freezer for a few minutes or let cool on counter until set.

Once set, turn pan upside down on cutting board. Then cut into the size bars you like.

Store in fridge or at room temperature.
So delicious! Hope you enjoy!
What's your favorite type of granola bar? Have you ever experimented with puffed millet?