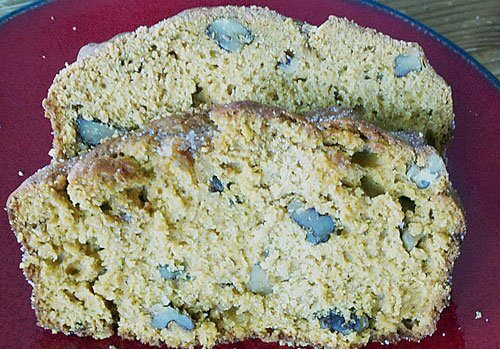 Written by Brandy Ferguson, Contributing Writer
This bread is perfect any time of year, but I especially love to make it in the fall. Slightly crunchy on the outside, and super moist on the inside, it's a favorite in our family.
I like that there is just enough spice in this bread to not overpower that great pumpkin flavor. So delicious!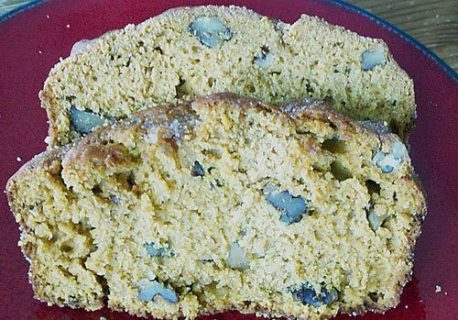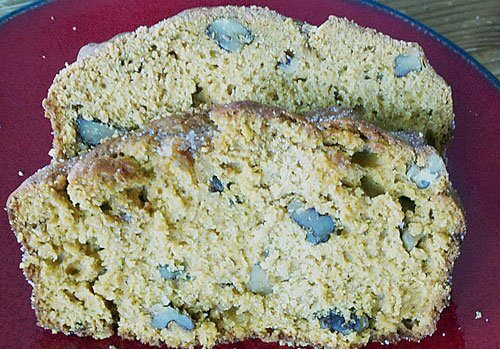 Print
Pumpkin Walnut Bread
Ingredients
4 cups whole-wheat flour or sprouted grain flour
1 teaspoon cinnamon
1/2 teaspoon nutmeg
1/4 teaspoon cloves
1/4 teaspoon ginger
2 teaspoons baking powder
1 teaspoon baking soda
1/2 teaspoon salt
1 can (15 ounce) pumpkin
2 cups packed Sucanat or Rapadura sugar
1 cup apple juice
4 large eggs
1/4 cup melted, unsalted butter
2 teaspoons vanilla extract
1 cup chopped walnuts
Instructions
Combine dry ingredients in large mixing bowl and set aside.
In separate bowl (I used my mixer bowl), mix pumpkin, brown sugar, apple juice, eggs, butter and vanilla.
Add flour mixture a bit at a time, just until blended.
Add walnuts and stir.
Bake in two 9x5x3 loaf pans on 350 for 45 to 60 minutes or until done.
Cool in pans for a few minutes, then turn out onto plate.
Courses Baked Goods
Enjoy!
What are your favorite foods to make in the fall?