Cleaning your teeth with dirt sounds pretty oxymoronic, right?
You might be surprised to know that clay toothpaste actually leaves your teeth feeling very clean.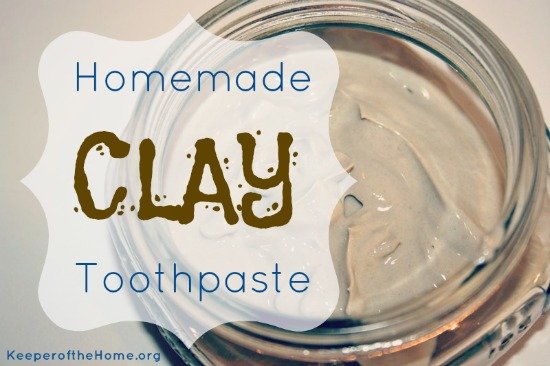 One of the things I like best about it is that it doesn't contain glycerin, which doesn't clean but actually coats your teeth. This coating, while it may sound like a good thing, prevents teeth from being able to remineralize and can actually weaken teeth over time.
Many of us have gotten off of conventional brands of toothpaste and switched over to something more natural. However, most "natural" toothpastes on the market still contain glycerin (but not all– some products such as this one don't).
I wrote a while back that for the purpose of avoiding glycerin, as well as fluoride, preservatives, sodium lauryl sulfate, among other things, our family was looking for something different. We had tried homemade baking-soda based toothpaste recipes and they just didn't do it for us at all. Instead, we found Earthpaste!
Now, I still love Earthpaste and there are a couple tubes of it in our bathroom upstairs as I write this. I highly, highly recommend it to anyone looking for a 100% all-natural toothpaste option and you can read more of my glowing praise in this post.
Much as I love it (and many of you have tried it and told me you love it too), not all of my readers can afford it (or any other health food store toothpaste, for that matter). I understand. There have been many seasons in our lives when we simply couldn't justify purchasing a pricey toothpaste when there were so many other bills to pay and just not enough money to go around.
Seeing that it's Make It Yourself month, it seemed like the perfect time to figure out how to to it myself!
And besides… am I the only one who gets this strange kick of out seeing how many of the things we use that I can make myself? Call me a nut, but I do this sort of thing for fun.
The other night, for example, I had a Friday night to myself after the kids were in bed. And what did I do with this jewel of an opportunity? Read? Take a bath? Go to bed early?
Oh no. I mucked up my kitchen making vapor rub, facial lotion (or trying anyways), more deodorant, and perfecting my clay toothpaste recipe. Just call me a party animal.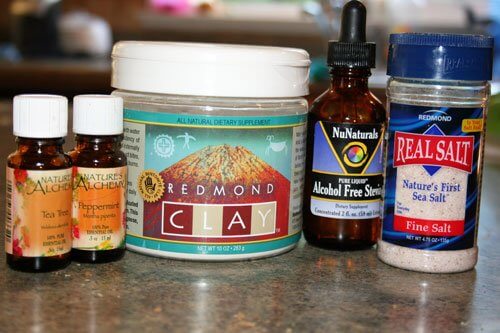 How to make clay toothpaste
Five simple ingredients. Well, six, if you count water.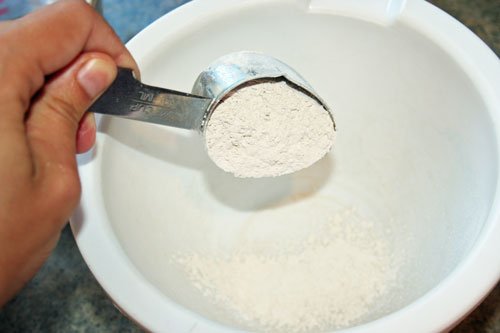 1. Dump the powdered clay in a bowl, then add sea salt.
2. Pour in the boiling water.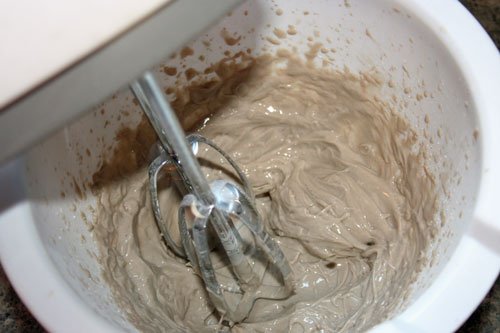 3. Using a hand mixer (or a sticker blender would also work), start mixing the clay until it is well blended with the water.
The consistency that you're going for is just thick enough to stay on a toothbrush, but still thin enough that you will be able to dip a toothbrush in and easily scoop some up. If it's too thick, this gets harder to accomplish.
In my original recipe, I used an extra 1 tsp. of clay as well as a slightly heaping 1/4 cup of it. This gave me a nice, thick texture that was still easy to use. The only problem was that over time, taking off the lid of the jar to use it started to dry it out a little bit.
(It didn't help that my 3-year-old started helping herself to it because she liked the flavor, and guess who never remembered to put the cap back on? Hey, at least this toothpaste is completely edible and non-toxic!)
In this second batch, I decided to make it less thick up front, to account for that slow amount of drying out that will happen over time. Either way, it will still work fine, so I'll leave the exact texture and thickness up to you!
4. Start adding stevia, and both the peppermint and tea tree essential oils. But don't put the full amounts in yet. Start with half of the drops first. This gives you the ability to taste it as you go and not end up with something sweeter/stronger than you will enjoy using.
Mix it well after you add the first of the drops. Then taste a bit on the tip of your finger. Go ahead and add more stevia and/or essential oils until it tastes how you want it. For me, about 20 drops of stevia, 13-14 peppermint, and 4 tea tree was perfect.
In my first batch I used about 15 drops of stevia, 12 peppermint and 8 tea tree. It was fine, but the tea tree came through too strong for my liking and I wished it was slightly sweeter, hence the recipe adjustment the second time around.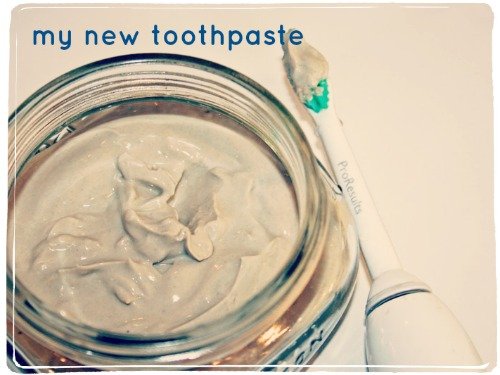 That's it!
Scoop it up into a jar. I chose this wide mouth, shallow glass mason jar, because I thought it would make it easy to dip my brush in, and it does.
Make sure you put an airtight lid on top, and keep it screwed on whenever you aren't using it (i.e., keep it out the toddler's reach, in my case). I used a plastic screw-on mason jar lid, which was ideal.
Another idea that I had but haven't been able to try yet is putting it into those refillable, squeezable shampoo/conditioner bottles with the flip cap that you buy at the dollar store. Do you know what I mean? If anyone tries using one of those, please let me know how it works! That's how I plan to try it next.
What about using xylitol?
Those who are familiar with the ingredients in Earthpaste or who have just looked around the site may be wondering why I used stevia instead of xylitol.
The answer isn't as fancy as you may hope. Honestly, it's because that's what I had on hand.
I know that there are controversies over whether ingesting xylitol is good or bad for you. Obviously, I haven't made a decision that it's bad because we buy Earthpaste and use it regularly. I have read several articles from naturally minded, holistic dentists who believe that it is not only non-toxic, but also very helpful for preventing cavities. I've also read a few things suggesting it might not be 100% safe. I haven't made up my mind yet.
If you want to use xylitol in this recipe, go ahead! A friend of mine has tried this with great results. Substitute it for the stevia, just start with a little pinch and add more slowly until you achieve the taste and sweetness you desire.
If you want to use stevia, but not the liquid, that's fine, too. You can use either the white powdered, or the green unrefined powder, in exactly the same method. Add it slowly, to taste. That's it.
Have you tried clay toothpaste? What do you currently use for your family's toothpaste?
This isn't a sponsored post in any way. I'm using Redmond products because I think they're great, and it was their Earthpaste product that got me inspired to try this in the first place. 🙂 Also, this post includes affiliate links. You aren't obligated to use these links, but when you do we earn a small commission which helps to support this website, so thank you!