Today we're talking about an essential oil that you've probably heard of or have seen in recipes for homemade cleaners: tea tree oil.
Tea tree has such a diversity of usefulness that's both practical and convenient that you'll never want to live without it again! And the good news is that it is very inexpensive in comparison to other essential oils.
Have you ever used essential oils before?
What is Tea Tree Oil?
Tea tree oil, also known as Melaleuca alternifoliais, is an essential oil that has been around for quite a while. It hasn't been until the past decade has its healing benefits been catching on like wildfire.
The oil is extracted from a plant native to Australia and cannot be found naturally occurring elsewhere.
Tea tree oil should NEVER be ingested and is only to be used as a topical remedy.
What are the healing benefits of Tea Tree Oil?
Tea tree oil is a "jack of all trades" as far as remedies go. The easiest way to grasp the benefits is this:
skin issues + tea tree oil = healing (in most cases)
Tea tree oil is known for its topical antiseptic and anti-fungal treatment or infection-reducing benefits. It also has antibiotic properties and helps aid against aliments such as skin infections, rashes, burns, dandruff and much more.
One note: tea tree oil should not be used on babies younger than 6 months.
In addition to making things smell lovely (and the benefits that come from that), many essential oils also have healing properties. In fact, you can use them to boost the immune system.
Tea tree oil is something you will want to keep on hand! It's so versatile and you can use it in so many ways!
If you're just getting started, consider tea tree oil something to put on your list of must-have essential oils. Here are 25 ways you can put it to work for you.
25 Uses for Tea Tree Oil
1. Helps heal and soothe sunburns.
2. Heals skin infections naturally.
3. Relieves itchiness from rashes and helps reduce rashes.
4. Can be used as an all-purpose cleaner: Fill a glass spray bottle (which you can BUY HERE) with 1-2 tsp. of tea tree oil and the rest of the bottle with water.
5. Treats acne.
6. Helps to prevent lice naturally: Add a few drops to your shampoo.
7. Add a few drops in your pets' crates or beds to keep the fleas away.
8. Removes ticks: Add to skin, and the little stinker will usually unlatch.
9. Cures toenail fungus and Athlete's foot.
10. Helps remove skin tags.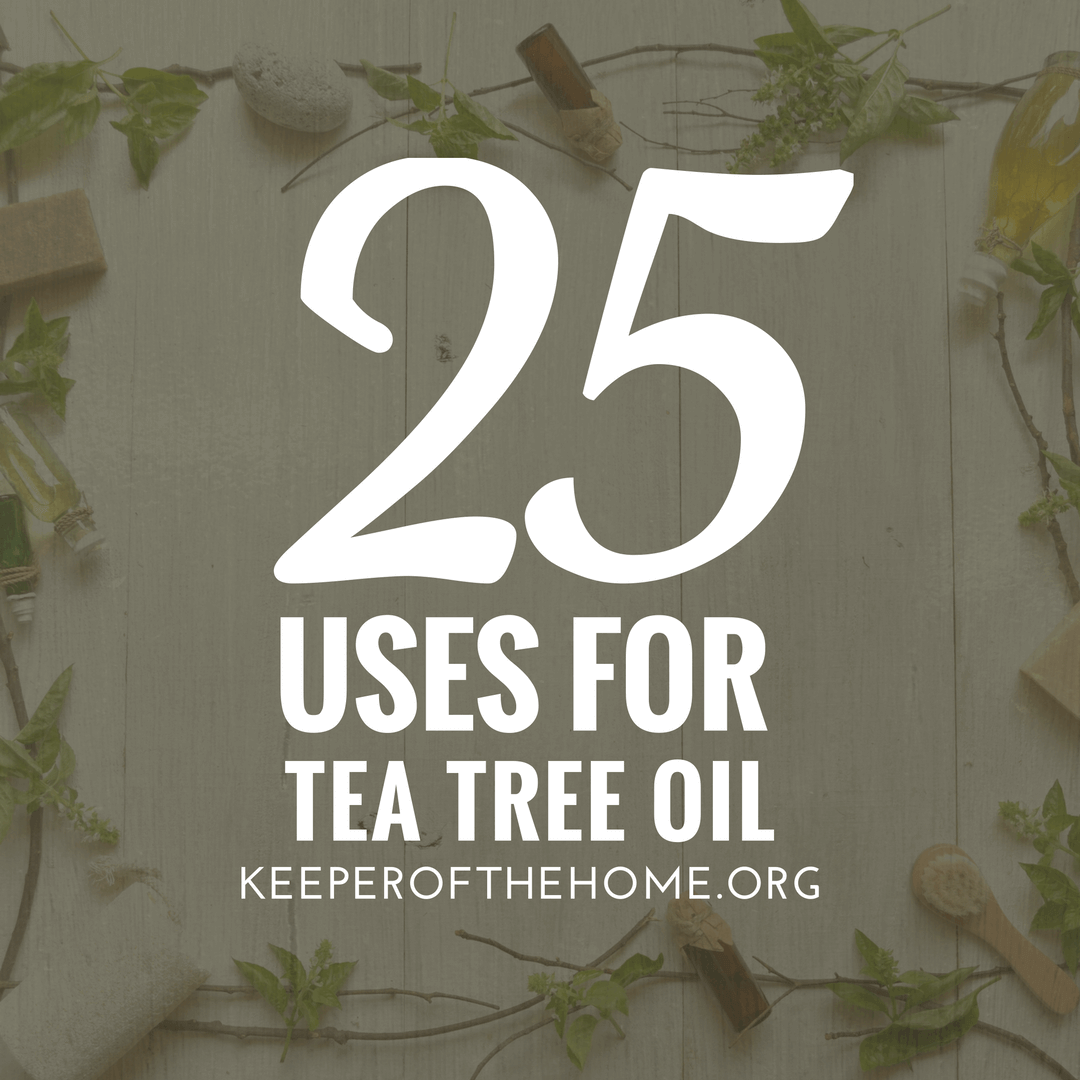 11. Naturally cures bad breath. (Swish some tea tree oil and water in your mouth.)
12. Can be used in a homemade toothpaste recipe.
13. Has been found as an effective treatment for warts.
14. Soothes insect bites.
15. Treats ringworm.
16. Treats psoriasis and other skin conditions.
17. Relieves asthma or other breathing conditions when a few drops are added to a humidifier.
18. Works as an antiseptic on small cuts.
19. Keeps your bathroom fresh.
20. Relieves earaches: Mix 1 drop of tea tree oil with 1 tsp. olive oil, drop mixture into the ear and then remove by tilting head.
21. Freshen laundry: Add a few drops in your washing machine to scent your clothes. Also, if you forgot to put the clothes in the dryer, run again with tea tree oil to remove mildew. You can also scent wool dryer balls with tea tree oil.
22. Helps freshen carpet.
23. Can be used in several homemade kitchen cleaners.
24. Kills mold: Mix apple cider vinegar and tea tree oil and spray on mold; place outside to sun-dry.
25. Can be used in a homemade natural deodorant.
There you go! 25 different ways to use tea tree oil, the most versatile substance that can go from soothing a burn to removing ticks to freshening your house!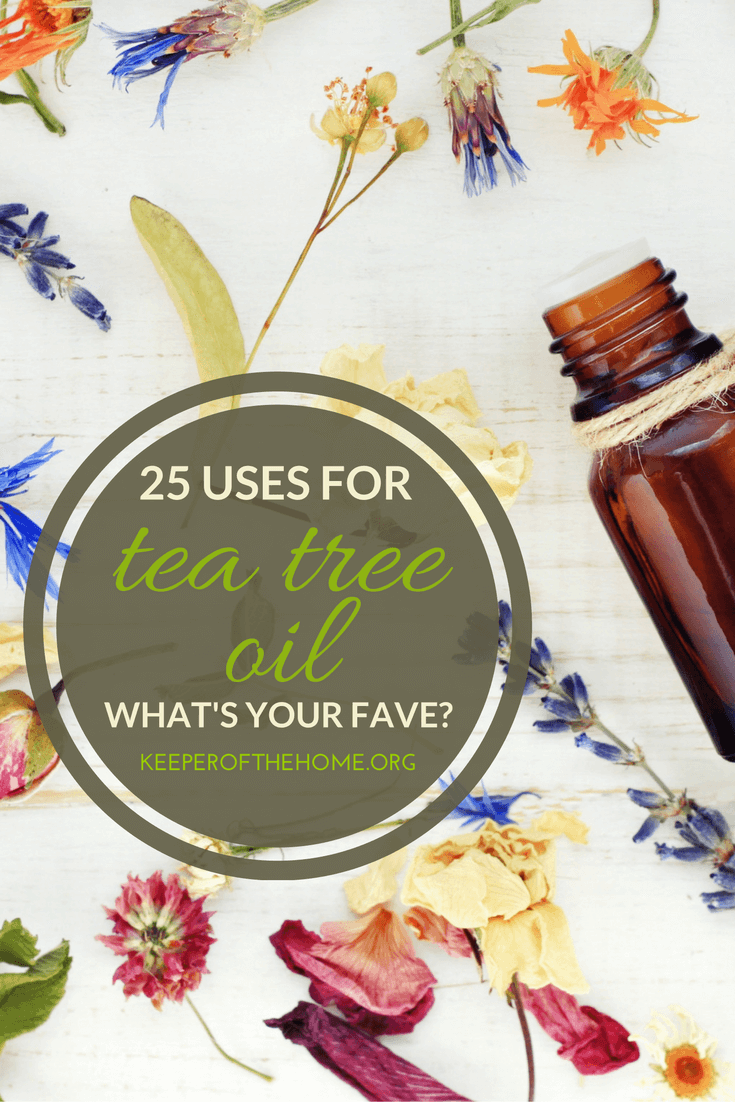 Not sure where to buy tea tree oil?
Well, that's easy! CONTACT ME. I have spent YEARS researching this, and the company I use not only has the highest quality therapeutic oils, but they also have a terrific story about supporting the communities and environment.
How do YOU use tea tree oil?
Disclosure: This post includes affiliate links. Thank you for supporting our work and mission!
Disclaimer: Although all of the Keeper of the Home writers are passionate about natural health, none of us are medical professionals. This post is for information and educational purposes only. This post includes both affiliate and referral links.