Strawberry Salsa: Delicious Nutrition in Every Bite
Strawberry salsa is a healthy and nutritious…and let's not forget delicious!…way to celebrate the dearth of strawberries this time of year. Enjoy!
Note from Ann: When my kids were little, our favorite 'U PICK' trip was to a strawberry patch. I remember so many times driving away with little ones covered in pink strawberry juice from head to toe! Kelly's post reminds me of those days and has me planning to take the family back to a 'U PICK' strawberry patch to taste the sweetness of fresh picked berries and gather enough to be able to make this delicious salsa! I may have to double (or triple) the recipe for my crew, otherwise it will disappear fast! Do 'U PICK'? Happy harvesting:)
By Kelly, Contributing Writer
Bright and beautiful fresh strawberries are one of the tastiest and healthiest ways to celebrate spring! Their sweet, juicy flavor is especially delicious when they're fresh-picked, which is why we love visiting our local strawberry fields to gather them up by the bushel!
There are so many delightful ways to enjoy fresh strawberries, from fabulous fruit parfaits and kid-favorite muffins to sensational salads and creamy frozen treats! Of course, one of our simple favorites is to dice-up a pound of fresh strawberries to create this quick-n-easy fresh strawberry salsa!
Besides being absolutely gorgeous, this scrumptious salsa is the perfect balance of sweet and spicy. Plus, it comes together in less than 10 minutes. (I should also mention that it takes less than 10 minutes until it's gone! Yep, it's that good!)
Diving into a bowl of fresh strawberry salsa has lots of health benefits too! That's because strawberries are packed with nutrients, fiber and high levels of antioxidants. In fact, these little beauties rank among the top 10 fruits in antioxidant power. As a result, strawberries offer a wide range of health benefits, including reducing inflammation, boosting the immune system and protecting the cardiovascular system to name just a few.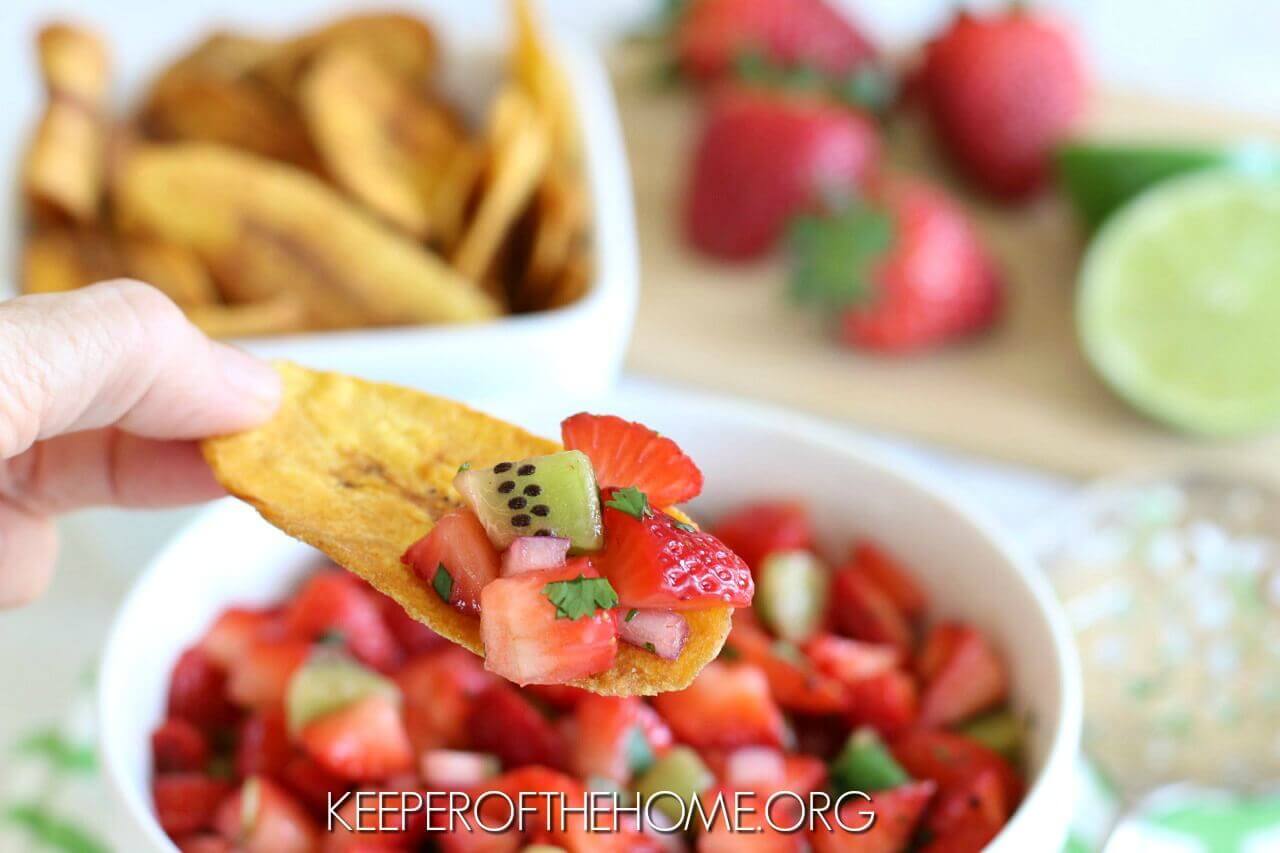 Crispy, sweet plantain chips are my personal favorite way to enjoy this scrumptious salsa. Of course, there are lots of other tasty little edible options for scooping up this flavorful favorite, such as tortilla chips and cinnamon pita chips. So grab a chip of your choice and dive in!
Fresh Strawberry Salsa
Ingredients
1 Tbsp fresh squeezed lime juice
1 tsp pure raw honey
1 lb. fresh ripe strawberries, hulled and diced
1 kiwi fruit, peeled and diced
1/4 cup fine diced red onion
1/4 cup chopped fresh cilantro
2-3 tsp fine diced jalapeño pepper, seeds removed
Instructions
In a small bowl, whisk together the lime juice and honey; set aside. In a large bowl, add all of the remaining ingredients. Drizzle honey-lime mixture over the salsa. Gently toss mixture to combine. Enjoy!
P.S. This recipe is incredibly versatile! For instance, you can swap out the kiwi with creamy diced avocado for an amazing strawberry-guacamole experience! Not a fan of cilantro? No worries, use fresh chopped parsley instead. It's delish! And be sure to think beyond appetizer … this sweet-n-savory salsa also makes a delicious accompaniment to grilled chicken, fish tacos, and more!
Looking for more delicious ways to enjoy fresh ripe strawberries? We've put together a delicious menu of "65 Fabulous Gluten Free Strawberry Recipes for Spring." Plus, there are three easy ways to keep your berries fresh longer!
Here are a few other yummy strawberry goodies from the Keeper archives:
Have you made strawberry salsa? What are your favorite ways to enjoy fresh ripe strawberries?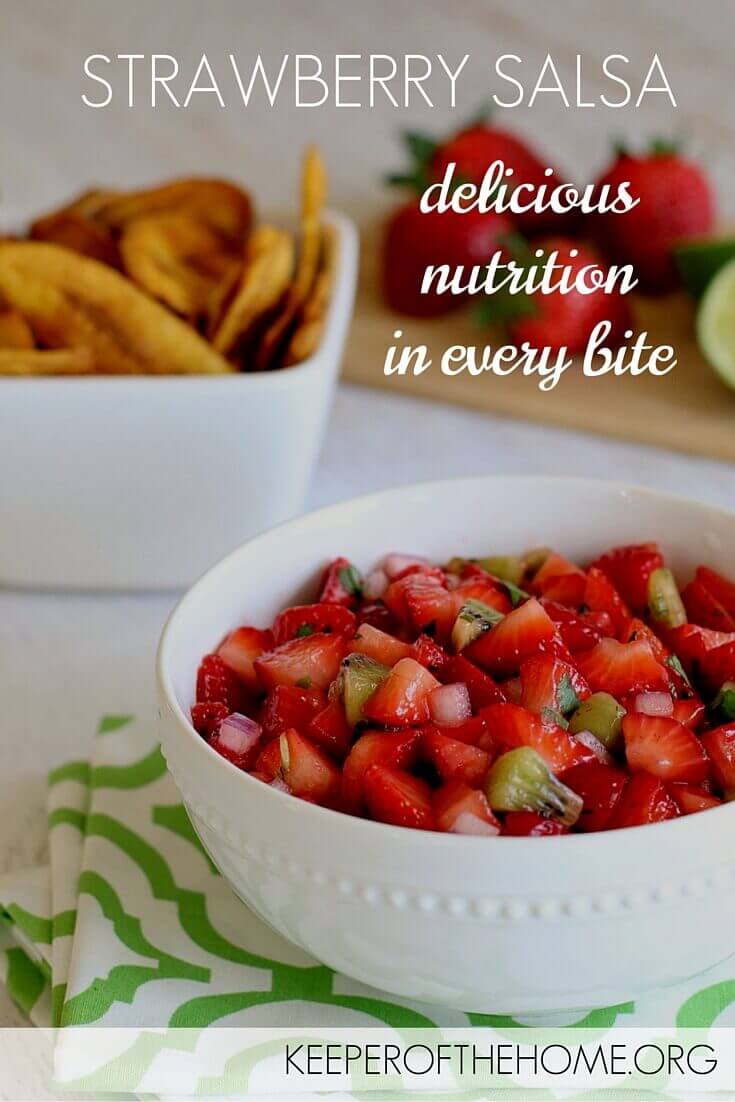 Disclosure: This post contains affiliate links. When you buy through our links, we earn a small commission, which helps to keep this site going so that we can continue to offer free and useful content, so thanks!