9 Simple Ingredients That Will Clean Your Entire House!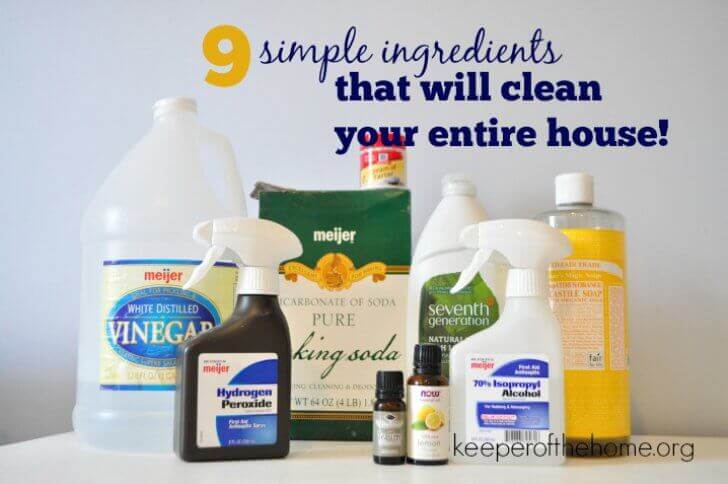 By Emily McClements, Contributing Writer
If you had to guess off the top of your head, how many cleaning products would you say you have in your house right now? You probably have a couple in the kitchen, several in the bathroom, several more multipurpose cleaners for around the house, and a few specialized products for tough jobs. It's a lot, right?
What if I told you that you can clean your home from top to bottom with just a few simple ingredients — some of which you probably already have on hand? Would you be curious?
Maybe you've made a commitment to remove toxins from your home this year, or you have a goal of saving money by making your own homemade products. One of the best ways to get toxins out of your home and save money at the same time is to make your own homemade non-toxic cleaners. By keeping just a few ingredients on hand, you can make all the different cleaners you would need to clean your entire home.
These ingredients are simple yet powerful multipurpose cleaners. Here's a list of what you'll need to get started. If you don't already have some of these things at home, put them on your grocery list and make sure to stock up the next time your at the store. Then you'll be prepared to tackle any cleaning challenge around your home!
Ingredient List
These nine ingredients can be combined in endless ways to create effective cleaners for your home.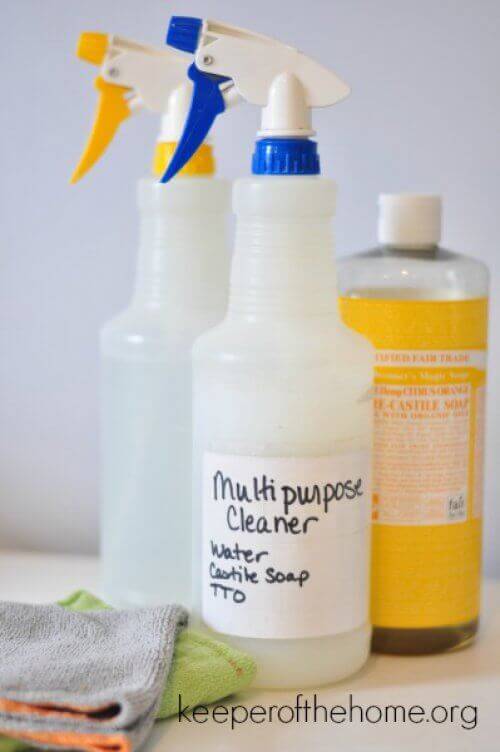 Homemade Multipurpose Cleaner
You'll probably want to start by making a homemade multipurpose cleaner. My favorite is a spray bottle filled with water, several squirts of Castile soap, and 10-12 drops of tea tree oil. You could also use dish soap in place of Castile soap. I use this for pretty much all of my basic cleaning around my house – kitchen, floors, bathroom, dusting, and general cleaning. I love it.
Homemade Disinfecting Wipes
You can also use the multipurpose cleaner to make homemade disinfecting wipes. Just cut some old t-shirts or other soft cloth into squares, place them in a reusable container, and pour the solution over the wipes. These are great for quickly cleaning up small messes, or to give to kids so they can help you clean!
Glass Cleaner
Some people like to use vinegar and water for a window and mirror cleaner, but I've found that rubbing alcohol works the best for a streak free clean. I keep mine in the original bottle and just add a spray nozzle to the top. *Note: Remember that rubbing alcohol is extremely flammable so please do not ever use around an open flame! 
One you have these basic homemade cleaners on hand, you can move on to making more specific cleaners for different areas of your home or deeper cleaning projects.
Kitchen
Sprinkle baking soda on your stove-top, sink, or counters as an abrasive cleaner.
Use cream of tartar as a natural bleaching agent for white kitchens sinks, or try this homemade soft scrub.
Clean the oven without harsh chemicals – just vinegar and baking soda!
Clean your fridge with a sprinkle of baking soda and your homemade multipurpose spray.
Bathroom
Make homemade soft scrub to use in your sink, tub, tile and grout, or even toilet.
Spray mold and mildew with hydrogen peroxide, let set for about 5 minutes, and then wipe off.
Use rubbing alcohol to clean your mirrors as mentioned above.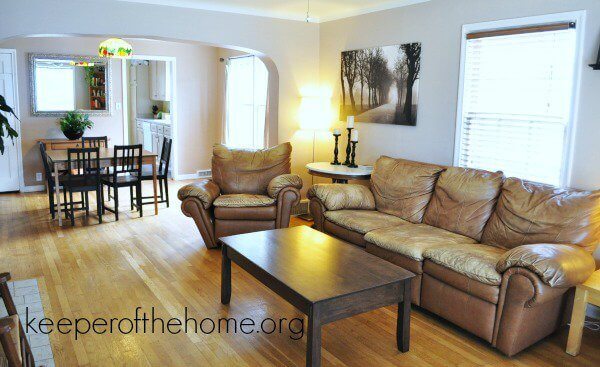 Around the House
Carpet refresher: mix baking soda and several drops of essential oil and shake over carpet. Let set for 15-20 minutes, and then vacuum.
Make homemade air freshener.

 Going Deeper with Green Cleaning
Learn more about using vinegar for naturally cleaning your home and why it may not be the best option. Also, make sure you're not committing the common green cleaning mistake of mixing vinegar and castile soap together in recipes.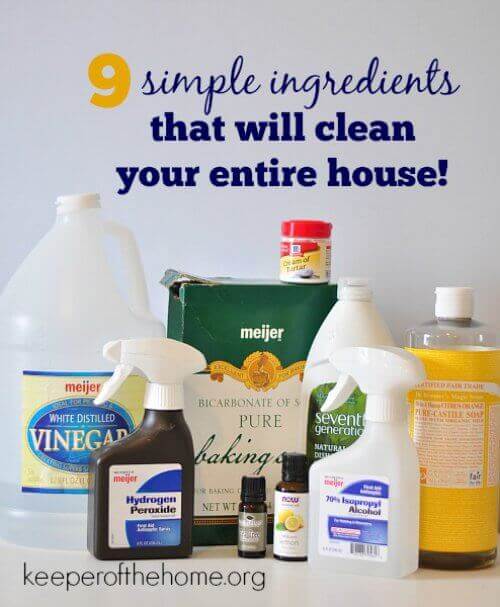 Now you have everything you need to get started with green and natural cleaning all around your home! It might not making cleaning fun, but when you use these nine simple ingredients you can be confident you're not exposing your family to toxic and harmful ingredients!
Looking for more recipes and ideas to make your own cleaning solutions from just a few simple, household products? Sign up for our newsletter and receive a free copy of our ebook, Clean & Simple! It includes 12 cleaning recipes made from 7 simple ingredients that you probably have in your house right now! Click here to sign up.
What is your favorite natural, homemade cleaner you use around your home? 
Disclosure: This post contains affiliate links. When you buy through our links, we earn a small commission, which helps to keep this site going so that we can continue to offer free and useful content, so thanks!