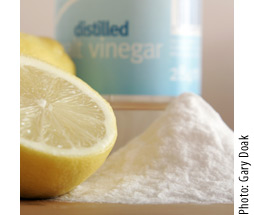 Being a keeper at home is a special blessing that the Lord has assigned us women. We have the honor of not only maintaining our homes but also caring for the health of our families. It is with that thought in mind that I write this.
We all know that as mothers and wives we need to cook nutritious and satisfying meals. But does our duty in fostering good health end there? I believe that we need to pay special attention to what we clean with too. Many commonly used household cleaners are nothing more than harmful chemicals with a nice perfumey smell. But, there are an abundance of alternatives to chemical cleaners. One could buy some of the "natural" cleaners sold at many health food stores today, but why spend SO much money when many of the ingredients you need to make effective, safe, simple cleaners are already sitting in your cabinet? Here are just a few of the recipes I use and find most helpful!
My most used:
Best for cleaning bathrooms:
Kitchen Cleanser
Ingredients
Baking soda

Essential oil

optional
Instructions
Fill a plastic or stainless steel shaker (ex. large salt and pepper shakers) halfway with baking soda. Add 15 to 20 drops essential oil (try lemon). Stir. Add more baking soda until it reaches the top of the shaker. Secure the lid and shake to mix. To use, sprinkle on counters or in sinks, then wipe with a damp cloth or sponge. Rinse well. Don't use too much or you'll need to keep rinsing and wiping.
Other tips:
~Don't buy expensive veggie and fruit washing sprays at the store. I keep a bottle of vinegar and a bottle of hydrogen peroxide under my sink. Spray veggies or fruit first with vinegar and then with peroxide. Rinse. It is quite satisfying to see all the germs and bacteria bubble away!
~Instead of buying scrubbing pads that need to be disinfected or thrown out all the time, save your bag next time you buy onions. Simply place your washcloth inside the bag and scrub. So easy!
Great tools to have:
~old toothbrushes
~cotton rags (keep those old socks!!)
~lots of spray bottles for homemade cleaning solutions
~a dutch rubber broom- while this is not a common cleaning item, I love mine. It is a long handled rubber floor squeegee with a short fingered rubber rake on the other side. I use it at least once a day. (www.euroshine.net)
~a small portable steam cleaner- again, not very common but this is a great non-toxic way of removing grease and grime from most surfaces.
~ the book Organic Housekeeping
by Ellen Sandbeck. I have this book highlighted to within an inch of it's life! She has a wealth of information on how to keep your home healthy and clean.
I hope these tips help those of you who are seeking to make your family environment a little healthier. I no longer have to worry about my precious little ones getting under the sink, or if one of them  decide licking the window would be a good idea (it happens!). It is truly carefree cleaning! God bless each of you as you seek to glorify His precious name.
Amanda is 26 years old. She and her husband, John, have been married for almost 6 years. They have three children Lilly (4), Luke (3) and Bradley (1), with their 4th little blessing due at the end of February. She feels blessed to have been called to be a keeper at home. Over the past couple years she's been learning how to keep her family healthy, and realizing it stretches to all areas of life ( i.e. food, cleaning, education, spirituality). She feels she has a lot more to learn but loves sharing what she can! To get a glimpse into her life, visit mock-n-bird.blogspot.com
Other Related Posts You May Enjoy