Why I Quit No 'Poo and My Beauty Routine These Days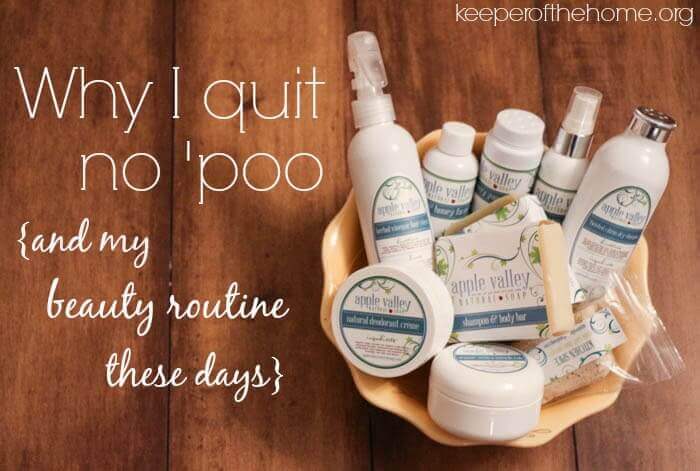 When something isn't working for me, I'm learning to stop the madness.
Put down that boring book I'm halfway through. Switch up the daily routine to accomodate when I'm most productive or a toddler's morphing nap time. Drop that homeschool curriculum that yes, I paid good money for, but is causing tears and friction each time math rolls around.
So when the "no 'poo" method of shampooing only with baking soda stopped working for me, much as I was infatuated with this simple and uber-frugal practice, I ditched it.
It's not that no 'poo is bad. At all. In fact, I know plenty of people that still do it, have done it for years, get great results, and rave about it. I used to be one of them.
My problem is that although my hair tends to be greasy on the top, it gets very dry everywhere else, is fine, and very prone to being breakage.
After doing no 'poo for an extended period of time (a couple years), my hair was actually getting brittle, dry, and damaged. Yes, I was doing it properly, being careful with how much I used, adding in a vinegar rinse, doing a conditioning treatment every once in a while, cutting back on how often I washed… all the things that should make it work. Except it didn't. Not for me.
When I gave up on it, I figured I would go back to using natural store-bought shampoo from my local health food store. Just around that time, I got introduced to these fantabulous shampoo & body bars, and got hooked. The rest is history.
I switched over, went through a brief transition period, and promptly fell in love. These had that extra bit of moisturizing power my hair needed. They didn't strip it dry like baking soda. The combination of the shampoo bars and a very small amount of natural store-bought conditioner, worked really, really well for me, and gradually my hair became healthier again.
I took an unexpected hiatus from using them during our Big Trip. I had originally planned to use them throughout, for myself and the whole family, and had bought plenty in advance to have shipped to us as we went. The challenge was that being in so many different places, different climates, different levels of water hardness or softness, my hair got finicky and I decided to take a break from them until we got home.
Instead, I used regular (or natural, when I could find it on the road) shampoo, switched to all-natural again as soon as we got home, and now I'm going back through the adjustment period that my hair needs to get back to the shampoo bars.
What do I love about these shampoo bars so much?
They really seem to nourish my hair. They're made with only the best ingredients, nothing I disapprove of in the slightest. They smell and look divine. I can wash myself, head to toe, with one bar.
They're no more expensive than using shampoo from an organic or natural brand, but I honestly like them a whole lot better. They're convenient for traveling (like to weekend conferences or to take camping). Plus, I'm putting my dollars towards a business I'm happy to support.
This post is perfect timing for me, because Natalie (the owner of Apple Valley Natural Soap, a previous KOTH writer, and long time online friend) approached me to write it and review some of her new products just when I had been planning on getting back on the shampoo bar bandwagon. I thought it would be a great opportunity to tell you about what my beauty routine currently includes, since that has been a popular topic in the past, so here goes:
What beauty products am I using currently?
Makeup – Lavera foundation, currently trying out making my own powder, mineral makeup eyeshadow- Redeeming Minerals and Everyday Minerals, lip gloss – plain (homemade mostly, and Natalie has a great recipe for this), also Burt's Bees shimmers and colored.
Perfume – Essential oils.
Washing my face – My homemade foaming facial wash at night. On the mornings I shower, I use a scrub, and I'm really enjoying Pineapple Strawberry Yogurt Facial Scrub. It's a surprising texture and ingredient list, and works surprising well! After washing, I use this toner. About once a week, I use a masque, which can be as simple as plain bentonite clay, this pore-refining mask (now discontinued, I believe, which accounts for the insane price), or Natalie's new Coconut Milk and Honey Masque, which I've just started using but might like even better.
Moisturizing – I like hard lotions bars for body and hands, and Argan oil for my face.
Deodorant – I've been using two different store bought natural deodorants, both of which I hate, quite frankly. They don't really do anything useful. But I haven't had the ingredients for making my own deodorant. I was planning to buy them and start again, when Natalie asked me to test her new natural deodorant creme, so that's what I'm using right now. The ingredients are great, and though it was weird to rub on a cream at first, it's getting normal now and it rubs in really nice and clean, without clumps or residue. It doesn't prevent me from sweating all together (remember, that's not the job of a deodorant but we don't want to use antiperspirant either, because blocking sweat pores and trapping toxins in your body = bad), but I do stay fresh smelling, which is the point.
Shampoo & Conditioner – I was using Trader Joe's Tea Tree Shampoo & Conditioner, but have now switched over to Wellnesse's shampoo & conditioner. I'm also trying Natalie's awesome new herbal vinegar rinse. I love using it as a leave-in conditioner, to allow the infused herbs to really penetrate my hair, and I'm hopeful that using it long term will add some extra lustre. The scent is strong when it first goes on, but it dissipates really quickly. This is better than using the thick cream, which adds greasiness and weight to my already fine and thin and greasy hair. If the herbal vinegar can help to keep my hair strong and healthy, I'm all for giving up the white stuff.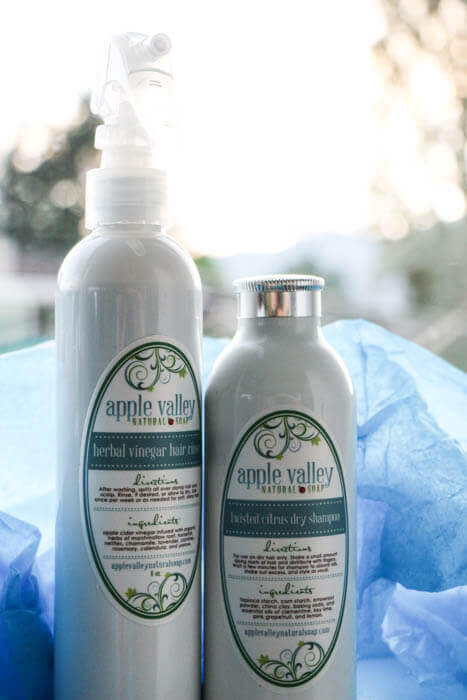 Dry shampoo – I've been over the moon about dry shampoo. My hair can start to look greasy even the day after I wash it, but I try really hard to take at least two days (or better yet, three) between showers. Dry shampoo is my answer. I had been making my own, but am enjoying Natalie's new citrus dry shampoo, which smells prettier than mine and is far more elegant in it's proper shaker than my reccyled parmesan container (classy, I know).
Pretty earrings or a cute necklace – These are my daily non-negotiable, even for a day doing gardening or projects around the house, even when I'm not going out, even when I'm tired. Two things I learned during our travels (thank you, women of Europe) are that a) I have my own style and I should be confident in it and b) it's worth it to take a little bit of time and effort to make yourself look nice each day. I'm talking 10 minutes here, not an hour. It makes me feel more beautiful and productive and ready for whatever my day holds. My husband appreciates it. It's worth it.
Two other non-beauty related products of hers that I have to include:
Arnica Muscle Rub – I have some serious issues with a bad back and shoulders (I'm sure my computer work doesn't help) but this rub is really nice on tense muscles.
Healing Herbal Salve – This product wasn't even part of this review, but I'd been using it for years now and can't recommend it highly enough. My kids all know that when they get an owie, this is what they should use. We have several tubs of it around the house, and brought it with us on our trip. It works extremely well for speeding healing and preventing/treating mild infections on cuts or scrapes. It is the bomb for diaper rash. A must-have.
I have a feeling I'll be asked this, so I'll answer in advance… my favourite shampoo bars are Peppermint Tea Tree, Simply Shea, Wheat & Honey, Coconut Milk & Citrus, Wild North, and Man 2.0 (yes, even for myself). The Calendula Castile bar is my pick for kids.
But really? I've tried far more than that (I'm about to try Princess Buttermilk, and I've also enjoyed Marshmallow and Aloe, Rhassoul and Avocado, and Latte Brunette) and I've never found one I didn't like.
Not sure how to choose the right bar for your hair? Check out this quick guide.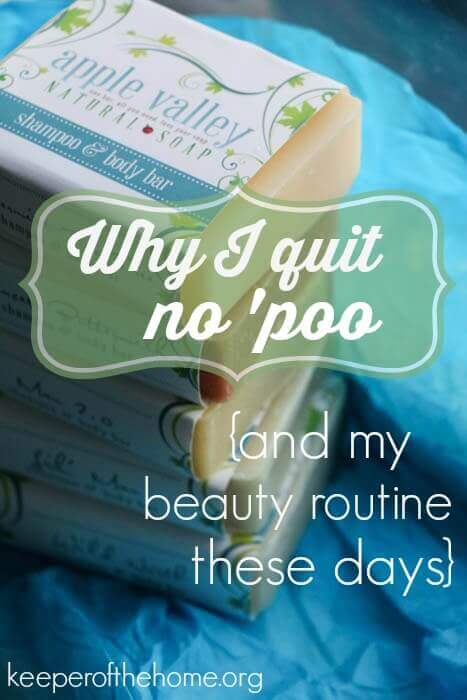 On supporting small business and conscientiously-made products
One brilliant aspect of blogging is the opportunity it gives me to share companies and brands I truly use and love. Natalie has told me several times that over the years that her best and most long-term customers have come from Keeper of the Home.
I would venture a guess that this is because a) her products rock and b) because I am one of her long-term customers. It's really easy for me to honestly promote her products because they're all over my home and I buy them in between doing reviews for her.
We talk all the time in the natural-living blogsophere about wanting to support small business, and buy locally, and especially to purchase from conscientious companies whose products and practices we can wholeheartedly endorse. I don't run nearly as many giveaways or sponsored posts as I used to, and I never accept them for products or companies I'm not sincerely interested in or don't believe in (as in, I won't take any old review just to make a buck).
But when I do, it gives me the opportunity to introduce you to brands and smaller companies you might not have heard about otherwise. Hopefully I can steer you to some sweet finds, and save you time and effort in finding great places to shop!
That said, I hope that you do visit Apple Valley Natural Soap and see what they have to offer. Their ingredients are pure, often organic or naturally sourced whenever possible, totally non-toxic, and lovingly hand crafted. You'll be supporting a true family business, and in turn, supporting the high quality suppliers from whom Natalie buys her ingredients. You'll be using products that your skin will thank you for.
One thing I recommend no matter what is that you sign up for her newsletter. You'll automatically get a coupon for 10% off any future order, and twice a month, they offer special deals for subscribers only, including limited edition bars each month.
Did I mention that Natalie is one funny writer? She was a writer here on KOTH for a long time and she never fails to crack me up. Getting her newsletters will be a treat.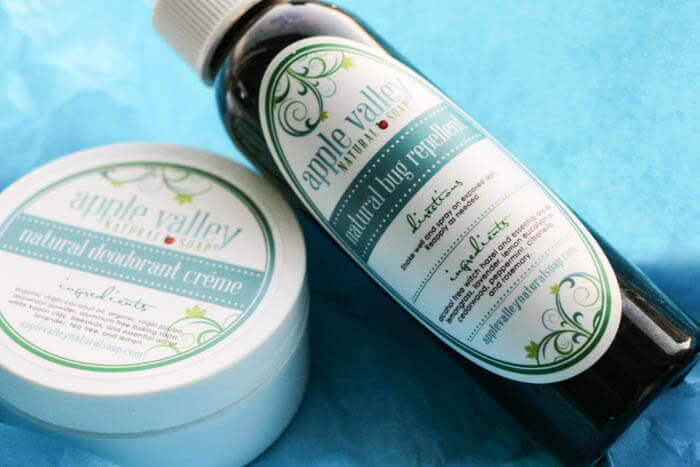 Here are a few special deals that you can snag right now:
TODAY AND TOMORROW ONLY – For our readers, the all natural Bug Repellent will be 20% off for two days (July 10-11). No coupon code necessary.
Any KOTH readers who place an order July 10-13 get a FREE organic lip balm of their choice ($4 value) OR a free natural perfume sample of their choice ($3.00 value). Place an order that values $25 or more AFTER ANY DISCOUNTS and before shipping is applied. Then leave Natalie a message when you check out requesting the free item of your choice. If your order meets the requirements, she'll be sure to tuck it in your package!
Sign up for their bi-monthly newsletter to get a coupon for 10% off any future order. Twice a month they offer special deals for subscribers only, and let them know about limited editions. (They've got new, fun limited edition bars every month.)
So potentially, you can get free shipping (any order $50 or over is free), 10% off your order, and a free balm or perfume sample if you play your cards right. (And save $2 on the bug repellent too!).
Natalie also sent me some trivia, which I'm a sucker for. Here are a few quick facts straight from this Minnesotan's mouth:
I've got nine kids ages 2-20. This next year I'll have one kid married, one in college, some in private school, some in home school, and some in diapers.
We have over 4,000 bars of soap in our house. Yet last week I realized my 6 yo daughter had somehow slipped through the Saturday Bath Routine and hadn't had a bath (or changed her clothes – please don't report us to social services – she loves her green striped leggings) in two weeks.
We have over 40 varieties of soap bars including shampoo bars, salt sink bars, organic coconut oil body bars, and luxury facial bars.
When we go somewhere as a family, people ask us, "What is that smell? You guys all smell like something…can't put my finger on it…" The teenagers look away and try to pretend they belong to someone else, and the little kids all proudly tell them that we smell like soap. (No matter how many weeks we haven't bathed.)
My sister works for me, and we spend more time gabbing than we do working. We also play music loud (I'm on a Sara Bareilles kick right now), and my kids complain.
I buy 20 pounds of essential oils at a time.
My top favorite products I use daily and couldn't live without include: Peppermint Tea Tree shampoo bar followed up by the Herbal Vinegar Hair Rinse spray. I use the Citrus Dry shampoo in between washing days. I always do a body scrub in the shower. I love the Matcha Mint and the Citrus ones best. I have horrible lips that only respond to the Lanolin Intensive Lip Therapy. I always and only use Salt Bars by our sinks. They last for. ev. er. My favorite is the Kitchen Spice. The scent is unusual and incredibly addicting, in my opinion. And I never thought I'd be a fan of natural deodorant, but I'm in love with mine. It works. It smells terrific. And unexpected bonus? SOFT PITS!
Most of my best customers came originally from the KOTH blog. I love KOTH readers! They are a perfect fit for our business.
Go meet Natalie and check out Apple Valley Natural Soap. Tell her I said hi!
What are you using in your beauty routine right now? What hasn't worked for you and what have you switched to instead?