16 Ways to Encourage Children to Get Outdoors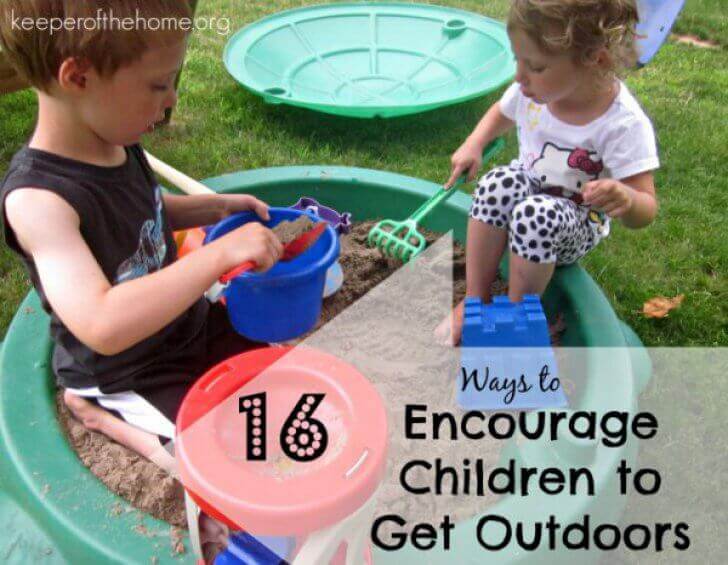 By Hilary Bernstein, Contributing Writer
Remember the summers of your childhood? Did you spend long days outside? Were they spent riding bikes, climbing trees, playing hopscotch, or building sandcastles?
Mine were. I can remember lying on my back on the grass, watching the clouds blow by, and thinking how absolutely bored I was. I was 7. My summer days stretched before me and were filled with plenty of free time.
Now that I'm a mom, I want my own children to experience the same kind of summers – even if there are moments of boredom.
Instead of staying all cooped up inside, in front of a screen, I want them to open the screen door and head outside. Since my children are still pretty young, it helps when I give them ideas of what they can do.
This summer I'm trying to encourage children to get outdoors and:

Climb.
Whether it's trees or monkey bars, my children enjoy testing their physical limits by climbing and wowing their mom and dad.
Run.
My son especially needs to run – and he loves to do it. To help him get rid of some of his boyish energy, he likes to run around the outside of our house over and over and over again. Chasing fireflies also is an amazing, summery way to get running.
Swing.
Some days, there's nothing nicer than swinging high in the air. I loved it when I was a school girl, and my son loves it too. (This summer, my daughter is slowly learning to pump her legs and swing
 herself.)
Kick.
It doesn't matter if it's a soccer ball
, discount store plastic ball, or an aluminum can, as long as my children are running around the yard, they often add kicking to their energetic fun.

Get wet.
There's nothing like playing in the water during the middle of summer. It doesn't matter if it's swimming or playing with squirt guns and water balloons – as long as water's around, it helps cool my kids. Just playing with the water hose keeps my son entertained for a half an hour. And both children like to play car wash with color changing toy cars.
(Stephanie's note: Our kids just received this Double Surf Rider slip & slide as a birthday gift, and it's super fun.)
Throw.
Playing catch is a great way to practice coordination and use up some energy. When my kiddos get tired of football or baseball, my husband switches things up with games of "keep away," wiffle ball, and bocce ball. This summer they've been working on the art of skipping stones.
Hop.
Hopscotch is an easy, old-fashioned game. Don't forget about jumping rope. And if you have enough children, try a relay race with the bunny hop.
Pedal.
Go on bike rides together – or, simply let your children ride their bikes
 in your driveway or garage.

Dig.
Sometimes, my children love to dig in the sand. Other times, digging dirt in our garden can satisfy them for a half an hour. (They just need to be directed what part of the garden to dig in.)
Explore.
Sometimes my kiddos like to explore different parts of our gardens – they're happy to look for insects or treasures. Now that they're old enough to walk without being carried, my husband and I can take them hiking on local trails.
Work.
My son's really taken to vegetable gardening with his daddy. He's becoming a good weeder – it's wonderful to have some extra helping hands. Both kiddos are learning to clean up their outdoor toys when we're done playing for the day.
Invent.
Picking out shapes and figures in the clouds is fun, but so is playing make believe. (Are they trapeze artists performing on our swingset? Are they paleontologists digging for fossils?) Make believe is a fun form of invention, but so is creating actual items. Sometimes I'm surprised at the creations my kids have managed to engineer.

Draw.
My children love art. Sometimes I give them blank nature journals and colored pencils to sketch what they observe in nature. Other days, sidewalk chalk fits the artistic bill.
Cool down.
On the hottest days of the summer, I plan on helping my kids cool down with some icy fun. I've frozen some of their tiny plastic toys in a big cube of ice – I'll let them pick their toys out with plastic tools. Also, during the middle of last winter, I saved two containers of snow. I've kept the snow in our freezer for the past five months and will let them have a snow day (well, a snowy 5 minutes) in the middle of the dog days of summer.
Eat.
What is summer without food? As long as my kiddos are outside, I'm happy to feed them plenty of drippy, melty foods like homemade popsicles, ice cream, and watermelon.
Squeal.
Whether it's discovering a toad or running through the sprinkler
, I love to hear my son and daughter enjoying their free time.

How do you encourage children to get outdoors this summer?
Disclosure: This post contains affiliate links to some fun outdoor activities recommended in this post. When you buy through our links, it helps to support this site, so thanks!