How to Make an Herbal Salve + Recipes #DIYFriday
Herbs are wonderful, and using them for salves is one of the greatest benefits of them, in my opinion.
You can use a salve for just about everything: diaper rashes, bee stings, burns, bruises, cuts, and infections. Salves can draw out splinters or stingers. They can also be used for soothing arthritis pain and you shouldn't be shocked to find out that they can help with colds and allergies.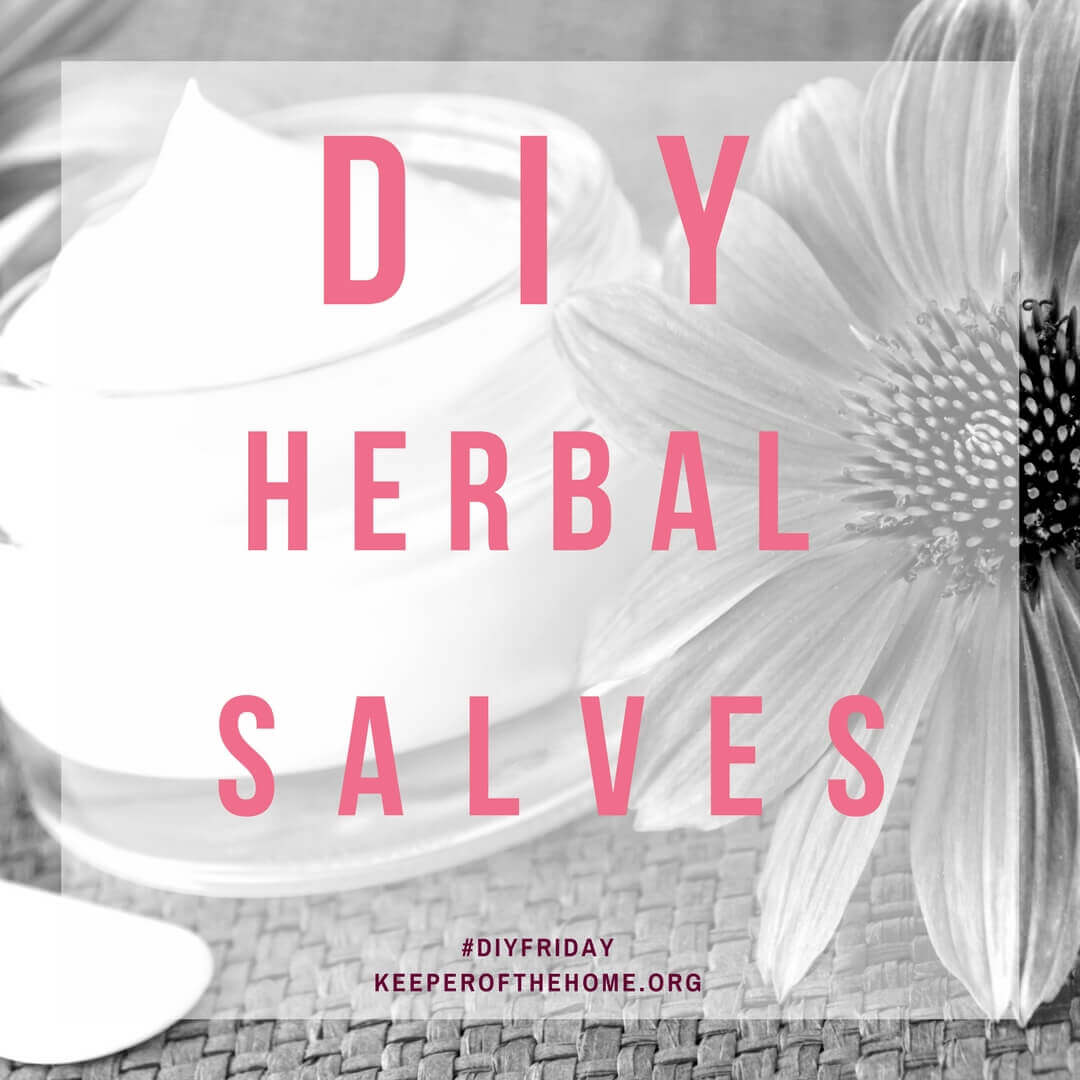 How to make an herbal salve
Herbal salves have three basic ingredients:
Herbs
Oil
Wax
You can add essential oils, too: figure 5 drops per ounce as a rule of thumb.
Here are some of the best essential oils to add to a  salve:
What herbs should you use in a salve?
You can pick your herbs based on what you want to accomplish with the salve.
For example, herbs that work best for skin repair include:
Find out more about different herbs and what they do in this book: Practical Herbalism: Ordinary Plants with Extraordinary Powers by Philip Fritchey, MN, ND, CNHP.
You can use one herb or many herbs in a salve. Something to keep in mind: simpler is better when you're making it for babies or small children (or anyone who has sensitive skin). That helps avoid allergic reactions.
Some of the best herbs for salves you're using with babies or those with sensitive skin are calendula, chamomile, and lavender.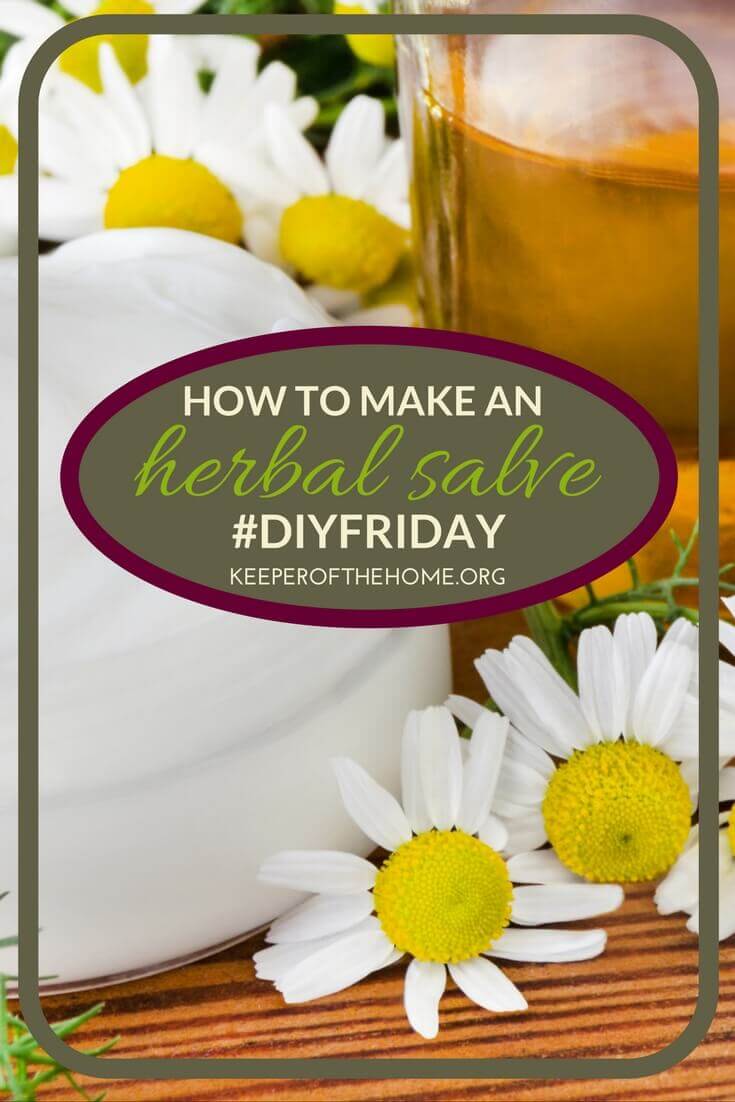 Where can you buy herbs?
We recommend Bulk Herb Store and Thrive Market.
When you're getting them, remember this:
Finer grind = more of herb's healing properties will be released into the oil infusion
So buying powdered herbs for a salve is perfect.
If you're using whole herbs, grind them using a coffee grinder or Vitamix dry container/blade.
Step 1: Make an oil infusion with your herbs.
The first step in making a salve is to make an oil infusion.
It's best to use olive oil because it won't go rancid and it's antimicrobial.
Here's how to make your oil infusion for your herbal salve:
Fill a glass jar half full with finely ground herbs of your choice.
Pour the oil over the herbs so that they are not exposed to air. NOTE: Don't fill your jar too full! You'll want to leave room for the herbs to expand in the oil.
Cover the jar tightly and place in a sunny window for 2-4 weeks, shaking them each day to move the herbs around. *See below for a faster option.
Once your oil has been infused, strain it with muslin or cheesecloth that has been doubled or tripled.
Want a quicker option? This method takes 1-4 days:
Fill a glass jar half full with finely ground herbs of your choice.
Pour the oil over the herbs so that they are not exposed to air. NOTE: Don't fill your jar too full! You'll want to leave room for the herbs to expand in the oil.
Line the bottom of a crock pot with a wash cloth and fill it with enough water so that it won't overflow when you put your jar in.
Place the jar in a crock pot set to the lowest setting.
The warmth from the water surrounding the jar with draw out the healing components of the herbs, causing the oil to take on their color and scent.
Let your oil infuse for 1-4 days.
You can also do a bit of both: let your jars sit in the sun for a couple of weeks and then heat infuse them for a couple of days.
That will make your salve a dark color, which shows you that there's a high herbal content.
And that means you'll get the greatest possible benefit! 🙂
Step 2: Add wax to make your salve solid.
Wax makes your herbal salve solid. And there's nothing much better than beeswax, but you can also use carnauba wax or candelilla wax (both plant-based).
Add 1-2 ounces of wax per cup of infused oil. Vary the amount of wax based on how hard you want your finished salve to be. TIP: If you live in a warm climate, use more wax so that your salve is harder against the natural heat. On the other hand, if you live in a cold climate, use less wax, because the low temperatures will keep it more solid/hard.
Slowly melt the wax and oil on low heat until the wax has dissolved completely.
Test your salve to see if it is the desired hardness. Put a small amount on a piece of wax paper. After it's cooled, touch it. You want it to be hard at first and then melt into your finger after a few seconds.
OPTIONAL STEP (but very handy): Add a few drops of each of these per cup of oil: vitamin E oil and grapefruit seed extract. These are helpful as a natural preservative to lengthen the shelf life of your salve.
Pour the mixture into your containers and let it cool. Mason jars work great for this, or you can find great little containers.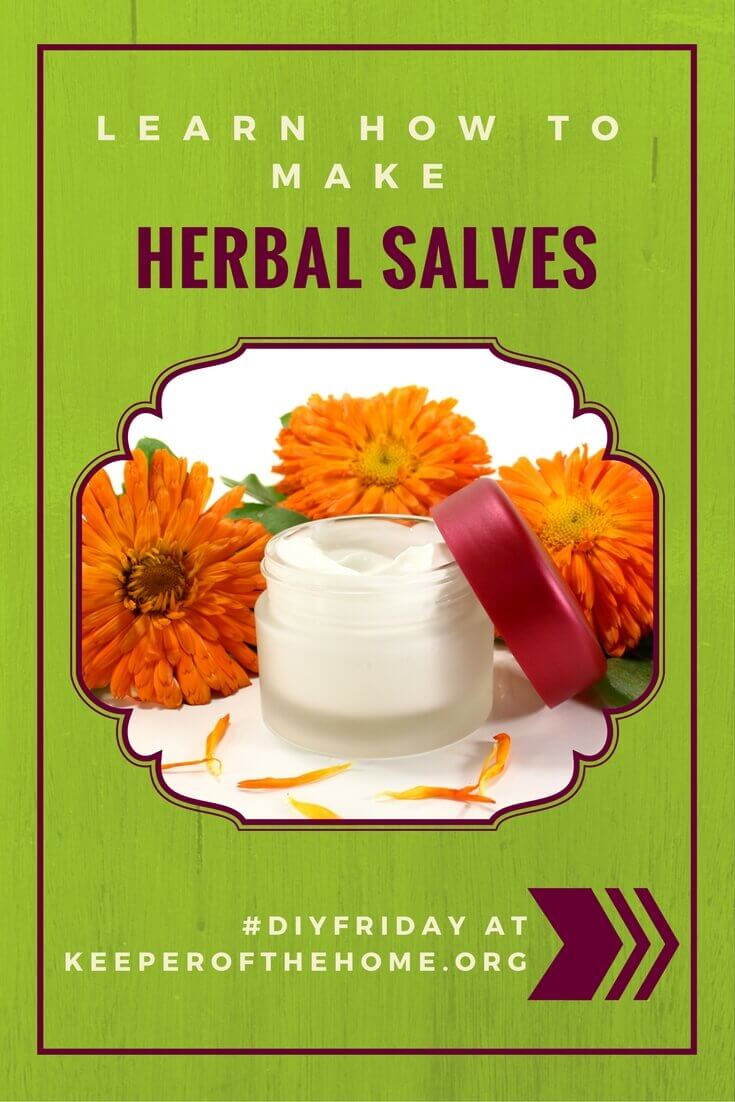 Herbal salve recipes worth trying
All-Purpose Healing Herbal Salve
This herbal salve is great for bug bites, sunburn, minor scratches, poison ivy, diaper rash, and for any other situation where you would use an antibiotic ointment.
Fill a jar or other glass container with equal parts of the following herbs and use the steps above to make the salve.
St. John's Wort
Echinacea Purpurea Root
Plantain Leaf
Yarrow Flower
Rosemary Leaf
Comfrey Leaf
Calendula blossom
Herbal Salve for Muscle Aches
This herbal salve will soothe aching muscles and joints after a long day (or longer night).
Fill a glass jar with dandelion blossoms and follow the oil infusion steps above.
For every 1/2 cup of dandelion oil that you make, you can add 10 drops each of marjoram essential oil and/or white fir essential oil.
Follow the steps above for finishing the salve and enjoy!
Drawing Herbal Salve
A drawing herbal salve is perfect for splinters, insect bites, and boils.
Make an herbal infused oil (step 1 above) using equal parts of these herbs:
Calendula
Plantain
Comfrey
When you're on step 2 above, add these ingredients:
2 Tablespoons Kaolin Clay
2 Tablespoons activated charcoal powder
1 Tablespoon honey (I'm a fan of using it raw whenever you can!)
20 drops lavender essential oil (or more, if you're so inclined)
What's your favorite herbal salve? What are some herbal salve combinations you've used?
Disclosure: This post includes affiliate links. Thank you for supporting our work and mission!