My Travel Medicine Kit (and How We Stay Healthy on the Road)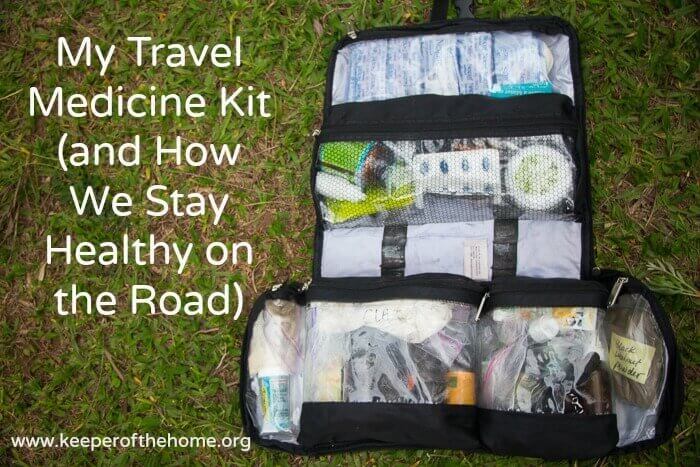 I'm continually grateful for this kit.
Each time I pull it out to treat someone's sickness or owie or to find something to give our systems a boost, I do so with a huge sense of relief at having something so thorough along for this ride-of-our-lives adventure we find ourselves on each day.
Having the peace of mind that comes from carrying a wide array of natural remedies and medicines as we travel is worth its weight in gold. Naturally, the medicine kit I created for us weighs a ton (and resides in my husband's bag, which I'm sure he loves).
As we prepared to embark on a round-the-world trip for one year, I knew we would visit many places where health care is less accessible, and that finding the necessary medications or ingredients for natural remedies would be difficult indeed.
I began to draw up my list of supplies many months in advance, wanting to be prepared for as many possible situations as I could, while recognizing that I could never be prepared for everything.
Many of you have asked about our medicine kit, and so I'm going to walk you through it and tell you why I've included each item.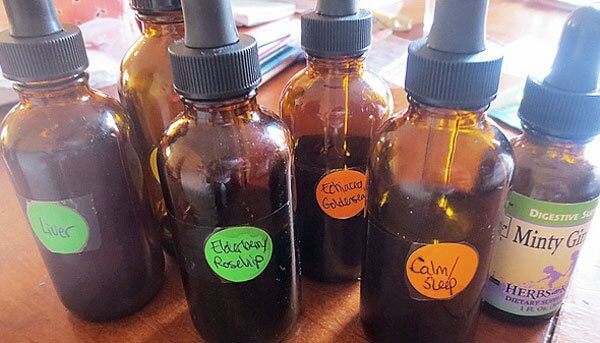 Tinctures
A sweet friend helped me out in the last month or two before our departure by making all of these tinctures with herbs I had purchased, but not yet had time to do anything with. Every time I use them, I'm grateful to her for helping us to get ready to go!
Calm/Sleep – To help calm and relax us when anxious or having difficult sleeping in new time zones.
Elderberry/Rosehip – Our primary cold/flu fighting remedy.
EchinaceaGoldenseal – As an immune booster when sick or fighting infection.
Vitamin/Mineral – An everyday vitamin and mineral boost, because sometimes it's hard to get everything our bodies need, and the stress of traveling can make us need even more than usual.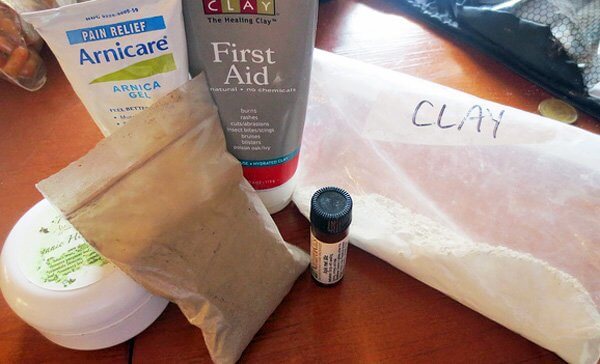 Other remedies
Liquified clay (in tube) –  For bug bites! If you've never tried a clay paste rubbed onto an itchy, irritating bug bite, you don't know what you're missing. We also use this on cuts and scrapes, on skin irritations, on ingrown toenails (yes, this works!), etc. My kids know to ask for the clay right away with any sort of bite.
Powdered clay – We keep the powdered stuff for digestive upsets, or occasionally we've used it for baths, but we don't really have a large enough supply to be able to use it that way. If someone gets an upset stomach, diarrhea, has been throwing up, etc. we feed them small amounts of clay water. It helps to absorb and remove whatever is causing the problem. Read more about the wonders of clay here.
Arnica gel– For bumps and bruises. It helps to reduce pain, and I find that it really reduces the severity of bruising after a fall.
Herbal salve – This is our go-to for almost everything skin related. Diaper rash, cuts and scrapes, chapped lips, rashes, bug bites that get red.
People's Paste– This powdered mix is comprised of slippery elm, bayberry, garlic, cayenne, and comfrey. This is a remedy I hadn't tried prior to our trip, but wanted to have because it sounded so useful (I read about it in Be Your Own Doctor). The idea is that it has potent herbs in it for preventing infections and promoting wound healing, but it also has the slippery elm which binds the skin together to help prevent scarring and to use when stitches are needed but not available.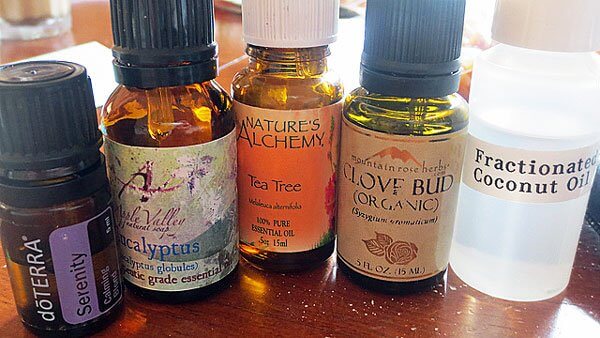 Essential oils
Tea Tree – For infections, for homemade fruit & veggie wash, and a ton of other things.
Lavender – For relaxation, for burns, for cleaning, perfect for de-stinking a bad hotel room that your child threw up in (yes, it worked enough to allow me to sleep afterwards).
Peppermint – For stomach upsets, for sore/tight muscles, for headaches.
Eucalyptus – For congestion, for sore muscles.
Clove  – For pain, for teething, for parasites.
Serenity blend – For sleep and relaxation. I usually just use this for me, once again, for my struggles with sleep. This particular blend works really, really well for me.
The fractionated coconut oil is for diluting oils before use, but unfortunately it opened up and mucked up my bag within our first couple weeks of travel. So much for that one! Since then, I've just used a bit of olive oil for diluting.
Headache Blend – You have to use these essential oil headache remedies early enough in the headache (before they turn into a migraine or splitting headache) but if you do, they make a huge difference and can often make the headache go away. Since most of me and my husband's headaches come from tension in our necks and backs, sometimes we rub the oil there as well, and that works even better.
MotionEaze (not pictured here)- This is an essential oil blend that is meant to help with motion sickness. You put a drop behind each of your ears. It isn't a perfect solution for those who are truly prone to motion sickness (which I and both of my daughters are, and my sons to a lesser extent), but I do find that it helps. You can use it both before you begin to travel, and once you're already feeling sick.
Lympha Rub – From TriLight Health, this is a blend of essential oils intended for rubbing on lymph nodes at the first sign of sickness, to aid the lymphatic system in flowing smoothly and not getting clogged up, which can help to either prevent or shorten the duration of sickness.
Cod Liver Oil– The one major supplement I was insistent on bringing with us. It's heavy, and it has to be packed carefully, but it's a supplement I didn't want us to spend a year without. Read why I'm such a strong believer in CLO here. I also believe that the high vitamin A content is what helped all 4 of our kids to get through a bout of measles with absolutely no complications and to bounce back very well afterwards.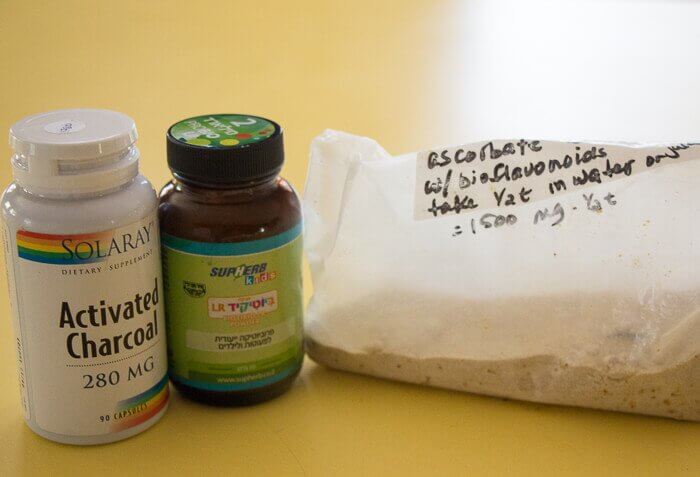 Melatonin –  Mostly for me. I struggle a lot with sleeping well, particularly when I'm overtired, have jet lag, am in new situations, on airplanes/trains/ferries, etc.
Calcium/Magnesium capsules– I found I was getting recurring migraines, 1-2 per week about halfway through our trip. Though we eat as well as we can, I wondered whether I was getting as much cal/mag as I needed, so I started taking this and the migraines have definitely decreased in frequency.
Activated charcoal tablets – These can also be used similarly to the clay, for things like food poisoning, diarrhea, etc. I've also successfully used charcoal to help treat an infection, and I would use it for a more serious bug bite, like a spider bite. Clay might work, too, but I just know that charcoal is great at removing toxins in those situations.
Probiotics – I brought some capsules for myself, as when we went on the trip I was still recovering from about a month of dealing with a horrible tonsilar abscess, and I had been hospitalized and received antibiotics since it was so serious (it has to be serious for me to consider antibiotics, because they're a drug to be taken seriously). I was still trying to pump my system back up. But later, we realized that we needed probiotics to help protect our digestive systems as we traveled around and were exposed to different kinds of bacteria, viruses, parasites, etc.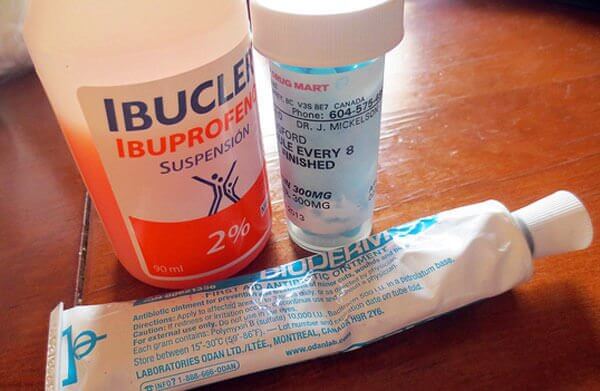 Actual medicines (yes, we brought some of these along)
Children's ibuprofen – In case of high fevers that wouldn't break (we rarely use anything to artificially bring down fevers because I firmly believe they are an important natural bodily response to infection or illness, but in some instances, if I couldn't get medical care and the fever was high enough or lasted long enough, I would use this).
Antibiotic ointment – In case of infected wounds that my natural measures weren't dealing with fast enough.
Round of heavy-duty antibiotics – For me, as an emergency measure in case I get a recurring tonsil abscess, which I have had twice in the past 3 years, so I am at high risk for another one, and they require a doctor's care.
Motion sickness preventative pills – I've only used them once, when I got really sick on a ship in the Mediterranean, but I keep them on hand just in case.
Malaria medication and worm treatment– I am also considering getting a round of both malaria treatment, as well as worm treatment, from a local pharmacy with the help of my friend here that is a midwife while we're here in Africa. She suggested, and I agree with her, that they would be good things simply to have on hand in case we needed them quickly.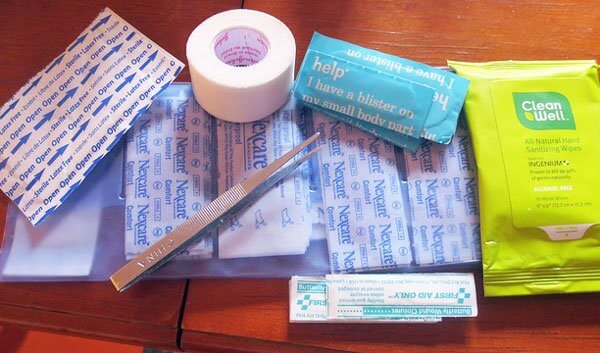 Other good stuff for your run-of-the-mill cuts, scrapes, splinters, etc.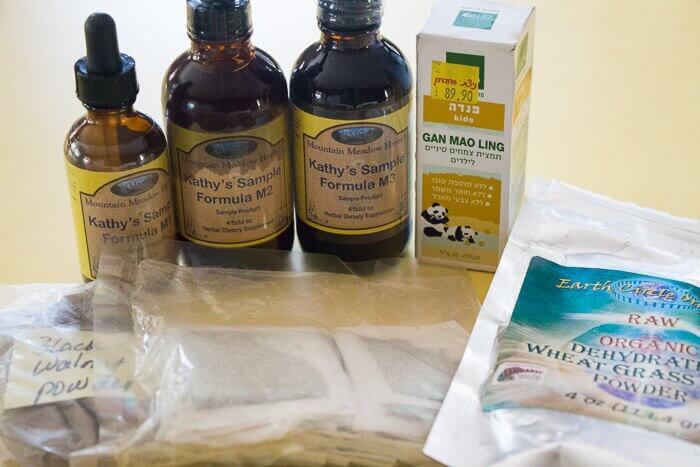 Things we added while on the road
Vitamin C powder – I didn't seek this out, but my mother-in-law left it behind after she spent 3 weeks with us in the summer, and I'm so grateful for it. About halfway through the trip, I noticed that our wounds were not healing as well as they used to and so I've begun to add extra vitamin C as often as I remember, and we've also used it to help deal with a round of colds/flus that we had in Africa.
Black walnut power – I asked my MIL to bring this with her in the summer, because I was concerned that we may be beginning to have parasite buildup. There weren't symptoms of this with anybody but myself at the time, but I wanted to have it nonetheless. I used this, along with wheatgrass juice powder, clove oil, probiotics and vitamin C to do a bit of a parasite cleanse while we were living in Israel and I felt like my gut was handling things MUCH better after I did it.
Kids parasite/bacteria treatment – As we prepared to head into Africa and India in particular, I picked up this Chinese herbal treatment at a health food store in Tel Aviv. Wouldn't you know, our kids all got sick with diarrhea or vomiting our first week in Africa? I was so happy I had this!
Malaria prevention/treatment tinctures – Specifically for Africa, this is a series of tinctures that are not quite on the market but beginning to be used by a lot of missionary families and in some initial trials in Uganda, I believe, and they're proving effective. They include a prevention, treatment, and then follow-up tincture. We weren't particularly keen on the malaria medications available and really wanted to use something different. We got them from Mountain Meadow Herbals.
Papaya Leaf Tea – I bought this before we left and had my MIL bring it when she visited. I had done some research on papaya leaf as a prevention for mosquito-born blood infections like malaria and dengue fever. Apparently something in the papaya leaf changes the blood so that the infections cannot take root and grow. We started taking it several weeks before getting to malaria zones, continue to take it while here (we're in Africa at the moment), and will finish it up in the weeks after we leave.
Wheatgrass juice powder – My MIL left this after her trip as well, and I've used it to do a parasite cleanse for myself, and also sometimes serve it (though truthfully, I'm the only one who takes it very willingly) just as a health boost or when I'm lacking in energy.
Common ingredients I use when I can find them
What I wish I had
Emergen-C – for heat stroke and treating dehydration (instead, I've been making a rehydration drink using sugar or honey, along with some salt)
Herbal lozenges (it's really hard to find ones that aren't full of sugar, or else chemical sweeteners, which we avoid like the plague).
Storing and carrying it all– my big, black medicine kit
I searched high and low on the internet for just the right bag. I wanted it to have multiple sizes and shapes of see-through, zippered compartments, and to all fold up into one smooth and easily portable carrying bag.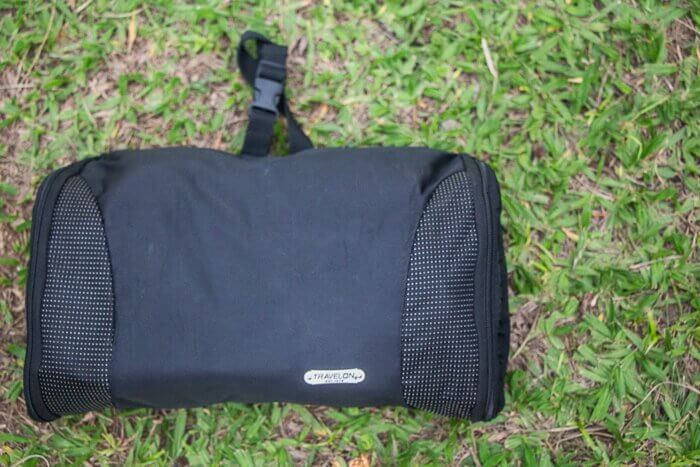 This Travelon Flat-Out Toiletry Kit from Amazon fit the bill.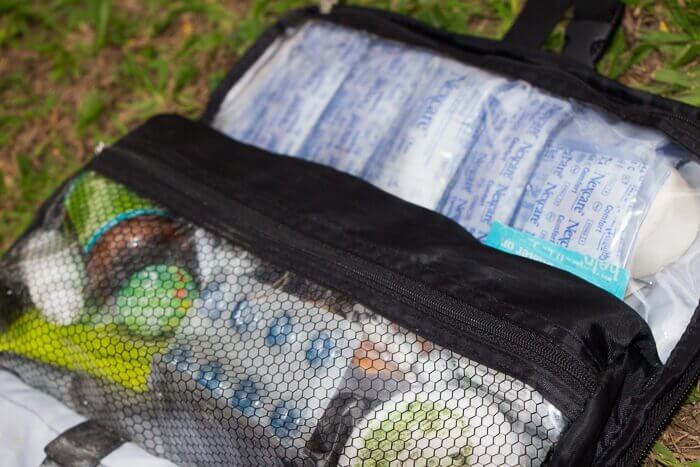 The only glass that we have are very strong, tempered glass in the form of tincture bottles and essential oil bottles. Any liquids are packaged first in a Ziploc bag, before being zipped up into the plastic compartment. Essential oils have probably been the worst for leaking if someone put them away with the lid not on extremely tight, but overall we haven't had any major issues with leaking or breakage.
8 1/2 months in to our trip, and even though it's taken a beating, this kit is still in excellent condition. The pictures in this post were just taken this week, and you can see that it's still looking great!
And that's my medicine kit! Nice and light, right?
Well, nobody ever said I was a minimalist. But our kit is helping us to stay healthy as we travel, and treat almost all of our illness and ailments on our own, regardless of where we are or what happens.
What would you bring in a travel medicine kit?
Disclaimer: Although all of the Keeper of the Home writers are passionate about natural health, none of us are medical professionals. This post is for entertainment and educational purposes only. This post includes both affiliate and referral links to products that our family personally uses and recommends. We earn a small commission when you purchase through our links, which helps to keep this site going, so thank you!