My Review of Essential Oil Brands (and how much of a difference does quality really make?)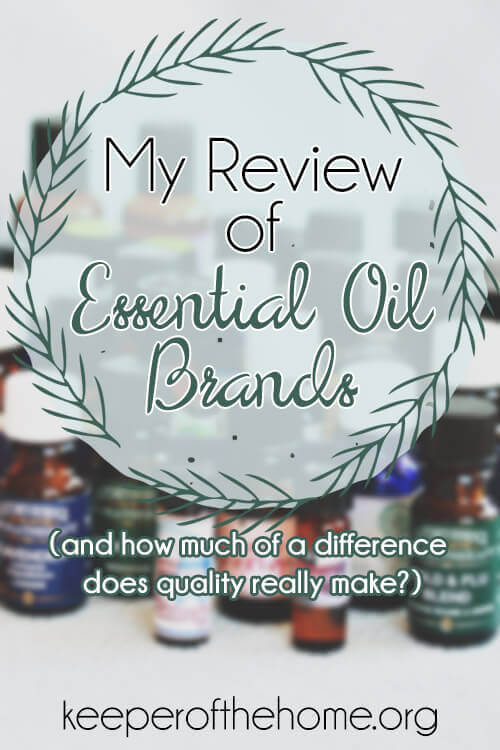 Written by Stephanie Langford, Creator of Keeper of the Home
Although I am in love with using natural remedies, including herbs and essential oils, I have remained skeptical about just how much of a difference the particular brand of oils that you use really makes. Perhaps you, like me, have heard what you deem to be "hype" about this brand or that one, and wonder if it's there's really anything to it or if it makes no difference.
If I'm being honest, that's how I felt every time someone  commented or emailed and told me about a well-known brand of oils and how amazing they were. I'd secretly roll my eyes and think "here we go again".
I have to go eat a slice of pie now. Humble pie.
For the past two months or so, I have been testing out a number of essential oils, both individual and blended, through Modern Wellness. Christy from Modern Wellness asked me back in October whether I would consider reviewing some oils, and I decided to give in and said yes. She asked me for some of the health concerns or needs for our family, and then sent a wonderful package full of oils in the mail.
At this point, I got a little bit excited. See, I've been falling in love with essential oils over the past two years, as much as a skeptic as I was that these particular ones were any different, I do enjoy experimenting with them and learning how we can better use them for our health and well being.
She also sent me an amazing essential oil reference book, Modern Essentials, which lists every single oil and every blend carried by the brand she carries, with detailed instructions on how to use them, as well as a section in the back with all sorts of illnesses, ailments, mood and behavior struggles, etc. and then numerous ideas for various oils that could be used in each situation. This book was invaluable to me, both in delving into my review of these oils, and also in becoming more experienced in using essential oils in general.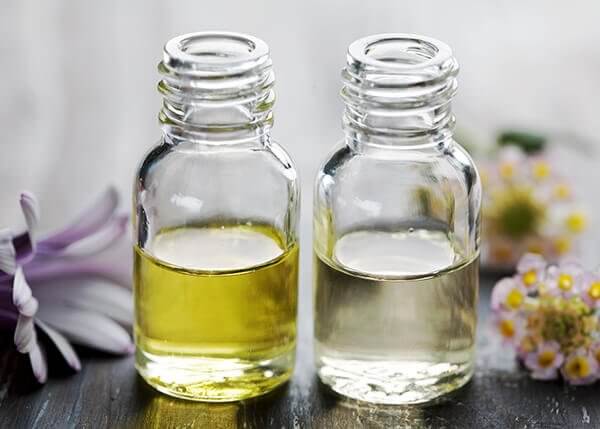 Here's what we thought of the oils we tried:
Soothing Blend– This is my favorite, hands down. It is similar to an icy blue rub, like what you might buy at the pharmacy, but a million times better. You can buy it either as an oil blend, or as a lotion that is already mixed with the oils (this is what we tried). It has a beautiful blue color to it, which actually comes from the oils. It smells divine. Every time I or my husband used it, we commented again on how incredible it smelled. Even better, it was such a soothing balm to my sore, tight muscles (courtesy of a car accident we were in earlier this summer). I used it on my worst nights/days and it definitely gave a good measure of relief. I really, really want to buy more of this stuff.
Calming Blend– This is another oil blend, with lavender, sweet marjoram, roman chamomile, ylang ylang, sandalwood and vanilla bean. I sometimes struggle with insomnia, and this is the oil that I would dab just lightly on my wrists and the pulse points on my neck before going to bed. I honestly found myself sniffing my wrists as I went to bed, because the scent relaxed me so much. I can definitely say that this blend helped me to sleep better on the nights that I needed it. I also tried it on my daughters on two different occasions, when they were upset about something and just couldn't go to sleep, and this really helped to calm them down so that they could rest.
Lavender– I've been using lavender oil for a long time, but this is the purest, strongest, most beautiful smelling lavender I've ever used.
Equilibrium Blend– Can I just say that whoever put together this blend is talented beyond belief? Every single blend that we tried smelled absolutely heavenly, this one being no exception. I used this one on days when I felt stressed and unbalanced. Sometimes I put it on my feet and pulse points on my neck, and other times I put it in my nebulizer (this distributes minuscule drops of the oils into the air in a very fine mist, so that you both smell and inhale them gradually). I could tell that it helped to keep my more calm and level-headed.
Protective Blend– This was a very close second to the soothing blend as my favorite scent. I used this one mostly in the nebulizer to help keep everyone healthy when colds/flus started going around where we live. As for how well it works, I'm not sure. I did use it on myself when I as really sick and I couldn't particularly notice a difference.
Wild Orange and Peppermint (these were both individual oils, not a blend)- Again, I was incredibly impressed with the purity of these oils, just like with the lavender. The orange was even orange-tinted and smelled so sweet. The peppermint was strong and I hardly had to use any of it for a good effect. Christy had said to try these two together, and so that's what I did in my nebulizer and the scent was beautiful and very energizing. It's my new happy smell (well, that and the equilibrium blend). I also used the orange (diluted with the fractionated coconut oil) on my baby when he experienced some constipation. The book said to rub it on his feet and tummy, and when I did so a couple times, it seemed to stimulate his system and help clear up the problem. It was around the time when I was sick, so it may have had to do with being slightly dehydrated since I was struggling with my milk supply a little, but nonetheless, the orange oil did the trick until he was back to normal.
Headache Blend– She sent me this one because I had been experiencing headaches, but wouldn't you know it, I haven't had too many since having this oil blend around. I did try it a few times and I found that if I had a headache that was still mild or just beginning, it worked really well to counteract it. If I waited too long and it turned into a migraine (which I've had occasionally since the car accident) then it helped a little but it seemed like it was a bit too late to make a difference at that point.
Focus Blend– I wanted something to help my 5 year old focus a bit more during homeschool, because he's very easily distracted (I know, all 5 year olds are, but he can be particularly so). I didn't always remember to use it, but when I did, I would rub it on the bottoms of his feet (which made him giggle, but he enjoyed it and liked the scent). The difference wasn't dramatic, but it was noticeable. I also took to using it on myself a few times when I felt really scatterbrained and though that it focused me a little better, but again.

My overall thoughts:
They seem to be very pure and strong. I already have lavender, peppermint and orange, so I compared each of them with the ones from the brand I tried and definitely noticed a difference. The new oils seemed stronger, sweeter, and had a more true scent, and even retained just a slight bit of color. I also felt that maybe I could use less than I normally would, because of the strength. I made a glass with a couple drops of peppermint oil, as I sometimes do for an upset tummy, and the oil was way too strong. I had to pour half of it out and just fill it up with water. One drop would have been enough.
The blends are incredible. I wish that I could make my own blends, but even though I have a wide array of different oils (probably 12+ different ones) that really isn't enough to make well-balanced blends. Beyond that, it just takes a lot of knowledge and skill to put together blends that are both effective and pleasing to smell. My husband even specifically asked me if I was going to buy any of the blends, especially the soothing blend.
They're expensive. I would like to be able to buy these oils, particularly some of the blends that we loved, but I do find the cost a bit prohibitive. I'm used to paying more like $5-$25 per bottle (depending on which oil it is, prices vary), but these oils are more like $13-$50+. To make them affordable, you can join as a Wholesale Member, for $35 start up and $25 yearly fees. You can then purchase oils at significantly lower prices (at least 25% lower), as well as earn points and rewards for what you do buy. I calculated it a bit and I think that if you used essential oils frequently, this would probably work out to make them reasonably affordable. Note that this is an MLM (multi-level marketing) company, but that's too big a ball of yarn to tackle in this post, so I'll suffice it to say MLMs can have both good and bad points. 🙂
Common questions about essential oils
This is where we get to the frustrating area of hot debate, unknown answers, differing points of view, hype, and all that fun stuff.
First of all, I'll state that this is a sponsored review, by Christy of Modern Wellness, who is a rep for a specific essential oil company. The primary focus of this post is to review the products that she sent me. I also want to say that as far as reps go, she is the first one that I chose to work with, because I really liked how she approached me, her completely non-pushy attitude, how much she wanted to share good information to help people, and she's just been a pleasure to work with overall (thanks, Christy!). If you're going to buy this particular brand, I highly recommend doing it through Christy.
I do know that because I have readers that like to analyze and dig into the details as much as I do, I can't just let it go without addressing some of these questions as well as best as I can.
I am nowhere near an essential oil expert, but just a wife and mom that seeks out alternative natural remedies for my family. I do the best research I can with the limited time that I have. Some of you will disagree with me on some of these points, and some of you will wish I had provided more detailed/scientific answers, and I'll apologize in advance for that, but this is my basic understanding of the issue as a non-expert, so just take it all with a grain of salt.
1. What is a "pure" essential oil?
From my limited reading, I understand that for an essential oil to be pure, it should:
Be extracted using a low-temperature and low-pressure system. Steam distillation is the preferred process, and ideally the oils should be from the first distillation.
Not contain any other ingredients whatsoever. It should be 100% pure oil. However, we should take a clue from the food industry and realize that "pure" doesn't necessarily mean pure when used on a package. There are companies selling cheap oils that have other oils or fillers added, to boost their profit margins. As Adrienne wisely stated, if the price seems to good to be true, it likely is. Genuine essential oils are not cheap to produce.
From one of two sources, either a) wildcrafted from where they naturally grow (this in an instance in which we don't want locally grown- we want herbs and botanicals taken from where they originally come from, as this is where they will grow best and provide the most medicinal qualities, or so I'm told), or 2) from organic sources, to avoid any chemical contamination.
For a bit more reading on essential oil purity, Adrienne of Whole New Mom has been exploring the whole issue and this post (and the whole essential oil series) takes a closer look at the processes and the darker side of the industry.
It's important to note that as with many natural health alternatives, there is no one governing standard or certification process for essential oils. One of the major essential oil companies says it themselves on their website. There is AFNOR in France, which sets standards and regulations, but it is NOT a regulatory body.
Which means, everyone creates their own standards, tries to show how their processes are better than everyone else's, and in the end, it's difficult to know exactly what's what. Honestly, in many regards, I'm as confused as the rest of you. Do the best research you can into the process, try the oils for yourself, and go with your gut on the ones that seem pure and effective for you.
2. Are essential oils safe to ingest? Any of them or only some brands?
Again, this is up for debate. If you're using 100% pure oils, not cheap ones that may have chemical residues or unwanted filler ingredients, then my feeling is that it is probably fine, as long as they're oils that are meant to be ingested (not all oils should be taken internally). The brand I tried specifically states that theirs are safe to ingest because of the purity, and I would personally apply that safety to any brand that is actually a pure oil as well. However, more questions are coming to light about the safety of ingesting at all, regardless of which brand it is and I'm not an expert on EOs in any way, shape or form, so I cannot give you a recommendation either way.
That said, I personally think that we're a bit too quick to take things internally, especially essential oils. I do use them in a few things, like my toothpaste recipe (which we spit out), and very occasionally a drop or two that we drink in water, and sometimes Oil of Oregano under the tongue. Other than that, I don't like taking something so strong internally. You can get excellent results using them topically, or sometimes in the air (through something like a nebulizer– I love mine!).

3. How much does quality matter? Will they still work if I buy a cheaper brand?
Again, I don't know for sure. I've used some cheaper brands over the years with limited success, but I mostly bought them for the scents or for cleaning purposes. As I've begun to use them more medicinally, I've preferred to find ones that are higher quality. Sometimes it requires trial and error.
I think it's possible that some cheaper brands could still offer medicinal qualities and good results, but I do know for sure that I've seen real results from the higher quality oils I've tried. I was particularly happy with some of the results that I had with the oils from the brand I tried, and it would be interesting to try to mimic those results using something else.
4. Do they honestly even work in the first place? There seems to be so much hype about essential oils.
I love essential oils and I do believe that they work. I've used them so many times over the past few years and have been very impressed with some of the results. For muscle pain and soreness, for headaches, for tummy troubles and constipation, for nerves and balancing moods and relaxation, for healing infections. I can say that from my experience, essential oils are a valuable part of my natural medicine cabinet.
5. If I can't afford something like the brand you tried, what else would you recommend?
I personally really like Plant Therapy oils, which I have just begun buying. But notice their warnings, which include not using them on babies (unless using their kids safe line), children or pets. I've also heard many good things about Aura Cacia, Edens Garden, and Heritage.
I do think it's worth it to check into the Wholesale Membership option through Modern Wellness. You could contact Christy through her website or Facebook page to get a better idea of how the benefits work and what the discounts would be like.
Bottom line on the brand I tried?
I didn't know if I would notice a difference with the new oils and I went into this skeptical, but I honestly was impressed by them. I really, genuinely liked them and found them to be effective. In my books, that's enough for me to warrant a bit of extra research and to consider some higher costs, since I regularly use essential oils for our family's health needs.
I also wanted to mention that when you buy oils through a rep, you're more likely to get a high level of support. That's worth something, because most of you aren't essential oil experts (just as I'm not). Oh sure, we can google it and research it on our own, but we all know that there is a ton of unreliable information out there, mixed in with the trustworthy sources.
I appreciate how Christy shares helpful information on the Modern Wellness blog, website and Facebook page, and how she offers free webinars to further teach about the uses of essential oils. You aren't likely to get that kind of help and information from most oil sources, and so that's something to consider.
Do you use essential oils? What are some of the ways that you have found them to be helpful and effective for your family?
Also, I know that many of you are chomping at the bit to turn this into an EO brand debate. I'm all right with a few carefully worded comments sharing your opinions, but please, let's keep it civil. I've seen such awful, nasty comments on this topic (it's shocking, really!), and I just don't care for that at all. We're all adults, so let's have a conversation like adults.
Disclosure: I received product from Modern Wellness for the purpose of review. This post has been generously sponsored by Modern Wellness, but the product reviews and all opinions on essential oils are my own.
A note from Christy…

Over the past three years I've been able to educate and share my love of essential oils freely. Due to their increasing popularity there are government agencies that are stepping in and enforcing what we can and can't say about oils. Do I love having my freedom of speech hindered? Not really but I want to ensure that thousands more people can learn that they have options! So I will play it safe and abide by the rules. While I would love to share more information on how you can get started and what brand of oils we use, I can't here. Strange huh? There's an easy fix to that though. Just send me an email to oils@modern-wellness.com with any questions you have and I'll get right back to you.