How Many Clothes Do Kids Really Need?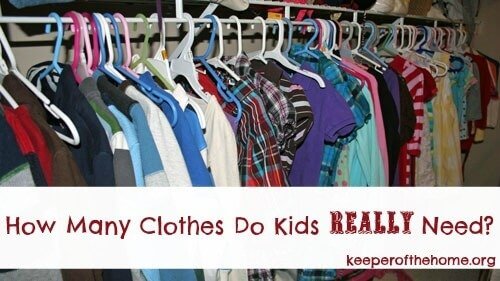 By many people's standards, I suppose my children don't have that many clothes. I certainly don't spend a lot of money buying clothes, and we sometimes have lean seasons where we run a bit low on boy's shorts or wish we had just a couple more girl's short sleeved shirts.
The closet you see above is the hanging portion that contains three of our children's shirts, sweaters, dresses and skirts (plus a few fancy dresses that hang above).
What you see is basically what we have, minus the clothes that are currently dirty or in use. There is also one small dresser (three drawers) that houses their pants and shorts, plus another dresser that holds all of their summer and winter pajamas, underwear, socks/tights and cloth diapers, and some jackets in the hall closet.
In other words, we aren't overflowing with massive amounts of clothing, and yet we aren't lacking by any means, either.
What brought about the issue is that despite their average/moderate wardrobes, I still find that keeping up with all of their clothes and the never-ending laundry piles is just overwhelming me (despite the improvement of having a family closet, and trying to make sure that clothes get re-worn when they aren't really dirty).
The laundry still piles up, and piles up. (And since I first wrote this post, we've now added another baby–with more cloth diapers!)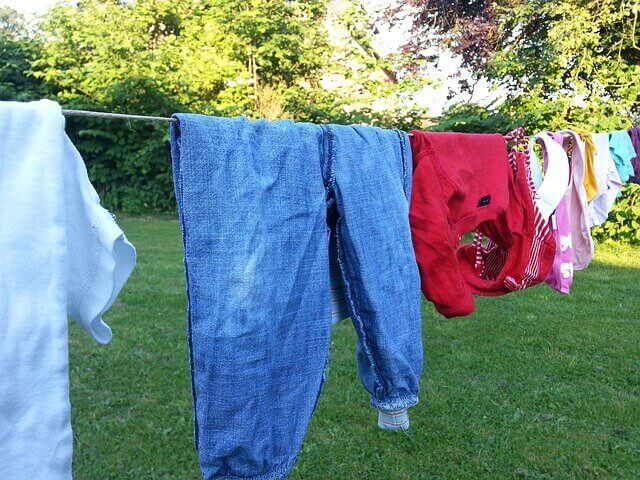 This raises the question: How many clothes do kids really need? How much is too much?
Is there a point at which owning too many clothes actually becomes a liability in terms of managing the laundry and maintaining it all? If we owned less clothes per child, would my closet and I be on better terms?
I've been searching around trying to figure out just what is a reasonable amount of clothing for a child, and what a more minimalistic closet might look like.
Here is what I pared down to (per child):
7 casual outfits
3 dressy outfits (probably 2 casual dressy, 1 fancier)
3 pajamas (maybe 4-5 for the toddler)
Plus their current assortment of underwear and socks and seasonal jackets and shoes
It isn't shockingly less than we have right now, but certainly it IS much less overall.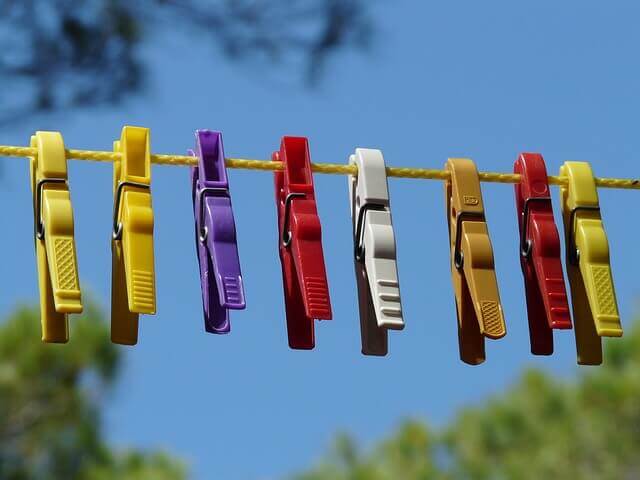 A one or two-month experiment
I'm not prepared to get rid of things for good quite yet. My husband easily goes along with my so-called "brilliant" (and sometimes short-lived) ideas. He only asked that I store the extra clothing away someplace that we can add it back in if we discover that my solution wasn't really so brilliant after all (hmm, I think he knows me).
My goal is one to two months, to give this a real shot and examine the benefits (if any).
And it makes me excited–in this weird, de-cluttering, when-did-I-begin-to-have-minimalist-tendencies kind of way.
I think that I'm still definitely still processing the dire level of need and want that we saw in the Philippines. Continuing to work out what it means to practice good stewardship and frugal generosity as a Christian, and at what point we cross the line over to materialism, waste and greed. And always learning more of the benefits of simpler living, freeing up more time and resources for the things that are most important.
So, the questions remain: Will my laundry routine be reborn? Will the effort required to maintain the closet cease to make me sigh? Will I be happier with less children's clothing, finding that we save money and that even choosing what to wear becomes simplified?
And just for fun, some links of interest that I came upon the other night while ruminating over this whole idea:
My Minimalist Wardrobe (Vlog) @ Money Saving Mom
How Many Clothes Do I Need? @ Living On a Dime
How Many Clothes Do My Kids Actually Need? @ Actual Mom
When It Comes to Clothes, How Much is TOO Much? @ Lots of Kids (one mom's positive experience with limiting the amount of clothes her children had)
And lastly, a Yahoo! Answers discussion about how many clothes a child needs that will make you feel better about how much you own, no matter how large their wardrobe is. Read it and gasp.
How much clothing do you kids own? Just how much do you think is really "too much"? (And, Will less really be more?)
This post was originally published on August 25, 2011.