A Tour of our Family Closet (Video Blog)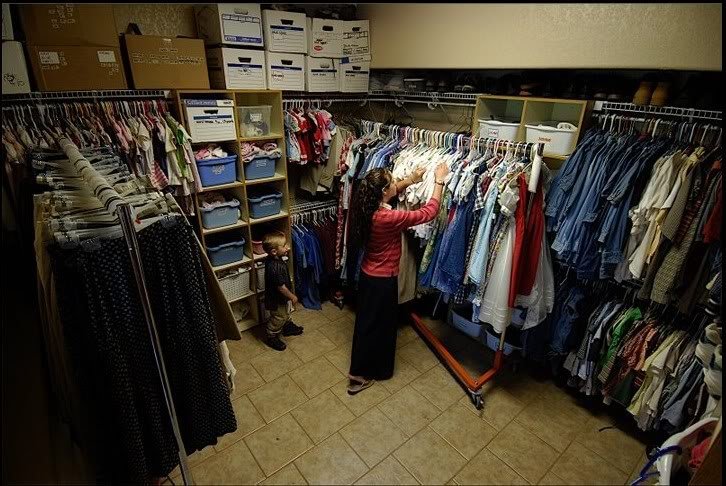 When I knew that we were moving to a new house with a much larger master bedroom closet, I made the happy decision to create a "family closet" rather than continue to keep everyone's clothing in their own rooms.
What, you ask, is a family closet? It's a rather unique concept that I learned about initially from larger families, where all of the clothes for the whole household are stored in one convenient place.
Why use a family closet? There are many reasons, but the most popular reasons are:
For ease of putting laundry away, and keeping all of the dirty laundry together in one place.
To keep the general clothing mess and mayhem to a minimum.
To make getting lots of little ones dressed more quickly and easily in the mornings (or into their pajamas in the evenings).
As a place to store all different sizes/genders of clothing, making it simple to pass clothes from one child to the next as they grow.
To remove dressers from bedrooms to make more room for beds and lots of sweet kiddos. 🙂
Take a moment to go on a little tour of our own family closet and consider whether this might be a useful option for your own family:
It's only been a month and a half since we began using a family closet, and even less time that it's been very organized. I still have more than I want to do with it, but I am already impressed at how the clothing mess and stress has disappeared, and my laundry time is beginning to be cut down as I get into the rhythm of using the closet!
Other Resources:
Creating a Family Closet @ Lots of Kids
A Family Closet Pictorial @ Lots of Kids
Finding a Laundry System That Works for You @ Organizing Your Way
Laundry Help: The Family Closet @ Raising Olives
Do you use a family closet? Have you considered it? What do you think of the whole idea?