Week 3 Plan- "Eating From the Pantry and Freezer"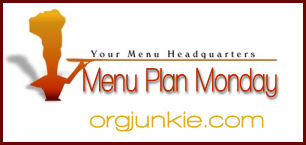 **The Tuesday edition! 🙂
We're into our third week of the challenge now, and I'm amazed at how easy this has been!
I did go produce shopping again yesterday, and would have spent less than $30 except that I was a softie and picked up a treat for my daughter and some discounted (but gorgeous!) Easter Lilies for myself. 🙂 Even still, it was just under $34, and I intend to not go shopping again until May 1.
One thing that has been particularly sweet about this challenge is that I have actually had to do a fair bit of entertaining and hosting guests in our home, providing snacks for different events, etc. and with the exception of one time (I needed to provide a punch for a shower and we don't normally buy juice or most other beverages), I've been able to figure something out from what I had. It's been a good lesson for me that more often than I think, I can pull together something suitable to serve to guests, without having to go out and spend the extra money.
In the past two weeks, we've served stromboli and broccoli, pancakes and blueberry syrup, nachos and cheese, smoothies, popcorn, coffee cake, cheesy chicken tortilla wraps, breakfast wraps, spinach dip with organic tortilla chips, fresh veggies and orange slices, a large roast beef dinner (with most of the trimmings), and even a peach/blackberry/raspberry buckle!
Here's what we're eating this week:
Breakfasts
Zucchini Bread
Eggs and toast
French Toast
Baked Oatmeal (x2)
Yogurt, peaches and homemade raw granola
Lots of smoothies!
Lunches
Mostly leftovers, sandwiches, frresh fruits and veggies, smoothies, cleaning out odds and ends
Dinners
Annie's Shells and Noodles with Sauteed Mushrooms (this was the treat I bought my daughter, since it was on discount at the produce store. We had a crazy day, so I switched my menu plan around and went simple)
Beef Stroganoff and fresh, sauteed asparagus (I'm using leftover beef from the roast we ate for Easter)
Lentil-Rice Casserole, baked spaghetti squash and steamed cauliflower
Millet Vegetable Cobbler with added chicken
Either Samosas (bumped from last week) or Butter Chickpea Curry over rice (depends on my mood and energy level 🙂
Minestrone soup with homemade biscuits

Find more great menu plans at Menu Plan Monday!
What types of things have you served to guests when you thought you didn't really have anything to serve? Have you been amazed, as I have, at how a little creativity can work wonders and your guests would never have known the difference? How are your own challenges going, for those are keeping their shopping minimal along with me?