Summer Giveaway Week: Win a $75 Gift Certificate to Jenuinely Pure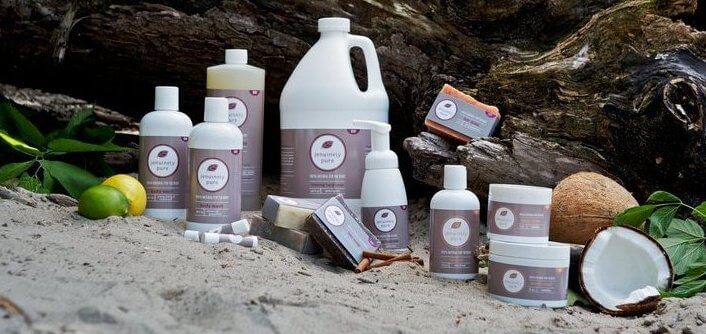 If you're in the process of switching over to more natural, organic products, Jenuinely Pure is a perfect place to begin with products that are similar to the conventional products you're used to, but with an entirely different (and better) ingredient list!
There are plenty of DIY skincare and cleaning recipes out there, but I know that some of you lack the time or the inclination to do so. What you would rather find are truly natural, non-toxic and nourishing products to purchase, with the same kind of homemade quality.
If that sounds like you, then I think that you will love Jenuinely Pure and their wide line of products! When Jenny, a mom of 3, was frustrated that she couldn't find the type of natural products (for affordable prices) that she wanted, she decided to create her own instead.
Jenuinely Pure was launched in 2008, with a goal of making products that were 100% natural, safe for adults and children alike, and good for the environment. This is their commitment to their customers:
In our products, we promise to use…

Only high-quality & pure ingredients

Organic ingredients when available

Nourishing handmade botanical extracts

Absolutely NO:

harmful or questionable ingredients
artificial fragrances or perfumes. Our products are scented only with pure essential oils
parabens, phthalates or sulfates
Genetically Modified ingredients

We keep our products simple. We believe God created everything we need for health and wellness in nature…there's no need for man-made stuff!
Jenny kindly sent me a few specific products that I was interested to try out:
Facial Cleanser
Though I have previously used the oil cleansing method, I've gotten lazy in recent years and have taken to washing my face with a bit of castile soap in the shower. Problem is, I actually have combination oily and dry skin (which is also quite sensitive), and large pores. I honestly wasn't doing my skin any favors with my too-simple method and so I opted to give their Cleanser a really good try.
After using it (in combination with the moisturizer and mask- see below) for about 3 weeks consistently, I did find my skin smoother and softer, with less breakouts or whiteheads. The first day or two that I used it, it was just slightly irritating (which is why I avoid most cleansers), but that totally went away after I used it a couple times and I have zero issues with being sensitive to it now.
It's a great value. The large foam pump dispenser will last for a long time. I've been using it most days (sometimes twice a day) for about a month now and it will last for several more months. I use only one pump (instead of the recommended two) and that's usually plenty.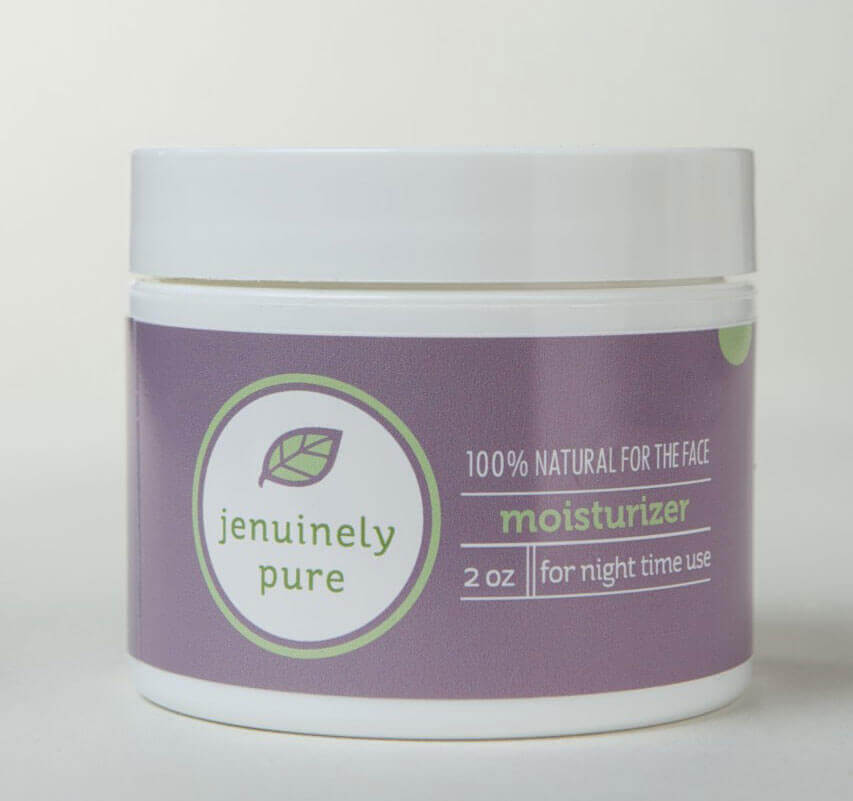 Facial Moisturizer
A whipped, super-moisturizing cream has been on my list of things I wanted to try. I get very dry patches on my forehead and nose in particular and wanted to see if this would be helpful. It really has made a difference!
It's too rich to use in the morning, but is perfect before bed. The first few seconds I rub it on I noticed some bits in the moisturizer that feel a bit rough, but then within 5 seconds everything completely softens and melts into my skin.
Since I'm a bit of a cheapo (even before I went natural) and wouldn't have spent $15-20 on a nighttime cream, I find it just a bit expensive. But if you enjoy a luxurious cream, this one is less expensive than many with absolutely no questionable ingredients.
Facial Mask
I used this mask a few times by putting it on first thing in the morning, 10-15 minutes before grabbing a shower, which was just enough time to let it work while being able to wash it off with ease. I found that it did tighten my pores, and made my skin feel firmer and look clearer.
All Purpose Cleaner
I've been using the same concentrated all-purpose cleaner for about 3 or 4 years, so I was excited to try something new. Their All Purpose Cleaner did not disappoint!
The fresh, citrusy smell is just fantastic. It already comes pre-mixed, so no measuring or mixing required. Best of all, it really is a powerful cleaner for any part of the house— bathroom, kitchen, carpet spills, anywhere. It cuts grease well and wipes up very clean.
They offer it in a gallon refill jug to make it more economical and avoid plastic waste. You can purchase one of their 8 oz. bottles to refill, or just fill any bottle you already have. The gallon jug works out to $3.65 per 8 oz.
Skin Deep Rating
I was thrilled to find Jenuinely Pure on the Skin Deep database rating and almost every Jenuinely Pure product was given a 0 or 1 on the database, which are the very best ratings for purity and non-toxicity.
Jenuinely Pure is offering 15% off all of their home, face, body and baby products with the code KOTH15!
Would you like to win a $75 gift certificate to use at Jenuinely Pure?
Rather than simply leaving comments, I'm trying out a new method for entering giveaways. Click below to complete one Rafflecopter form, for all of your multiple entries, and then you're done!
**If you are reading this in an email newsletter: Please note that in order to enter, you will have to click the post title at the top of this email in order to visit the actual blog page, so that you can properly view the giveaway.
Giveaway ends at 11:59pm on Tuesday, June 19, 2012. 
DISCLOSURE: THIS POST IS GENEROUSLY SPONSORED BY JENUINELY PURE. I RECEIVED PRODUCTS FOR THE PURPOSE OF REVIEW. ALL OPINIONS ARE MY OWN.