Homesteading in Suburbia – Five Easy Ways!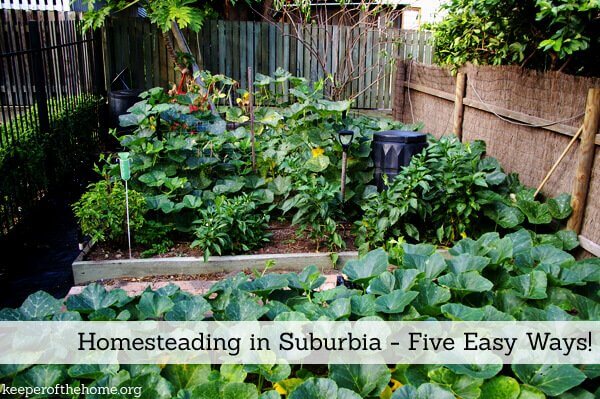 Guest Post by Scott Morefield
Rolling pastures in the middle of nowhere. A silo shading a barn full of dairy cows. Chickens clucking in the yard. A gigantic garden guarded by an imposing scarecrow, just a bit higher than the corn stalks waving in the wind. A farmhouse right out of the 1880's, surrounded by a wrap-around porch and a white picket fence…
Maybe this is the reality you are surrounded by every day, right up to Grandma sitting on her front porch rocking chair, stringing beans and humming 'Amazing Grace.' If so, the rest of us envy you (in a good way, of course, if there is such a thing as 'good' envy :)). The rest of us are probably somewhere between that picturesque setting and a big city, cookie-cutter apartment surrounded by a concrete jungle. Most of us are, in fact, probably on a ¼-1 acre lot smack dab in the middle of Suburbia, USA.
We don't share the same surroundings, to be sure, but many of us doubtless share a longing, however repressed, to be free, unrestrained, and self-sufficient.
Dependency, whether on government or even on the services we all count on to live our daily, comfortable lives, is certainly the order of the day.
We are dependent on electricity from a grid that is getting older and more vulnerable each day, on a running water supply dependent on said electrical grid, on supply lines that deliver a few days' worth of food and supplies to store shelves, lines entirely dependent upon the free and unrestrained flow of oil from countless volatile sources, any of which could close for multiple, very plausible reasons.
In short, given all the things we are dependent upon, the thought of taking back a portion of that dependency, of living on said picturesque farm in the middle of nowhere, can be a pleasant one indeed, especially to anyone who has truly taken into account the volatile state of the world these days.
Even if you can't create the ideal, independent life for yourself right now, all of us can certainly take SOME steps toward that old-fashioned self-sufficiency that our grandparents once had.
Here are a few ways to begin homesteading in suburbia: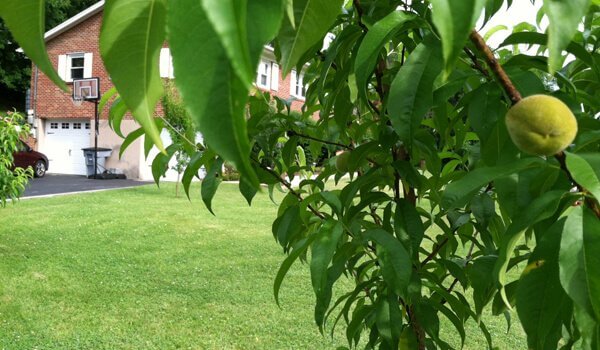 1. Grow some of your own food.
However you do it, growing a portion of your own food has unlimited benefits. Not only do you reap the rewards of eating nutrient-rich food free of harmful industrial pesticides, but you also save money!
There are so many ways to grow your own food, regardless of where you live – traditional backyard gardens, raised beds, pots, edible landscaping, fruit trees/bushes, etc.
For example: beautiful landscaping may be pleasing to the eye, but why not make it functional as well? We love to plant blueberry bushes, strawberries, and herbs in our landscaping right beside and around our other plants.
And instead of planting another useless shade tree, we planted some peach, apple, and plum trees around the yard. If trees are going to take up space in our yard and drink the rainwater that falls on our property, why not make them produce something useful for our family?
There are few things more fulfilling than taking a bite out of a juicy, sweet, unbelievably tasty tomato that you just grew yourself. The difference in taste between those and the ones picked green and shipped from Central America or halfway across the country is absolutely astounding.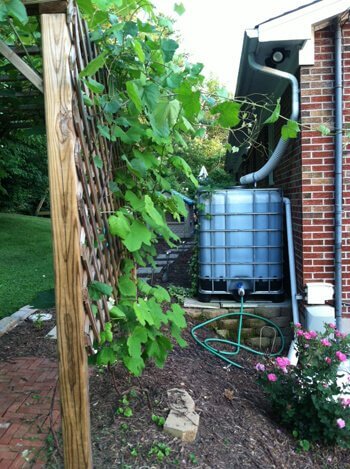 2. Collect water in rain barrels.
Few things in life are free, but rain water is one of them. Why not utilize it for your homestead? From 300+ gallons to 50 or less, these days, rain barrels come in every imaginable shape, color, and size.
Depending on where you shop and what you want to spend, they can look great in any landscaping design and in any neighborhood, catching the free, nutrient-rich water off your roof so you can use it to water your garden when it's NOT raining. It's great to be able to water your garden and other plants with rainwater even during times of drought.
Combined with a solid water-filtration system, rain barrels are also a renewable hedge against water shortages. Just one inch of rain will yield 623 gallons of water per 1,000 sq. ft. of coverage.
3. Practice basic preparedness.
Expand that pantry. Put some extra shelves in the garage. Learn to can. Learn to dehydrate.
When you go to the grocery store, buy two of every basic item instead of one. Eat what you store, and store what you eat. Little by little, and pretty soon you will be amazed at how much food you are able to put away. In this age of inflation, even if nothing goes wrong you'll still earn more of a return on your money by purchasing food than most other investments.
4. Make your own bread.
Today's store-bought bread is made from refined flour devoid of all the wheat's original nutrients. They may put a few back in, but that's still a lot of empty calories for such a significant portion of most of our diets. Learning how to grind your own wheat and make your own bread products is both a money-saver and a way to turn empty calories into a vitamin-rich staple your family will enjoy fresh, day after day.
5. Raise your own chickens.
Our family hasn't gone there yet, but we plan to soon. Many municipalities, even larger cities, will allow residents to keep chickens in their back yards, so long as they are well maintained and (likely) rooster-free. What a wonderful way to get fresh eggs and fertilize your garden!
BONUS: Renewable energy.
Whether it's a small solar battery charger or an entire roof-top system, obtaining some form of renewable energy will make you feel better in these uncertain times. The costs are gradually starting to come down, so systems that would have been too expensive for most budgets could be obtainable now.
It's a step-by-step process, and it won't all happen overnight, but the peace of mind that comes from grabbing back even a little bit of self-sufficiency from today's crazy world is truly worth every step we take!
What are some ways you've been able to homestead in suburbia? What are new homesteading options you'd like to try?
Scott's articles have appeared on A Biblical Marriage, Natural News, Infowars, Wakeup-world, The Daily Sheeple, and many other sites, including A Morefield Life, where he and his wife, Kim, share their marriage and parenting journey. They and their four small children live in the hills of east Tennessee. You can also find him on their Facebook page.