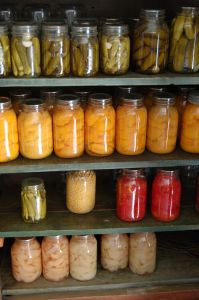 Do you ever feel like it's time for a "spring clean" for your pantry and freezer? A couple of times a year, I just start to feel that there's a whole lot of stuff in there and that I'm not maximizing what I already have.
I think I need to clean things out a bit, use up stuff that's gotten buried in the back of the pantry or bottom of the freezer, and save a bit of grocery money in the process. The money that I save will go towards stocking up on a bunch of bulk items that we could really use from Azure Standard (the food coop I like to purchase from), as well as give me the extra money that I need to up my ownership in our raw milk cow share (so that we can get more milk each week- a necessity for our growing kids and my pregnant self!).
During the month of April, I will only be buying:
Fresh fruits and veggies (but I will be working hard to use some of what I still have stored away, as far as canning, freezing, winter squash, etc. from last summer and fall)
Raw milk from our cow share
Cheese (first we'll use the 1 lb we have in the fridge, and then we'll try to keep it very minimal)
Eggs (because eggs help to work in a lot of dishes, are just a great protein and nutrient source, and will help me stretch my other stuff further)
Other than that, I've already been digging around, have written a detailed inventory of what I have, and have made a list of meals and snacks to go with that inventory. From that list, I created a meal plan for an entire month (even though I usually only do a week or two at a time). As for shopping, all I plan to do is visit my produce market twice, get a few flats of eggs from my local farmer, and I'll still pick up my weekly raw milk supply. That's it!
Just as soon as I have a moment, I will get my first week's worth of menu planning up, and I will post each new week, along with an update of how it's going and how I feel that we've been eating with such minimal shopping. I wasn't really intending to blog this, but I was inspired as Crystal blogged her recent efforts at eating from their pantry, and thought it might be fun to share what I was doing!
Do you ever do weeks or months like this, where you try to avoid grocery shopping? Does anybody feel like joining in with me for April? Would it be worth it to put up a Mr. Linky or shall I just let you follow along and comment as we go (let me know if you want a Mr. Linky, because if I don't get many responses, I won't do it)?