5 Frugal Real Food Meal Ideas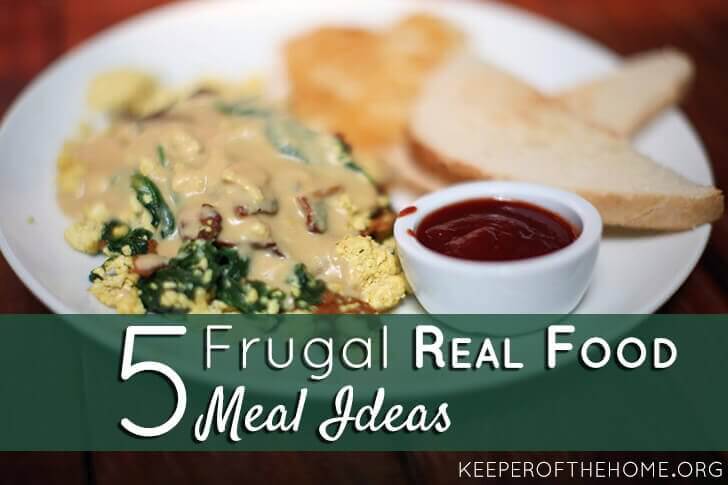 Written by Mindy, Contributing Writer
Without proper planning, a whole foods diet can be more draining on your wallet than you might expect! However, by menu planning and incorporating meals with lower cost ingredients into my meal plans, I actually spend the same amount on groceries now as I did before we made the switch to whole foods.
Here are five of my favorite meal ideas for keeping our grocery budget under control.  We usually have at least two of these meals every week, which helps to keep our grocery budget where it needs to be.
1. Cornbread and Beans
I grew up eating cornbread and beans quite often, and I must be honest – I was always disappointed when I saw that's what we were having for dinner. However, now as an adult, cornbread and beans is one of my all-time favorite meals!  It's my ultimate comfort food.
To make this meal, simply cook some dried beans in the crock pot with some bacon or other pork for flavoring. Then serve the beans with/over corn bread (or corn muffins). We almost always serve with fried potatoes also.
Ketchup, maple syrup, and raw onions all make great toppings for this meal.  It might sound strange, but it's actually really good!
2. Pizza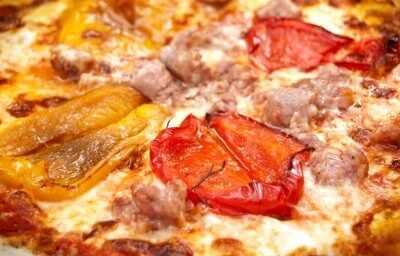 Photo Credit
We almost always have homemade pizza on Friday nights. When you make everything from scratch, it is a very frugal meal that everyone will enjoy!
Keep the toppings simple, and try to use up things that you have on hand.  Leftover meat (chicken, beef, pork, whatever!) and leftover veggies almost always top our pizzas along with mozzarella cheese.
For the sauce, I make a big batch of this crock pot pizza sauce.  I then freeze it in ice cube trays and then transfer the frozen cubes to freezer bags. It is so convenient to always have pizza sauce on hand, and to be able to warm up as much or as little as I need at any given time.
I have two favorite pizza crust recipes – White Whole Wheat Pizza Dough and Sourdough Pizza Crust.  I seem to go back and forth between the two, but they are both delicious and very easy to make.
3. Soups and Stews
Soups and stews are an excellent way to get a lot of bang for your buck when it comes to taste and nutrition.  Using homemade stock allows you to stretch small amounts of meat and other proteins into a complete meal.
Broth and vegetable based soups are more frugal than cream based soups. Here are a few of my very favorites.
Breakfast Lentil Soup – Lentils are delicious, filling, and cheap! Serve this soup for breakfast, lunch or dinner.
Creamy Pumpkin Soup – This is my husband's favorite soup of all-time!
Simple Soup for the Spring and Summer – I know it's not spring or summer right now, but this soup is so delicious and the vegetables can be switched out for whatever is in season.
Creamy Tomato Bisque – This recipe calls for fresh tomatoes, but I have successfully used preserved tomatoes with great results also.
4. Breakfast for Dinner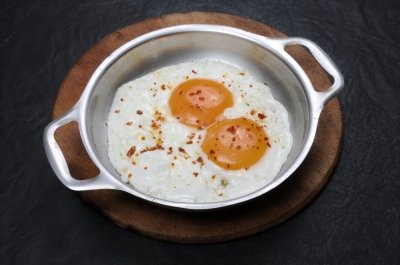 Photo Credit
This is what I almost always fall back on when my dinner plans just aren't coming together.  Throwing together some pancakes and scrambled eggs is so quick and easy, and also very cheap.
The possibilities for breakfast for dinner are endless, but a few of our favorites are
Omelets and hash browns
Pancakes, eggs, and fruit
Eggs in a basket and smoothies
5. Main Dish Salads
Salads are like soups, in that they can stretch small amounts of meat into complete meals.
When serving main dish salads for dinner, I always start with bowls full of lettuce and then top with whatever fresh veggies I have on hand. From there I top with some meat, cheese, and homemade dressing, to complete the meal.
The combinations are never ending!
For our salad meats, we usually use grilled chicken, salmon, or taco meat.  Grilled steak is another yummy (but more expensive) option!
Our homemade dressing for our salads usually alternate between vinaigrettes and ranch, depending on what meat and veggies are on our salads. Here is a list of my favorite homemade dressings.
These are my five favorite frugal meals that my family loves to eat. They are easy to prepare, taste delicious, and are easy on our wallets! You can't beat that!
Do you have any favorite frugal meal ideas that you rely on to keep your grocery budget under control?