Giving Above and Beyond This Christmas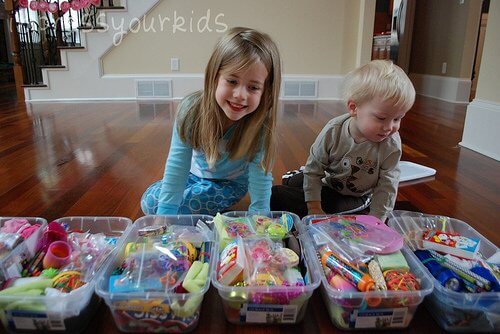 Although I think we would all agree that Christmas is a season for giving, we often restrict that giving to family and friends.
Yet this season offers us a beautiful opportunity to show the love of Christ in a very tangible way, as we give beyond our personal relationships.
Not only do we have the chance to reach out and bless others who might not otherwise receive anything, but we can also do it together as a family, teaching our children about generosity and showing kindness, and even by being thoughtful about the purchases that we already plan on making for family and friends.
On a Local Level
Food banks or soup kitchens.
Offer a monetary donation to help them provide families and individuals with meals at Christmas. Or, choose to volunteer and serve as a family.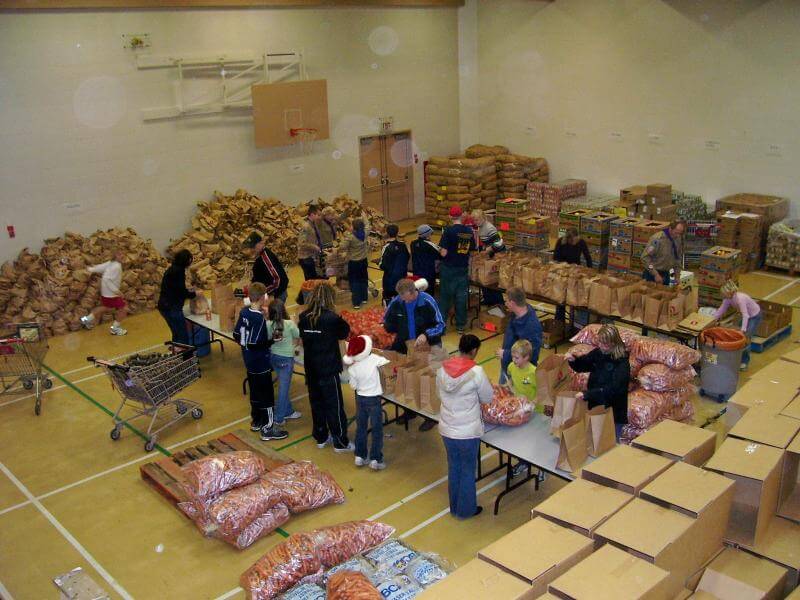 A center local to us, packing up Christmas hampers.
Christmas hampers.
Many churches put together hampers for those in need in the local community. Our church has been doing this for years, and each small group within our church will take one family and purchase a large amount of food, dry goods and fresh items (including a turkey), as well as gifts for various family members.
A family that you know is in need.
You don't need to know of a Christmas hamper program to simply help a family in need. One year our family put together a hamper of sorts with about 3 other families from our church. The family in need were recent immigrants from Sudan and we had been trying to build a relationship with them, so it made sense to find a way to bless them in particular at Christmas.
With the state of the economy the past several years, you may also know of families that have been out of work or really struggling to make ends meet, and I'm sure they would be so happy to receive gifts for their children, special foods or Christmas treats, a gift certificate to a local grocery store or anything else you can think of.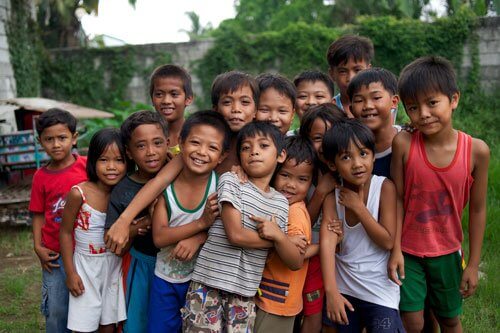 Image by Keely Scott
On a Global Level
Compassion International.
Since my husband and I travelled with Compassion International to the Philippines this spring, and we were able to really delve into how they manage their funds, we feel very comfortable putting our money towards the support of this incredible ministry. Not only are physical needs being met, but the Gospel is going forth and lives are truly being changed.
Several ways that you can support the work of Compassion:
Although it's too late to make an actual shoebox gift yourself and send it in, you can still create one online and customize it, including personalized notes from you and your family members.
I've enjoyed learning more about this ministry at the Relevant Conference, and in addition to a child in need receiving a box full of gifts, lovingly packed for them, they also receive a live presentation of the Gospel message, and many of them receive further information in their own language, including a follow-up discipleship program. This is definitely something worthwhile to consider doing next year (boxes are usually due by late November).
Other Ministries and Development Organizations. 
There are so many amazing ministries and ways to give globally. Simply discuss it as a family and choose to make a donation to any organization or ministry that your family feels that they can stand behind.
Our family has recently discovered Hope International, which provides micro-loans and business training for qualified entrepreneurs in developing countries, and we're excited to decide how we will partner with them as an entrepreneurial family ourselves. Find something that really speaks to you, pray about the options and then just give.
Missionaries
Give an extra love gift towards the work of missionaries that you know of or already support. They may be in need themselves, or may have extra ministry needs at this time of year.

Image from Mercy House Kenya
Through the Gifts You Purchase
Buy fair trade whenever possible.
Whether it's coffee, tea, chocolate… there are so many fair-trade options out there, that are ensuring that farmers are being fairly paid for their work and their products.
Buy speciality handmade gifts.
Looking for unique gifts? There are many ministries, like Mercy House Kenya, where beautiful handmade products are available to help support the work of the ministry, and in exchange, you can buy a truly special gift for someone on your list. I recently bought one of their Large Funky Paper Bead Necklaces (in blue), and I love it!
Emily has a good list of links to ministries like this in her post on shopping green, where you can both shop and give at the same time.
If you're struggling with the cost of products like these, I have found one great way to be able to afford to support both fair trade and speciality handmade stores is to purchase vouchers from deal sites like Jasmere. They frequently feature vouchers for companies that are selling speciality handmade, fair-trade goods, or green and organic products from small business. The vouchers give me a great value for my money, and allow me to make my own Christmas gift shopping intentional without busting my budget.
How Do We Afford to Give Above and Beyond?
Simple. By buying less ourselves.
Keep the gifts exchanged among your own family minimal. Our children are receiving only a small handful of inexpensive gifts from us this year. We do have a minimal budget for purchasing other gifts, I use vouchers like the ones I mentioned above, and we just don't buy in to the mentality that expressing love has to mean spending a fortune.
When we make giving generously to bless those in need as much as a priority as giving gifts to our loved ones, suddenly it isn't that hard.
Lastly, when there is nothing to give financially, we can always give of ourselves. Loving service to others is a gift in and of itself. You may have not have the ability to give monetarily this season, but consider how you can serve those in need instead. Write special letters to your sponsored children. Visit an elderly care home. Invite someone lonely to join you for your Christmas festivities. The possibilities are endless.
What are some of the creative ways that you have given at Christmas? Is this important for your family and how do you make it a priority?