A Day in the Life of Ann: Mom of 6 {3 Boys, 3 Girls, 5 Teens}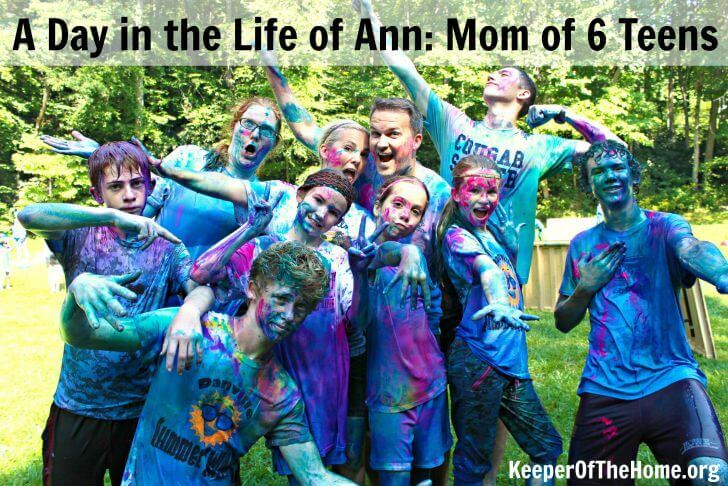 By Ann Timm, Contributing Writer
To prepare for this post, I read through several of the other writers' previous Day in the Life posts to get an idea of how they are formatted and written as this is my first of this series.
I wasn't prepared for the flood of emotions that came forth as I relived memories of snuggling up to my little ones with Teach Your Child to Read in 100 Easy Lessons, staying in jammies on rainy days and jumping in mud puddles. My heart warmed and I smiled as I thought how long it had been and how grown my babies are now. How I miss those days!
Now I have three boys, 17, 16 and almost 15. And I have three girls, 14, 13 and 12. I say we have five teenagers, but the 12-year-old is a girl, so that counts as six, right!? Mamas, you know how girls get when they hit 12.
I thought they kept me moving when they were little, but this day is a good example of how fast I'm moving now. It's not the norm, but what day is?
6:25 a.m.
The alarm goes off. My husband is out of town so I know I better not snuggle in. I get up right away so I can make sure the kids are all starting to rise as well.
They are all pretty good at waking themselves up, but when they have a late night game or stay up to study we know they may need a bit of help. Today its our newest teenager that is struggling. I think she is still recovering from her birthday weekend!
6:30 a.m.
Back in my room I make sure to put my shoes on right away, otherwise I'll be tempted to lay back down and be lazy. I know its going to be a doozy of a day, however, so I go ahead and pull them on.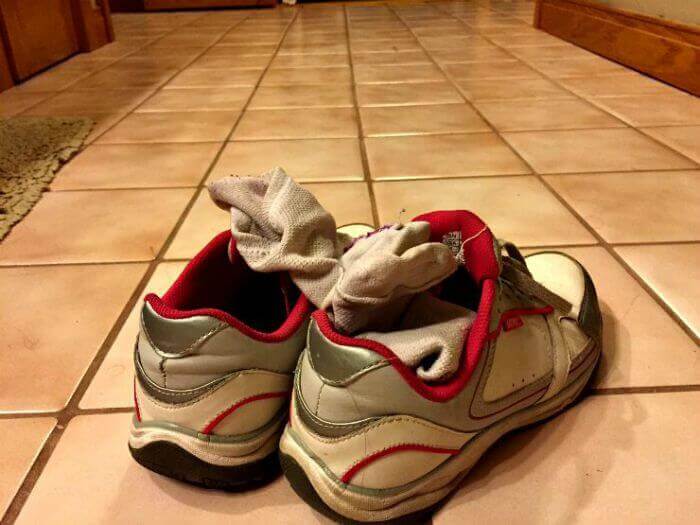 I like to make my bed and open all of the blinds in the morning. It helps me feel like the day has started and making my bed is crucial to feeling like I've accomplished something first off. It also keeps me out of it!

6:45 a.m.
I head to the kitchen and turn on Mandisa. I love to set moods in our home through music, lighting and scents. This morning we get pumped for the day singing "get up, get up, hey!"
My husband and I just started drinking coffee. I've always been an herbal tea fan, but I was searching for natural ways to regulate my bowels about the time Bulletproof Coffee hit and I decided to give it a try. All I can say is IT WORKED and we loved the taste so I now make coffee in the mornings while helping the kids with breakfast.
7:00 a.m.
One of our boys has issues with his feet …this morning he wanted a foot bath so I ran around looking for a missing foot bath and salt while the coffee was brewing.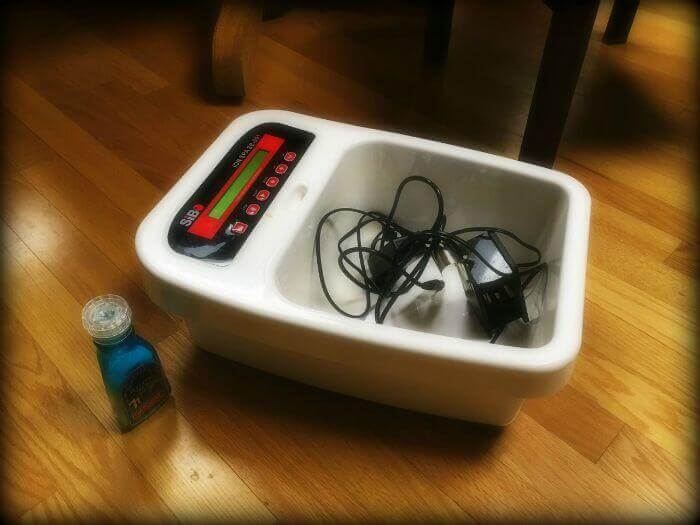 As teenagers, my children aren't big breakfast eaters, so its usually fruit or oatmeal. Today it's tangerines and bananas. A couple have jumped on the coffee wagon as well. I had a good chuckle with my youngest teenager as she was feeling a bit clumsy after accidentally throwing her spoon at me.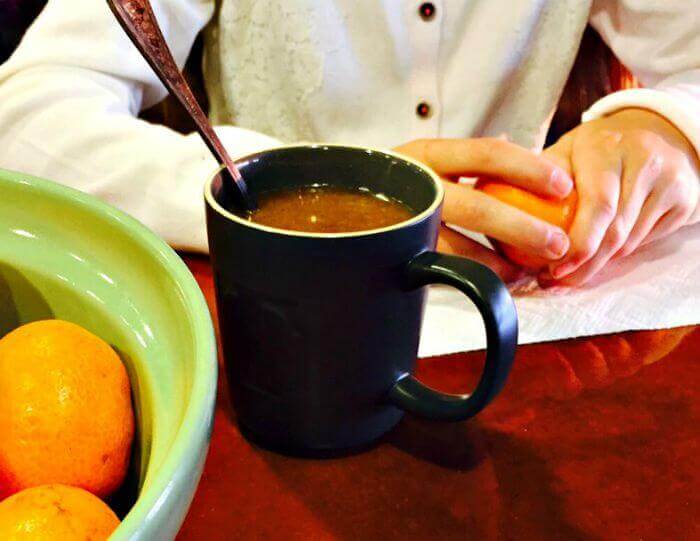 8:10 a.m.
After running them to school I get home and grab my laundry from the dryer, which dried three times yesterday and again this morning because I kept forgetting. Thank goodness for the 'fluff' setting!
As I carry more laundry through the kitchen I see this guy begging to come in!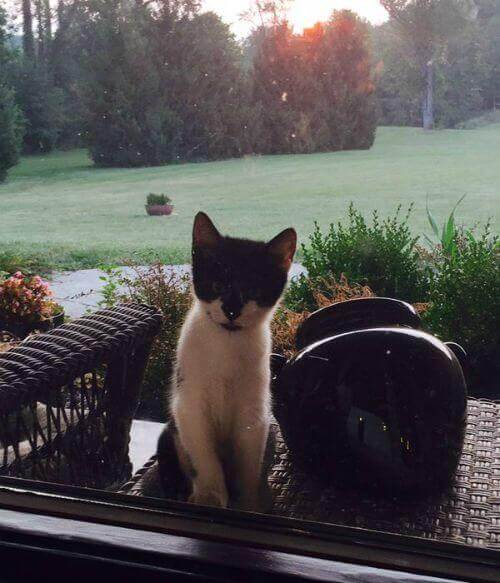 I open the door, give him a scratch behind the ears and keep going.
With my hubby gone I have my own breakfast at my computer…today it's the Food for Life english muffins with nut butter and honey. I do my devotional, respond to emails and then shoot and submit pictures for blog posts I'm working on.
9:00 a.m.
Got a quick call from my hubby to share and discuss the plans for the day … he is really good at helping me focus on what's important so I don't walk in circles all day.
He sent me this picture to make me jealous …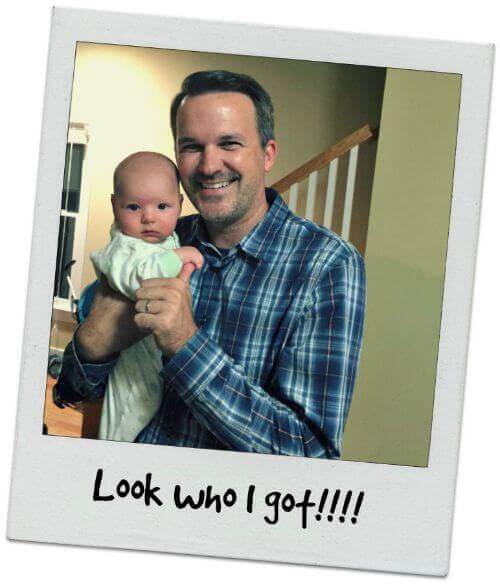 He is visiting friends today (the Langfords!) while in Nashville. Anyone recognize this sweet baby boy???
9:15 a.m.
Quick workout. I love step aerobics, but I live out in the country too far away from a gym so I workout with video gurus. Lately I have been getting help from our kittens too, so I have to be careful when they are running under the step!
After my workout, I shower quickly. No time to wash my hair today so I'm going with an easy up-do.

10:30 a.m.
Run back to the school for a meeting with three girls that I mentor. I love spending time with them once a week …today they were very chatty as we worked on making good first impressions and why it's important to have a mentor. 🙂 Ever thought about mentoring in your own community?

11:30 a.m.
Back home for an hour to try and get some cleaning done.
Noon
Grab a bite for lunch. Usually my husband comes home for lunch as his office is at the end of our driveway. Today I'm having an apple with cheese and my favorite chickpea chips while straightening up the kitchen.

2:15 p.m.
Starting another load of laundry. Even though our kids do there own, it still seems never ending! With their busy schedules during the fall I often help to keep it moving while they are at school.
12:20 p.m.
Putting together a package of some clothes I sold on a used clothing app and another package for Grandma. (Thanks, Grandma, for supporting the kids' fundraisers!)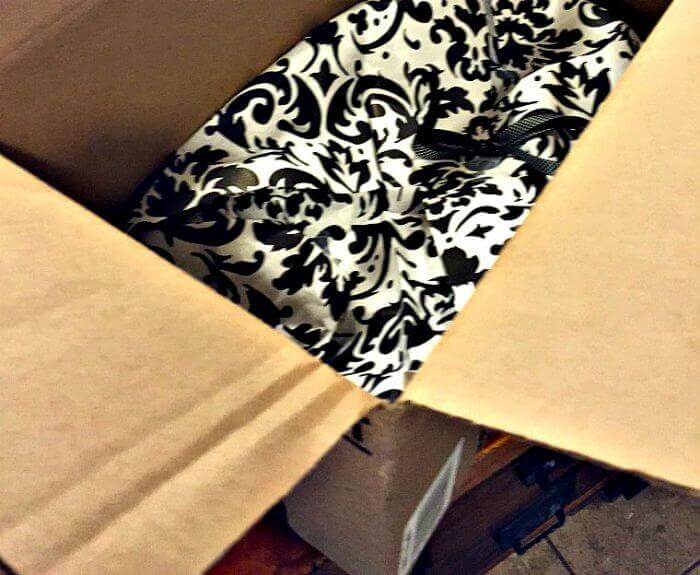 12:30 p.m.
Counted my milk jars to schedule when I need to go to the local dairy next. When we started buying our milk fresh from the farm we went from two gallons a week to six! The kids love it and it's so much cheaper.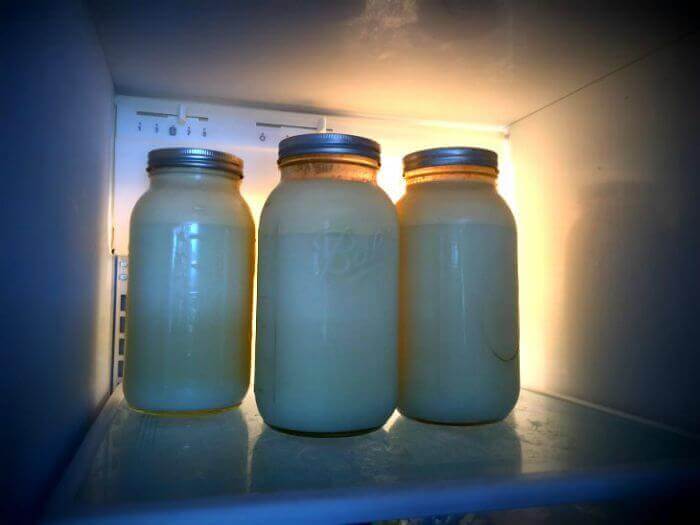 Next I called to schedule a run to the Ford dealership to get my bumper fixed after one of the kids backed into it. Good thing I'm saving on my dairy products! #lifewithteenagedrivers

12:35  p.m.
I stopped in town at the post office to send off my packages and it's closed for an hour for lunch. Then I notice it closes for the day at 3:30, sooooo….. I'll have to try again tomorrow. #ruralife#smalltowns
12:40 p.m.
Headed to the school again to pick up my 16-year-old son for an orthodontist appointment. It's a 40-minute drive and he still needs driving hours to get his license so I let him drive. I think he needs some work on parking!
He is supposed to be getting his braces off today, but just informed me as we were walking in that he hasn't been wearing his bands, so I guess we'll see what happens.
1:40 p.m.
Waiting in the orthodontist office I take advantage of the hour to check emails and plan my next trip to the grocery store. I also found a great recipe for garlic dressing. This time of year I start looking for ways to add garlic to recipes for its immune boosting properties. I try to make sure the cold and flu bugs don't make it to our house!
2:45 p.m.
An hour later a beautiful braces-free smile walks into the waiting room. Well done son. He gets a giant bag full of all the sticky candies that he was supposed to be avoiding while his braces were on. Then he gets to pick a prize. He chooses a cute little stuffy to give to his girlfriend.

I smile because I know his love language is gift giving. We read The 5 Love Languages of Teenagers last year and I was blown away at how little I knew how to love this boy. Everyone else in our family has similar love languages (quality time and words of affirmation are at the top), but his was different.
When we started loving him with gifts he became a new person. Happier and more confident. I cried so many tears thinking of how long he had not felt the love he needed and being confused about where he stood in the family. Thinking everyone else was loved more. It doesn't take much. We're not talking about a new pair of shoes here. Just a pack of gum or a handwritten note even and he is beaming from ear to ear. I urge you to read this book series. It could be life-changing for someone in your family.

Our 40 minute ride back home again
I love these car rides, as tedious as they are to drive so far, because they offer great time to talk one on one. Right now with this son it's all about the girl he likes and new dives he has been learning on his diving team. I soak it up. I'm glad that at 16 he can still talk to mom about girls!
3:20 p.m.
As the school day ends, calls and texts start coming in from the kids wanting to know if they can have friends over, stay after school to work on a project and wanting to know who is driving who where and what time they will need to be picked up. As much as we plan ahead, each day unfolds a bit differently.
Our youngest boy has soccer practice after school so I'll pick him up later. Our oldest daughter has golf practice, so I'll be picking her up later. Our youngest is picked up by her mom for some one-on-one time this afternoon.
3:45 p.m.
We get home in time to turn the braces-free son right back around and out with his older brother to diving practice. They will be out late tonight so I send them with a few bucks to get something to eat.
4:00 p.m.
When they leave I throw more clothes in the dryer, take what's done to my room and pile it on my bed. My trick is to lay my shirts out flat and anything else that might wrinkle. It just takes a minute and then I won't come back to another job. I hate ironing! And avoid it as much as possible!! Sylvester is helping.
I have one of my girls home so we sit and chat about her day while she has some milk and plays with the kittens. We take a walk down the drive to grab today's mail. It's a beautiful day so we take our time. She is 13 and often moody, so today is particularly enjoyable.

4:30 p.m.
I start making a protein shake to drink on my next drive. I won't be having dinner until late tonight so this will keep me going. I have thyroid issues, so I tire easily. Being prepared with the right snack is a must to get through the day.
5:00 p.m.
Pick up youngest son from soccer and catch up with him. He is having to figure out how to balance his classes with soccer practice and late night games. I think he will be glad when this season is over and he'll have more time at home. I will too, but I know it's just a season and he is learning a valuable lesson. We talk about ways he can adjust his schedule at school and at home to be able to study and get homework done.
5:15 p.m.
Once more at home and adding more clothes to the pile on the bed. I did not have dinner prep tonight as everyone is out at various school and sporting events.

5:30 p.m.
I make sure that my son has some leftovers to eat before jumping in the car again, this time with my daughter who was invited to dinner with her step-sister. This works out great because I am picking up our oldest daughter for a birthday treat.
5:45 p.m.
Left with my daughter to drive her over to her sister's mom's house. These two girls are our youngest and the closest. They have such a sweet relationship. Although at 12 and 13 they can get into arguments, they don't last long. They are almost always encouraging each other and working together as a team, often on school projects or around the house with their animals.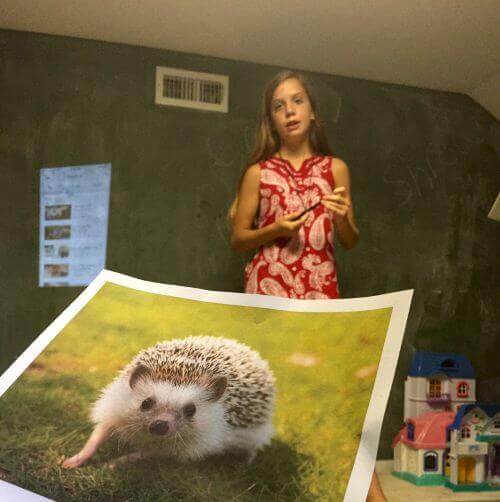 Recently they put together a Power Point presentation, complete with research, on why a hedgehog would make a great pet and how they could pay for them on their own. Yep. They are getting hedgehogs. Who could resist!?
6:30 p.m.
After getting the younger girls together, I make my way to the golf course to pick up our oldest daughter.
7:00 p.m.
When she was released from her coach I took her straight to Claire's. She had asked me if I would take her to get her ears pierced for her birthday. It's her second set of holes which her mom, dad and I are completely OK with. (I have a second set as well.)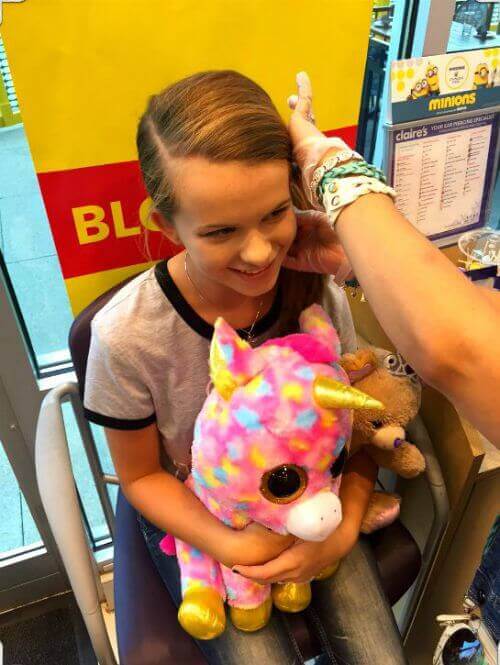 As I'm standing here I'm imagining her asking to get nose rings or tongue rings which I am completely unprepared for! So I gratefully just smile and relish in the invitation to take part in her life. We had fun picking out the earrings and taking pictures with stuffed animals. #girlstuff
7:45 p.m.
Afterwards we went to a little Italian place for dinner where we chatted about friends and school. We had a lovely evening together. I made a mental note to be proactive and schedule a time to do this again soon as I realize suddenly that she is growing faster and these next few years will go by quickly!
A little after 9:00 p.m.
We all start to trickle back home. Including my husband! It's been a long day for all of us so after catching up we start winding down and getting ready for bed. The older kids have class pictures so we make sure they all have something clean to wear!
10:30 p.m.
I'm exhausted, but once in bed I make a list in my journal of what needs to be done the next day. This helps me start the day focused. I'll be home most of the morning finishing the laundry I never did put away and prepping for upcoming meals.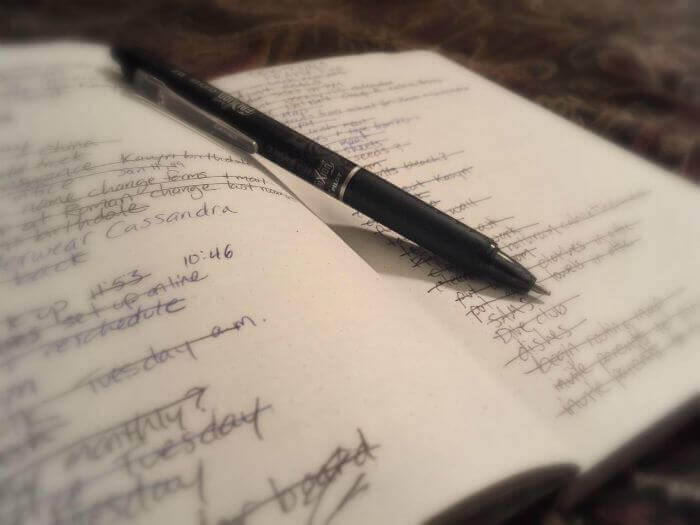 MOM TIP: Use a journal instead of random sheets of paper to write your to do lists on. This has helped me at the end of the day or week to feel a greater sense of accomplishment. If you're like me, this will help dispel the feeling that I didn't get much done and it's fun to look back and see how the lists change and how long some items stay on there. 😉
I check my emails one more time and discover a last minute reminder that we are going to a family camp the following weekend. I recall last years camp and all of the fun we had. I can't wait to put the busyness aside and turn off the electronics to spend a weekend together sharing ALL of our meals, playing together and growing in Christ together.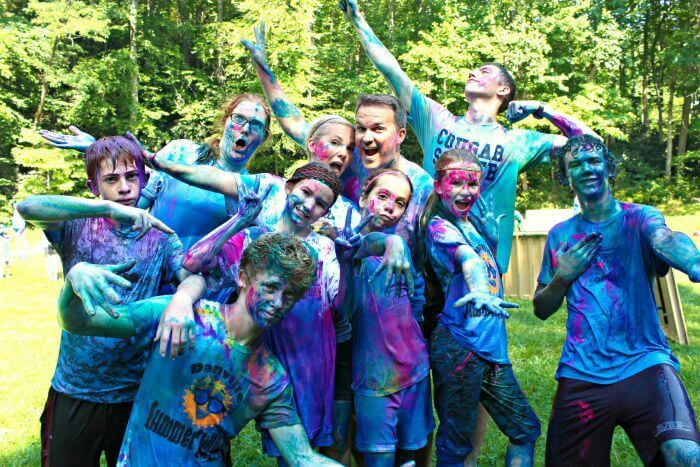 As I reflect on the day, I discover that even though we weren't snuggling in our jammies for hours learning how to read or listening to a Story of the World book, I was able to find a few minutes here and there with each of the kids, to connect with them, know them and to love them. And even though I didn't finish the laundry or get to the cleaning, it was a successful day in the ways that mattered most.
What things matter most in your days?
Disclosure: This post contains affiliate links. When you buy through our links, we earn a small commission, which helps to keep this site going so that we can continue to offer free and useful content, so thanks!