The GAPS Diet: What It Is and Why You Might Consider Doing It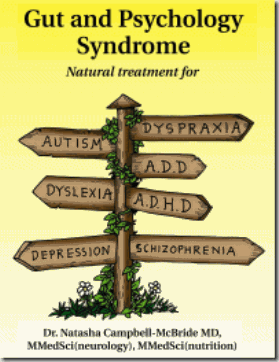 Do you or any of your family members regularly experience common digestive complaints, such as heartburn (reflux), indigestion, bloating, cramping, constipation, or diarrhea? Do any of you suffer from eczema, asthma, dyslexia, or depression? Have your children received labels such as autism, ADD or ADHD? Do you wonder if there is a common link between any of these these things?
Two weeks ago, I received a book that I had been wanting to order for a long time. I began reading it during a plane ride to Nashville, and I quickly realized that I did not want to put this book down.
I have been studying health and nutrition for about 7 years. Over the course of those years, I have read a lot of books. Scoured a lot of websites. Tried a lot of different diets.
Some resources have been more helpful than others. A few, such as What the Bible Says About Healthy Living, The Maker's Diet, and Nourishing Traditions have rocked my world. Several of the diets that we have tried have resulted in truly amazing and quantifiable results in my health, my husband's health, and especially in our children's health.
So when I say that a nutrition/health book has blown me away, that's really saying something. Can I just say that I have been blown away by Gut and Psychology Syndrome, by Dr. Natasha Campbell-McBride?
The best way that I know how to put it is that it has taken all of the incredible, valuable information that has resounded strongly with me over these past 7 years, and pulled it together in a way that made so much sense. It had me nodding my head emphatically with every page I turned.
So what is the basic premise of the GAPS diet?
I absolutely love the way that Cara phrased it recently,
"It's almost like setting the 'reset button' on your gut flora after a lifetime of antibiotics and toxins."
That is truly what the GAPS diet is all about. It is not about a bit of a "fix", or making some improvements in the way that our digestive system functions. It is so much more than that. Rather, it is about completely pulling back from all those things that exacerbate our already over-loaded, tired, lethargic, toxin-ridden, out-of-balance and damaged system, so that our gut can truly heal.

What does the GAPS diet address?
Here is a brief list of some of the symptoms and disorders that are very often related to the gut, and that have been greatly impacted by the GAPS diet:
ADD, ADHD, learning disabilities, autism, dyslexia, dyspraxia, asthma, bed wetting, thrush, finicky eaters, chronic ear infections, multiple sclerosis, fibromyalgia, chronic fatigue syndrome, rheumatoid arthritis, lupus, type-1 diabetes, chronic cystitis (bladder infection), colic & eczema.
Kelly the Kitchen Kop has actually put together quite a few fantastic posts on GAPS, one of which has a more detailed list of conditions and/or symptoms that are related to a dysfunctional gut. I would really recommend checking it out.
GAPS includes three main principles:
1) Healing the gut– By avoiding all foods that irritate it, and by consuming only foods that will nourish and heal it.
2) Repopulating the gut with beneficial bacteria– This is done by avoiding all foods that feed opportunistic (bad) bacteria/gut flora. As well, high quality probiotic supplements are used to actively repopulate the gut while all this cleansing/starving of the bad bacteria is taking place.
3) Getting rid of toxins– This happens in a number of ways. By limiting the diet to only foods that can be easily digested and eliminated, by strengthening the gut and the beneficial bacteria so that they can deal with toxins thoroughly, and by fresh juicing to speed up the elimination of toxins.
Detoxifying is one of the most crucial benefits of the GAPS diet. When there is an overgrowth of yeast, bad bacteria, fungi, parasites and anything else that stems from gut dysbiosis (an unhealthy, improperly functioning intestinal tract), myriads of dangerous toxins are produced. These toxins are able to alter brain chemistry, cause auto-immune reactions, severely hamper immunity against infections and more. To better understand how the gut and the immune system are connected, see this excellent post on Gut Health 101.
In a nutshell, "Through her research, [Dr. Natasha Campbell-McBride] has determined a distinct correlation between unhealthy intestinal flora, poor digestion and toxicity from chemicals created by undigested foods, which can severely affect brain chemistry." (Source- Weston A. Price Foundation book review).
I do have to note that it's not a quick fix diet. If I think too long and hard about what we are about to embark on, I start to feel a bit of anxiety. The diet can take anywhere from several months up to 2 years, depending on the severity of your symptoms and how your body responds to the healing work that is happening.
Right now, I am focusing myself on the benefits of this diet and on the health that I so greatly desire for my family to have, and that makes it feel absolutely worth it as I prepare for us to begin the diet!
I feel like I've left out so much valuable information… there is so much to the Gut and Psychology Syndrome, and the reasons why we should address it by doing a diet like this. Tomorrow, I will continue to share about why our family has decided to do it, as well as give you some great resources to help you start looking into it more for yourself.
Update:

The GAPS diet is still a very popular search on this blog and I know that so many families out there are looking for more help and resources. These are some of the best ones I've found.

Cara from Healthy, Home & Happiness has several amazingly helpful resources for those on GAPS:

30 Days on the GAPS Introduction Diet- What Can I Eat Now? This is an essential guide to helping you get started and get through the chalenging early days and weeks of the intro diet!
Grain Free Meal Plans Freezer Cooking Guide. Prepping meals and meal components ahead of time is a HUGE sanity and time saver when you're doing gaps, and this ebook guides you through the process of stocking your freezer to make life on GAPS easier.
Grain-Free Meal Plans. Do you prefer to just let someone else do the thinking and planning for you, and follow along a pre-made menu plan? Then you'll definitely want to check these GAPS-friendly plans out.
Do you think that your family has physical symptoms and complaints that are related to gut health? What would hold you back from doing a diet like this?
(And if you've already done GAPS yourself, I would LOVE to hear from your experience with it!)
Disclosure: This post includes affiliate links.