10 On-the-Go Healthy Snack Ideas for Toddlers
Written by Mindy, Contributing Writer
I've never met a toddler who didn't like to snack! Who can blame them? Snacking is fun!
Although I feel like it's important for children to have three nutritious meals a day, I also feel like there is still a lot of room for them to enjoy healthy snacks as well. Their little minds and bodies are growing quickly. It takes a lot of energy for a little child's body to grow into a healthy, strong, adult body.
Snacking throughout the day on healthy, nutritious foods can also help a lot with keeping blood sugar levels where they should be, which can help prevent meltdowns and tantrums.
When it comes to giving your toddler snacks, the most important thing is to make sure that they are being nourished by the snack foods that they are eating. Statistics show that in America, nearly 50% of the energy consumed by young children is "empty calories" – junk food that depletes the body of important nutrients rather than supplying the body with nutrition.
We all know that we as adults shouldn't fill up on empty calories.  It's even more important to a child's growing body not to waste calorie consumption on foods that don't nourish their bodies.
While I've found that it's fairly easy to find healthy snacks while we're at home (yogurt, fresh fruit, veggies and dip, smoothies, applesauce, etc.), it has been somewhat of a challenge for me to come up with healthy snack ideas that travel well. I finally feel like I have a rotation of healthy, nutritious snacks that don't require spoons, and can be eaten in the car or while out and about without making a big mess.  We do often enjoy these snacks at home, but they are great for taking on-the-go also.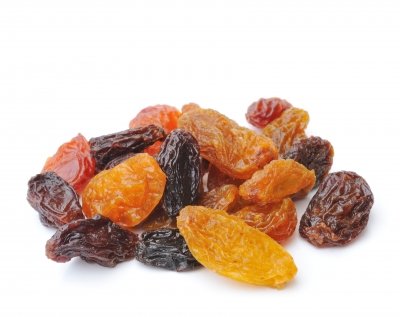 10 On-the-Go Friendly Snack Ideas
Dried Fruit
Raisins, dried mangos, banana chips, prunes, dried apricots, dried cherries…there are so many options! Try to buy dried fruit that doesn't have any added sugar and is sulfite-free. (We love Peeled Snacks.)  Or you could dehydrate your own fruit and save quite a bit of money!
Dried Anchovies
Okay, if you are like me, then this idea will totally turn you off at first. But try to have an open mind about it! I got the idea for dried anchovies as snacks from Kimi at The Nourishing Gourmet. They are a very frugal and nutrient-rich snack (that just happen to have a head and eyeballs still intact!)
I have to admit that I have not actually tried these myself. I just can't get over the head and eyeball factor. But my 18 month old son loves them!  I sweetly asked my husband to try one the day I first brought them home from the store, and he said that they were okay. Not delicious, but not disgusting. I believe the trick with these are to introduce them before your child realizes that they could be considered gross!
Kale Chips
Kale chips are a great snack to replace other processed, salty snacks. They are absolutely delicious, and I actually prefer them over potato chips. What a great way to get some greens into your toddler!
Granola Bars
Homemade granola bars are so easy to make, and they are much cheaper and healthier if you make them at home. There are a lot of good recipes out there to try. This Chewy Granola Bar recipe from Heavenly Homemakers is one of our family's favorites. Cinnamon Granola Bars is another yummy one too!
Roasted Chickpeas
These are so easy to make and are so good, too! A quick google search will show you tons of different recipes and flavorings to choose from. Here is a simple classic recipe for Crispy Roasted Chickpeas.
Sweet Potato Chips
Sweet Potato Chips offer a lot more nutrition than regular old potato chips. Make them at home with a healthy fat, and you have a delicious, nutritious snack sure to please any toddler!
Fruit Leather
Homemade fruit leather made from real fruit is so much healthier than the fruit roll-ups that you buy at the store (that are essentially nothing but sugar and other yucky stuff!). Check out these adorable polka dot fruit leather rolls – I can't wait to try them!
Homemade Power Bars (Larabars)
Sweetened only with dried fruit, homemade larabars are an excellent choice for a healthy snack. Although these are not the most frugal snack to make, they are very nutrient dense and are great to keep in the snack rotation.
Homemade Jerky
An excellent, protein rich snack is homemade jerky. I've never actually made it before, but it is on my list of things to try. We have a freezer full of deer meat that will make some delicious jerky snacks!
Cold Grilled Cheese
Next time you're making grilled cheese for a meal, make an extra, wrap it up, and store it in the fridge. This makes a perfect snack straight from the fridge that isn't messy for traveling. Cut into bite size pieces and let your toddler snack away!
More Healthy Snack Resources
If you're looking for more healthy snack ideas there are two ebooks that I highly recommend.
1. Healthy Snacks to Go by Katie at Kitchen Stewardship
This ebook is packed full of healthy snack ideas, including 45 recipes and lots of very helpful information. I've had this book since it was first released almost two years ago, and it is one of the most used cookbooks that I own. If you're looking for more healthy snack ideas this book would definitely be worth the investment.
2. Real Food, Real Easy by a team of awesome bloggers at Modern Alternative Mama
This is a new ebook that was put together by some of my very favorite bloggers. It has an entire section devoted to snacks and appetizers, but that is really just the beginning. It contains over 70 healthy, easy recipes from lunch to dinner to sides. Check it out if you're looking for some easy real food recipes including lots of great snacks!
I'm always looking for more ideas! What are your favorite on-the-go healthy snack ideas?