We Now Interupt This Blog to Bring You Real Life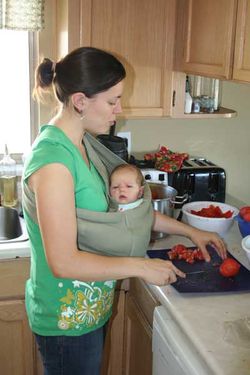 Being a mama, wife and homemaker is a full time, occasionally overwhelming, but always a blessed and privileged career and calling.
Lately, though, this blessed mama is finding herself with very full days! My tasks at present feel like all (and some days more than) I can handle: caring for three little ones aged 4 and under including a somewhat colicky (but still lovely!) newborn, maintaining the home in some semblance of order and cleanliness, making meals, scaling mountains of laundry, harvesting the garden (ignoring the weeds), doing my regular fall preserving (or attempting to, as you can see in the picture of me shushing a fussy baby while canning tomatoes), starting the new school year of home educating, supporting my husband as he starts a new business, and still having any degree of time and energy for relationships.
Though I'm slowly getting back into the swing of things, I'm also just plain old exhausted from lack of sleep, and thus time spent blogging is often just a bit much for me. There doesn't seem to be enough time in the day, and seriously, my brain isn't fully functioning! I would be wrong in my priorities to spend time focusing on my blog on many of these days when I am just needed in so many other ways, and honestly, my kids (and husband) need a much more pleasant and cheerful woman than I've been of late.
I've decided that I'm going to do some "play it again" posts (idea and title inspired by the lovely Amy @ MomAdvice, who occasionally re-posts previous but excellent posts from her archives). I'm going to bring back some oldies but goodies, interspersed with what I have time and energy to write fresh until I get things on the home front back under control and myself back to being a bit more rested and sane. 🙂
Thanks for understanding, y'all! Hope you enjoy them and can't wait to be more fully back ASAP! (Any requests?)