Gardening 101 Series and Heirloom Seeds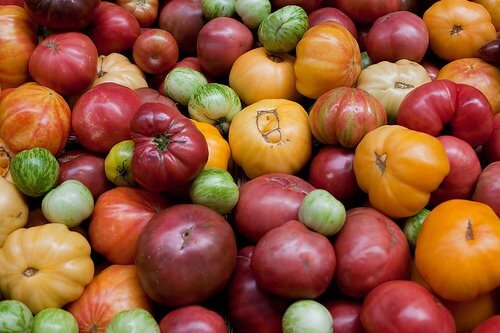 Spring is fast approaching (are you as giddy as I am?) and our themes this month at Keeper of the Home are right on topic. We'll be sharing about non-toxic cleaning including lots of cleaner recipes, just in time for spring cleaning although the house does tend to request being clean throughout the year (demanding, isn't it?).
Our other theme is one near and dear to my own heart… gardening! We'll be covering a wide range of topics in our Gardening 101 series. Emily kicked it off earlier this week with some fantastic tips for beginners. You can also find plenty of other posts on gardening in the archives:
For those who aren't yet sure about trying their hand at gardening, try reading Sprouts- The Easiest Greens You'll Ever Grow and learn more about Community Supported Agriculture (CSAs) and Their Benefits.
Curious About Heirloom Seeds?
Today you can find me over at Simple Organic bursting with practical information on heirloom seeds. What they are, what you'd want to use them, what makes them unique, and why I'm in love with them.
Purple Gypsy Tomatoes, Yellow Lemon Cucumbers, Dragon Tongue Bush Beans, Atomic Red Carrots, and Patisson Blanc et Vert Scallop Squash… these are a few of the many reasons that heirloom seeds have a starring role in my garden.

It's not just the vibrant colors and the exotic names that make me swoon (although they do). Heirloom vegetable and fruit varieties have grown enormously in popularity with home and market gardeners alike in recent years, especially with the rise in awareness of organic growing methods, concerns with GMO seeds, economic struggles, the desire save seeds from year to year, as well as simply for taste and sheer pleasure.

What are Heirloom Seeds?

Also know sometimes as Heritage Seeds, they are generally 50 years old and many are 100 years or older. Certainly they have all been saved and passed down from generation to generation, usually within a family or a community.

By definition, they are open-pollinated seeds:

The pollen from one plant is carried to the next by the wind, by insects, and sometimes even by birds. Some heirloom plants are even self-pollinating! When the home gardener saves these seeds, the next generation of plants will look, smell, and taste like their parents.

Read the entire post here.
How are you garden plans coming so far? Tell us what you've got planned!
Top image by lizadaly