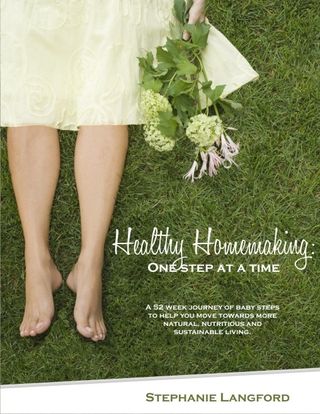 If you've been waiting or wanting to get this book, now is your chance!
Healthy Homemaking: One Step at a Time, which was released just over a month ago, is intended for anyone wishing to make positive changes in the areas of nutrition, natural living, going green and healthier cooking. The format is small, manageable, bite-sized steps that anyone can do, to help you gradually move towards more natural, nutritious and sustainable living over the course of a year, or whatever time frame is best for you!
The sun is shining, it's beautiful out and I'm listening to birds sing outside my window. I'm feeling great as I head into this last stretch of pregnancy (just over 9 weeks to go, give or take!). I thought it was only fair that I share my happiness and offer you a deal you can't refuse. 🙂
For 2 days only, I will be offering my ebook, Healthy Homemaking: One Step at a Time, for a mere $4.95!
This book regularly sells for $8.95, and truthfully, I don't see myself putting it on sale again anytime soon, so get it while you can!
For a more detailed look into what the book is all about, including testimonials from other bloggers, click here. Sale will end Thursday, 4 pm  
Sale is now finished. Thanks for the incredible response!