15 Strategies for Eating Well & Avoiding Take-Out During Busy Seasons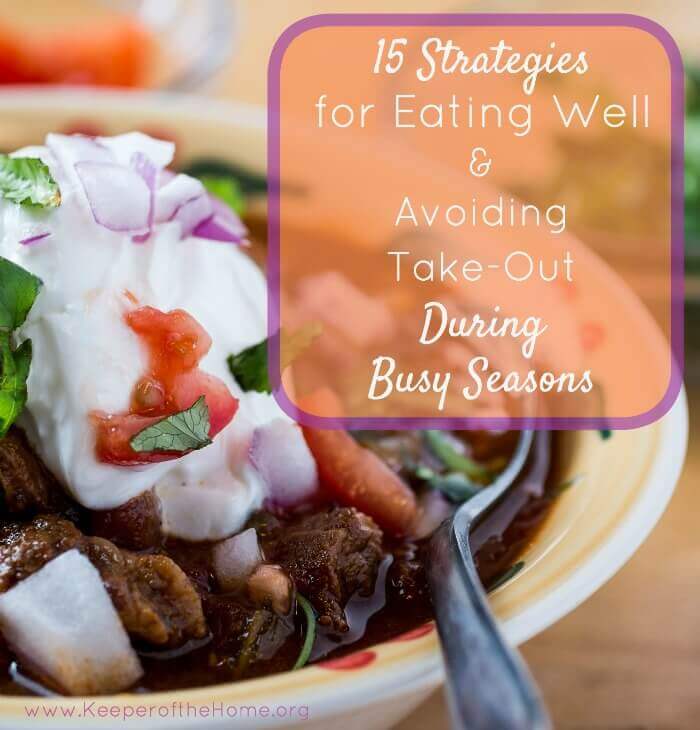 I think I've finally learned how to keep serving our family real, whole foods, even when life is busy and I don't feel like I have time to cook properly. 
Every once in a while, when we have one of those days (you know the ones), my sweet husband will offer that we should order take-out. Tempting as it is some days, I've found myself telling him "No, it's all right. I can pull something together just as fast, and much cheaper."
For example, last week, during the hectic launch day of our Ultimate Healthy Living Bundle sale (which we're organizers of), I still served up a delicious lamb and vegetable stew that everyone loved. After lunch, I just dumped ingredients in my crockpot — potatoes, carrots, onions, beans, frozen broth, frozen chopped lamb, frozen tomato puree. I added seasonings just before I turned it off and that was it!
Even on nights when I didn't start earlier in the day, I can usually get food prepared and on the table in 30 minutes or less, with much less fuss or effort than it's taken me in years past.
Why don't last minute, unplanned dinners stress me out anymore?
Mostly, I've gotten simpler. I don't expect myself to create gourmet meals every night.
I'm OK with serving up the basics, so long as they're wholesome foods and they still taste good. Dinner doesn't have to be an ordeal (nor does any other meal of the day).
Lowering my expectations was key. I can serve a homemade soup with some bread, breakfast for dinner, or the easiest type of dinner combo – chicken, rice, broccoli, done.
This isn't to say that I don't prefer to serve more robust meals at times. This post is about handling those BUSY seasons in particular (although I think the tips still apply to average days and week as well).
How I shop, plan, stock my kitchen, set aside extras, and a number of other small but effective things really do make all the difference. When I get overwhelmed by a full-to-overflowing schedule or a season with heavier demands than usual, I rely on these strategies to get us through, with my sanity still intact, and without sacrificing our nutrition too badly.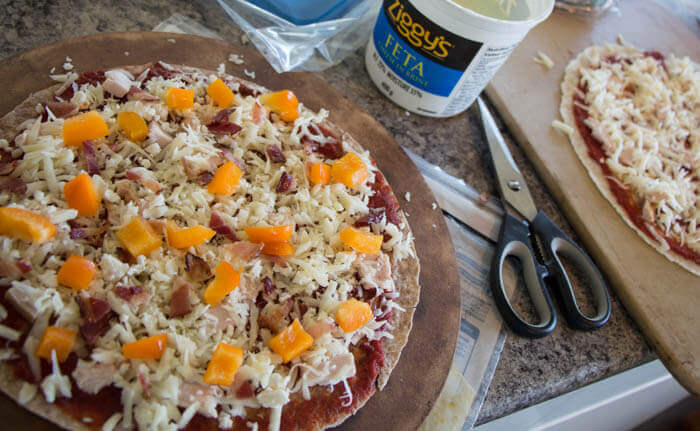 Here are 15 things I do to simplify my time in the kitchen and decrease our need for convenience foods:
1. Create a list for yourself of easy, favorite meals that you can go to when necessary.
This list helps to form the basis of the ingredients that I buy on a regular basis (see #2). These are recipes or meals that we enjoy eating well enough (they might not be our 5-star favorites, but they don't draw complaints, either). They're things that I could practically cook blind-folded and so they come together faster and with less effort on my part. 
What are some of mine? Taco salad, beef or lamb stew, hamburger patties or meatballs with a grain side and a sautéed veggie, orange sesame crockpot chicken over rice with steamed broccoli, salmon patties with baked potatoes and a green salad, to name a few.
2. Stick with the same basic ingredients.
When you buy too many different ingredients, you often a) wind up wasting food, b) spend money on foods your family doesn't like as much, c) take more time to plan out your grocery shopping and menus. 
By keeping the list of foods that you buy on a regular basis just a bit more simple and limited, it really helps to cut down your time because you know what you have in the house and you know what you can make with it.
3. And then always keep those pantry, freezer and fridge basics on hand.
This goes along with limiting your shopping list to a more standard set of ingredients. Once you know the meals your family regularly eats, and the ingredients you need to make those happen, you can plan to keep your pantry, freezer and fridge stocked with those basics.
4. Don't expect yourself to make everything.
I love cooking from scratch but I certainly don't have time to make everything. And by everything I mean, I don't make mustard or ketchup, or sour cream, or tortillas, or sauerkraut, or a whole bunch of items like that. Instead, I find natural brands that use a short, simple list of pronouncable ingredients (and make sure they don't include any no-no ingredients I really want to avoid).
I do still make salad dressings and spice mixes, I prefer to make mayo because I dislike the ingredients in store bought, and I make my own yogurt and kefir most of the time because the cost differences are huge. I've figured that making these particular items is doable for me and they're important to me, so I prioritize them over making a hundred other things. But don't be a from-scratch martyr. You don't have to make everything!
5. Find some good semi-convenience (but still real food) options.
So here's a practical example of something I don't make myself. I love baking bread, and I used to do it on a regular basis. We're currently in a really busy season and I simply don't have time, but I didn't want to compromise on something poor quality.
We've got a mix of gluten-free and wheat-eaters in our home, so I found a fantastic brand of organic, gluten-free bread (Silver Hills) with ingredients I'm pretty happy with, as well as an organic, sprouted whole wheat bread (Dave's Killer Bread) that my husband loves. I can buy both brands at Costco for a much better price than at a local grocery store. I stock up on 4-6 loaves of each type, every time I go to the store (about once a month because it's a bit of a drive for me), which saves me time.
6. Do a large grocery shop at the beginning of the month.
This has been one of the changes that has revolutionized both our grocery budget and the ease with which I make food over the past 3-4 months. I was frustrated shopping at the local chain grocery stores, since I simply wasn't getting great prices and couldn't buy many bulk sized items.
I decided to add in one day per month where I take an entire afternoon to pick up a large co-op order (bulk natural foods) as well as do a big Costco run, or sometimes go to a natural meat shop out in the country. Between these places, I'm able to stock us up for the month on all our major freezer and pantry foods, as well as some things that will keep in the fridge all month (butter, cheese, condiments, etc.).
Then the rest of the month, I do a weekly run to a farm just a few minutes away for our milk and eggs, and about once every 10-14 days, I zip out for fresh produce (except that right now it's summer and we're eating out of the garden a lot). I have cut down on my shopping time immensely, and our home is now full of a good supply of bulk foods that I got for much better prices per unit.
;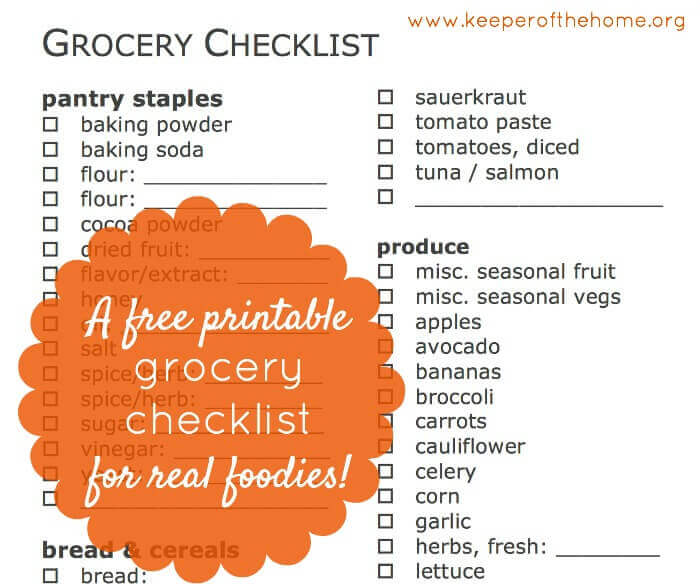 7. Keep a running grocery list.
Having a pre-printed checklist on my fridge or a cork board takes the time and thinking out of grocery list planning.
A couple years ago, I was trying to find a checklist that really suited a whole foods, from-scratch diet and I just couldn't find one, so I made one instead. This checklist comes as part of the printable pages in my popular eBooks, Plan It, Don't Panic, but today I'm making it available to you for free!
8. Keep pre-cooked meat and beans in your freezer.
What's the worst thing to realize when it's already 4:30 or 5:00 and you haven't planned dinner? That all your meat is frozen. I've been there too many times. But what if the meat in your freezer was already pre-cooked, in smaller portions, and therefore could be thawed and used that much more easily?
If I've got frozen, cooked ground beef I know that I can use it to make taco salad or fancy nachos, add to a soup, to pizzas, to spaghetti sauce, etc. If I have frozen, cooked and chopped chicken thighs or breast, that can be added to a soup, big meal salad, quesadilla, pasta, casserole, or maybe a quiche. It works with beans, too.
9. Have "easy" meats on hand.
This is my other way of getting around not having thawed out a whole chicken or a roast or something more substantial earlier in the day. Meats like sausages or sandwich meat are so much faster to thaw and use.
I have done my due diligence over the years to locate good sources of nitrate-free and clean fed sources of sausages, deli meats, bacon, etc. Canned salmon is also really quick and handy. Though we don't eat these more than once or twice per week, they are so helpful when I just need to pull something yummy together quickly.
10. When you're making something useful, make extra.
If I'm going to bake potatoes, I don't just bake enough for that meal. I usually bake at least twice as many as I think I need. Already-baked potatoes make for the easiest, fastest home fries (hashbrowns) the next morning, can be added to a soup in a jiffy, can be sliced and form the bottom of a Spanish tortilla, or reheated to create some sort of fancy baked potato lunch with whatever toppings can be found in the fridge.
I do the same with rice, quinoa, beans, shredded cheese — anything that will only add just a teensy bit more effort to make more of, but that can be frozen into the right portion size to help me pull together a meal quickly on a different day.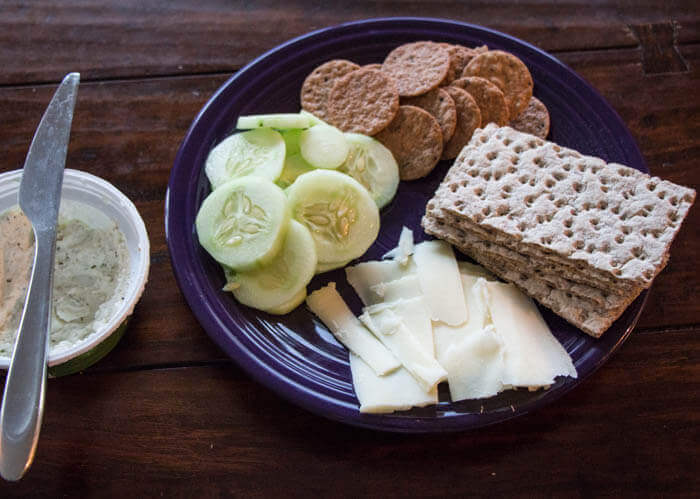 11. Don't feel guilty about serving random "non-meal" meals.
To be honest, who cares if dinner occasionally ends up being slices of cucumbers, crackers spread with soft goat cheese, a bowl of raisins and nuts, and a glass of milk for everyone? Or what about whipping up a pan of scrambled eggs to eat with sourdough toast and butter and a pickle?
It's still real food. It's still nutritious. Bellies are being filled.
For lunches, we often do what's known in our home as a "nibble plate". This is when mom raids the fridge and pantry, pulls out every sort of interesting looking finger-type food she can find, and sets it all up on a couple of big plates and puts them in the middle of the table. In our home they usually have things like: cheese, rolled deli meats or sliced European sausage, olives, pickles, sauerkraut, any sort of raw veggie slices, fresh fruit, crackers (we like nut-based crackers or things like sourdough Ryvita), bread and butter, an assortment of whatever nuts, seeds and dried fruit we have on hand, and things like that.
12. Use your crockpot. A lot.
I wish I remembered to use my crockpot even more often, because it really is that wonderful. These days, there is no excuse for not making great use of your crock. It should hardly ever leave your counter.
There are recipes for practically anything you can think of, whether for breakfast, dinner, or even dessert, and other uses you might not have even thought of.
13. Fill up your freezer.
But I'm not talking about freezer cooking in the conventional sense, like Once a Month freezer cooking. No siree.
Instead, I make larger amounts of what I'm already making. So I'll double up a casserole or pasta dish, triple a muffin batch, cook 3 lbs of ground beef  instead of 1, make a really large batch of spaghetti or pizza sauce, or stir up a giant pot of soup. Then I freeze the extras.
Since I was already cooking, it's hardly any extra hassle to make a bigger batch. If it takes me 45 minutes to make a pot of soup, and an extra 5-10 minutes to chop more veggies to triple that soup, I'd say getting three meals of soup out of 55 minutes is a whole lot better than 1 meal out of 45, wouldn't you? Plus, I only clean the dishes once (this might be the best reason of all, come to think of it).
14. Eat breakfast or sandwiches or smoothies for dinner.
Why not? Who says dinner has to be meat, starch and a side?
If you'd enjoy it for breakfast or lunch, why not dinner? Be a rebel. I dare you.
15. Don't rely so heavily on Pinterest or blogs for recipes.
This might sound funny coming from a blogger, but truthfully, blogs are not the primary place I find recipes (although I have found many amazing recipes through blogs). I also pin a lot of recipes on Pinterest, but they're more for my interest and later reference, as a reminder of something I want to try one day, or a fun place to go when I'm really stuck and needing inspiration.
Instead, I recommend that you choose a few cookbooks that really suit your style of cooking and your dietary needs, and rely more heavily on them. This works with paperback cookbooks (of which I have about 15, although there are probably 3-5 that I use far more frequently than the others), and also with eBooks. I have a good selection of ebooks, but as I go through them and try out some of the recipes, I pick the ones that work best for me and stick mostly with those books.
Here's the thing- the recipes on Pinterest may look enticing, they may even look easy. But constantly trying out new recipes is exhausting. You're using them from a variety of different blogs, different cooking styles, they may require you to do different-than-usual ingredients. All you're doing is adding to your own work. What you want are recipes that use ingredients you're regularly buying, from a cookbook author you get to know and like, written in a familiar style and format. This is how you get winning recipes that work for your family and that take less time and effort to make.
How do you make sure that your family still eats well during busy times? Share your tips with us!
Disclosure: As organizers of this sale (and as an author, since my own ebook Clean & Simple is in the bundle), our family benefits from each purchase that goes through Keeper of the Home. In fact, this is a primary way that our family earns an income as entrepreneurs, and we value your support, so thank you! It's our privilege to put these bundles together and to make sure that they are of the absolute highest quality, and we genuinely hope that they are a blessing to your family's health journey.