Introducing Healthy Homemaking: One Step at a Time!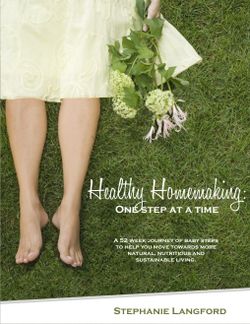 Healthy Homemaking:

One Step at a Time
A 52 Week Journey of Baby Steps to Help You Move Towards More Natural, Nutritious and Sustainable Living
Hooray! After a year of brainstorming, spending afternoons in various local coffee shops with my husband's laptop, researching like crazy, writing some more, editing, editing, editing, and then pulling all of the final design components together, my eBook is finished!
I am so pleased to be able to make it available for you! Many of you have been kindly asking me about the book's progress and when to expect it, and I am thrilled to say that you can purchase and start reading it today!
My motivation has been to create a resource for all those women (married or single, homemakers, mothers, career women- all of you!) who have a desire to move in the direction of more natural and healthful living, but are looking for some good places to start. When I was planning the book, some key words that helped to shape my vision and direction were: manageable, NOT overwhelming, simple, everything-at-your-fingertips, encouraging, upbeat, motivating, and do-able!
I hope you like it. It has been a labor of love, in an attempt to help more and more women (and their families) live simpler, healthier lives, in ways that truly glorify our very good and loving Creator.
And can I just say a special thanks to my husband, for his constant encouragment and support? He has been my greatest cheerleader, my toughest critic, and the one who pushed me to keep going whenever I was discouraged. Practically speaking, he has edited, approved or nixed my ideas, watched the kids so I could get out to work on it, and slipped enormous amounts of "mad money" into my back pocket, "just so I could get a little something while I'm out". I couldn't have done this without you, Ryan! I love you!
And thanks also to YOU, my wonderful, faithful, inspiring, encouraging readers! You were the reason I wrote it in the first place and you have given me so many of the ideas for what to write about and focus on. This blog would be a pretty lonely place, without y'all coming and visiting and commenting and emailing… I'm grateful for you, and humbled that you take the time to visit. 🙂

So, what is Healthy Homemaking all about?
This 76-page eBook includes:

** 26
Baby Steps, covering a broad range of topics in the areas of Nutrition,
Cooking and Food Preparation Techniques, Going Green/Sustainable, and
Natural (non-toxic) Living. Each step gives you a specific goal,
teaches why that step is important, and then gives detailed directions
and tips for implementing that step into your life. At the end of each
step, you'll find both online and reading resources to help you with
completing the step, as well as to encourage you to look into it more
on your own.
** A printable chart intended to help you
keep track of the steps that you are working on. It includes space to
set goals for yourself, as well as to write your own notes and
reminders as you implement these steps.
** A detailed introduction, discussing some of the why's and motivation behind pursuing a journey like this.
** My own personal journey.
I share with you my story, from unhealthy child and teen, to where I am
at today. It is a story full of bumps and challenges, huge learning
curves, many mistakes and ultimately, a whole lot of God's grace.




Here's what others are saying about Healthy Homemaking: One Step at a Time:
"With
so much to learn and incorporate into creating a healthy home and
lifestyle, I can't even begin to tell you how refreshing and
encouraging it is to read a book that not only lovingly offers
manageable baby steps to achieve this, but then lays them out in such a
straight forward and practical format as well.  It is organized
beautifully and I have no doubt that, with the help of Stephanie's
book, I'll be able to make many lasting and positive changes towards
being a healthy homemaker."
         Laura
         I'm an Organizing Junkie
"Stephanie's
"Healthy Homemaking: One Step at a Time" is an excellent resource for
anyone and everyone.  Whether you're just starting out making changes
toward a healthier diet and lifestyle…or you've been working toward
healthy living for years, you'll benefit from the simple, helpful ideas
in this book. Once you read this ebook, you'll be confident that YOU
can easily take each of these steps toward wonderful health! "
        Laura Coppinger
        Heavenly Homemakers
"If you've ever wished for a simple yet "greener" life, you'll love Healthy Homemaking!
With confidence and encouragement, Stephanie offers 26 ways you can
live life a little healthier — from natural cleaning products to
cooking brown rice — and a whole lot more!"
        Tammy
        Tammy's Recipes
"Stephanie
has written a well thought out and informative book on not only how to
eat healthier, but how to live healthier as well. I only wish I had had
a resource like this when I started to change my diet a couple years
back! The baby steps seem so achievable as she has them set out, and
each step includes not only the how, but the why behind it. If you've
ever wanted to change to a more natural diet and lifestyle, this book
is definitely for you!"
        Donielle
        Naturally Knocked Up
Get your own copy of Health Homemaking: One Step at a Time for only $8.95!