Free Groceries and Other Random Thoughts
 I'm writing this towards the end of a busy day (midwife home appointment this morning, and then a day at the zoo with my sweet children to celebrate Canada Day!). Here are a few things that have been on my mind: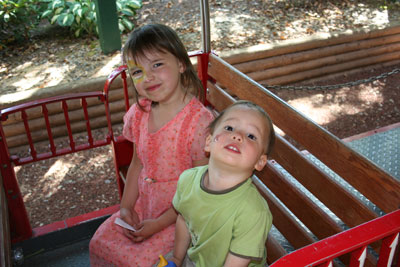 **The kids on the train, at the end of our zoo day, showing off their face painting!**
1) Swagbucks are awesome!
First of all, thank you so much to all who signed up for Swagbucks and helped me to earn a fun gift certificate for a Father's Day present! He was thrilled to receive it, and I was so blessed that you all helped me out!
Secondly, I am having way too much fun with Swagbucks these days. I have been earning Amazon gift cards like crazy, and here's the great thing: I can use them to buy free groceries! I didn't think of this at first, but later realized (as I was thinking of all the different things Amazon sells) that groceries were totally a possibility, and there are so many options of natural, organic and even bulk foods! How cool is that?
If you haven't signed up for Swagbucks yet, you can do so by clicking on the banner below. The more friends who sign up under you, the more points you earn, so let others know about it and soon you'll be earning gift cards for Amazon (.com and .ca), iTunes, Starbucks, Target, etc. Yay for free stuff!
2) I'm making progress!
I continue to putter away at my "before baby" to-do lists. My list of foods that I want to have put away in the freezer is nearly complete. All that's left is a bit more baking, and possibly a different meal concept to replace Shepherd's Pie, since my husband can't eat that on his special diet.
My general to-do list is also going well! Last week I got the infant car seat washed and ready, and we did a trial run in the car. No problems, whatsoever! Praise God! This week, the shelves in my family room were fixed (thanks Ryan!) and so I've almost finished re-organizing that room, and just have a little bit of work and decoration left to do. My Nana has agreed to make my nursing pads, a friend is making some feminine cloth pads, and I also made a few myself, using my Nana's incredible sewing machine (I will not be jealous, I will not covet! :). All the newborn diapers and clothes are clean and ready to go. My garden is doing great, and I've been trying to preserve foods as they are available in abundance (drying herbs, freezing peas and turnips and spinach, etc.), and just caring for it and planting my last few summer seedlings.
This weekend is my personal retreat, on Friday evening and Saturday during the day. I'm so excited to spend some extended time really seeking the Lord and doing some planning (home educating, scheduling, blogging, etc.) that will really help me out as I enter this new season of life. And this morning we had our home visit with the midwife, and have just a few last details to get ready for our homebirth (pick up the pool and inflate it, buy just a few more supplies, gather the things I would like to use for comfort during labor, etc.). It's all coming together!
3) Guest posting spots are all filled up!
This was one of the other major things on my list. Last week I put out a request, and I could not believe how quickly and wonderfully my need for guest bloggers was met!
I already have all the guest posts that I need. What a blessing! Thank you so much, ladies, and I am so looking forward to all that you have to share! 🙂