Pregnancy Update: 32 Weeks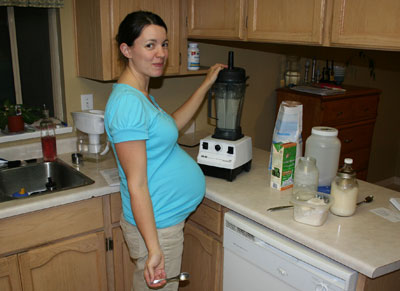 **Here I am, big bellied, making waffle batter before I go to bed, and nibbling on coconut milk ice cream (adapted from this delicious recipe)
It is just unbelievable to me how close we are getting to meeting this baby! My due date is officially 8 weeks away, which means baby could be here anytime in the next 5-10 weeks! Wow!
I thought I would share my current to-do list before baby arrives. It might also be helpful to share what I am NOT going to be getting done. 🙂 I had high hopes of finishing all of my spring cleaning and decluttering, but I have resigned myself to not completing it. I did get the great majority of the decluttering done (the only place I really didn't venture into was the garage, which isn't too bad right now), and took it to the thrift store, so that is a huge relief.
The cleaning is about half done: I finished most of the living room/formal dining, the kids room, the main bathroom, the entryway, as well as the fridge/freezer and under the kitchen sink (but not the rest of the kitchen). I would still like to do some more deep cleaning in the kitchen, and some major organizing in our family room, but the rest will be left undone. With so little time left, and waning energy (not to mention a belly that makes deep cleaning more challenging), I have just realized that it might be too much to expect of myself, and that's ok.
So, what will I be working hard to complete in these next 8 weeks or so???
Listing/selling several items on Craigslist (baby bike trailers, Denby dishes, etc.)
Planning out our home education goals and curriculum for the fall and winter. I've already purchased pretty much everything I need, it's just a matter of making a plan to accomplish it, really. DONE!
Finishing up Abbie's kindergarten level workbooks (Rod and Staff), and completing the first good portion of her new math curriculum (we chose Math-U-See, and I'll let you know how it goes!)
Attempting once more to potty train Caden (if it doesn't work, I'm going to wait until the fall)- NOT DONE (but it's just not happening)
Completing my list of foods for the freezer (I've updated it with my progress to this point) Practically DONE!
Taking a one day personal retreat, for the purpose of getting refreshed as well as setting new goals, in the areas of my spiritual growth, mothering, relationship with my husband, and home educating. I'll be reading some good books, spending a lot of time in the Word and in prayer, and establishing some new priorities, schedules, etc. for the upcoming season we are entering. DONE!
Totally re-organizing our family room (which is also our school room and play room and my office). It really. really. really needs it. Practically done!!!
Take inventory of our diaper stash, determine what else needs to be bought (and buy it), and get it all washed and ready to go. DONE!
Sort through newborn clothes, blankets, etc. and make sure they are all washed and ready. This might require re-organizing the kid's closets and drawers a bit, to make a little more space for the baby's things. DONE!
Enlist (ie. hire because I don't have enough time or a properly working sewing machine) a friend to make me some cloth pads for post-partum- DONE!
Make a fresh batch of nursing pads (I liked Lindsay's tutorial. These are similar to what I already have, but I've never made them myself. Looks easy enough! 🙂 DONE (well, taken care of by someone else, anyways!)
Double check that all three carseats will indeed fit in the back of our little Mazda. We purchased a new, thinner booster seat for our 4 year old, and are pretty confident that everything will fit now, but we need to try it out soon just to be sure! DONE!
Continue on with my garden as much as I have time and energy to, preserving whatever foods I can.
Find some fantastic guest posters to fill in some of the gaps on this blog while I am recovering from birth and adjusting to life as a mom of 3! (Any takers? Email me!) DONE!
How I'm feeling:
Overall, I am actually feeling quite well for being so far along in this pregnancy, praise God! I think there are a few reasons for this.
The first is a really good one and a testimony to better health through traditional, whole foods. I just honestly feel that I am in the best health I have been in years, and that it is showing this pregnancy. Though my nutrition was pretty good with my other two, it has definitely improved since my last pregnancy. I can truly say that I feel more nourished, generally more energetic (though I certainly have my days and moments!), less achy, less headaches, and just feel overall pretty well, despite being more busy than ever before. Sure, I'm still fighting some reflux, sore muscles, have less energy than usual, and things aren't flowing as smoothly these days (if you know what I mean), but that's minor compared to my previous pregnancies, for sure!
The second reason I think that I am feeling so well is potentially not as positive (although it has resulted in less sciatica, less contractions, and less reflux, which are bonuses to be sure). Baby has not moved into a head-down position, but instead is in a somewhat transverse, diagonal position (we believe the head is slightly more down, so at least it's not straight across). Though this may be the result of being on my 3rd pregnancy and having a more rounded rather than pear-shaped uterus (this is the reason I'm hopeful for!), the fact that baby has been like this for a good 5-6 weeks indicates that at the very least, we need to check things out. It could suggest placenta previa or a low-lying placenta, which is definitely an issue as far as natural, vaginal birth is concerned. I have an ultrasound in just over a week to rule out this possibility, and we are just praying that baby turns completely head down in the next few weeks!
In other news, I'm trying to purchase a few of the items on my "I'd really like to have this time around" list. Just last night I bought a great sling used off of Craigslist. It's a Hotsling, and I think that it will be just perfect for those early months with baby. Last time, I tried to use the newborn insert in my Ergo, and I found it absolutely useless and not comfortable, especially as it is just sooo hot for both baby and mom in the summertime (though I still adore my Ergo for about 4-5 months and beyond). I also just purchased and am waiting to receive a beautiful nursing cover from another Canadian mom on Etsy (and they're still on sale- check it out!). I know that I can make do nursing with blankets, as I've done previously, but these covers are just so practical that when I found a great deal on one, I snatched it up!
The only other item I would really like to replace is my current diaper bag, which is just getting really worn out. If anyone who runs a baby supply company or makes lovely diaper bags would like to garner themselves a review on my blog by sending me a diaper bag, please drop me a line at keeperofthehome (at) canada (dot) com! 🙂
How are the rest of you pregnant mamas doing? I imagine some more of you have had your babies, too, or recently found out that you're expecting. I'd love to hear your updates!