Week 2 Plan- "Eating From the Pantry and Freezer" Month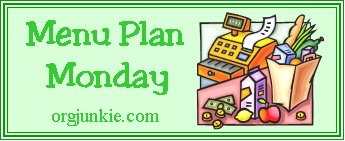 Welcome to my second week of "Eating from the pantry and freezer"! Despite a few changes in my plans for last week, we ate well with only a minimal grocery shop (just to get fresh produce for the next couple of weeks), and mostly just food from the stash in my pantry and freezer.
Even with an unplanned weekend guest, I was able to pull together some nice meals. I created a wild rice and chicken casserole, which I will have to share the recipe for soon, as we all thought it turned out great! I was afraid I wouldn't be able to make a suitable, impromptu lunch on Saturday (I didn't want to serve our guest leftovers, as we usually eat), but I managed to come up with a hearty tray of nachos and cheese instead, with red peppers and tomatoes on top and some leftover meatloaf on the side. For dinner that night I made my planned stromboli, and paired it with steamed broccoli, for a very yummy meal.
This week threw a couple of wrenches into my previous plans, as I clued in that it is Passover and Easter Sunday. We've never celebrated a Passover/Seder meal, but I am thinking that it would be something really neat to try. Read the post that inspired me, and another post with some great info for those interested in having a Passover dinner.
So, here is the menu plan I've come up with:
Breakfasts
Oatmeal x2
Raspberry-banana muffins (supposed to be cranberry, but I used mine up to float in a punch last week 🙂
Toast and eggs
Breakfast wraps (scrambled egg, cheese, tomato, potato)
Coffee cake (leftovers from a snack I'm making)
Cinnamon Rolls (Easter morning)
Plus fruit smoothies or green smoothies most mornings
Dinners
Beef Stir Fry over brown rice
Spaghetti squash with sauce (bumped from last week)
Samosas (chicken) with yogurt-cucumber sauce
Passover Dinner- Jewish Chicken Soup, with some Egg and Onion Matza, plus I'm trying to figure out what to do for bitter herbs and Haroset (without going grocery shopping!)
Chicken Salad sandwiches with fresh sprouts
Baked potatoes with broccoli and cheese sauce
Easter Dinner- Roast Beef, scalloped poatoes, honey glazed carrots, corn, yorkshire puddings and gravy, plus some apple/berry crisp for dessert
How is everyone else faring with their menus while eating from the pantry and freezer, especially with a special meal like Easter dinner coming up? Have any of you celebrated a Christian Passover meal, and do you have any ideas for me as far as bitter herbs or a dessert?
Meun Plan Mondays are hosted by Organizing Junkie!