Remember back when I made the crazy decision to toss my shampoo and start going "no-'poo"? Ever wonder what happened with that experiment?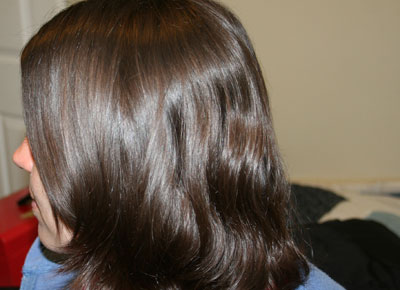 Over a year later, I'm pleased to say that I have continued it for the most part! I went strong with this method from last April, up until December this year, when I got pregnant. The only time that I briefly stopped was during the first half of this pregnancy, when my hair, scalp and hormones all went crazy. It wasn't pretty, so I started using natural shampoos again for that season.
Since things have evened out a bit (probably the last 3 months or so) and for all of the months I did it last year, I've been really enjoying my simple, frugal habit.
The method I'm using these days is to:
Keep a squirt bottle with about 1/8 baking soda and the rest water in the shower. It settles between use, so each time I just shake it up briefly before I use it. I squirt it all over the top of my head and a bit onto the back, and then just rub it around and somewhat "lather" it (I add the quotations because it's not a true lather, like shampoo, but it does foam up a bit) for about 30 seconds, then rinse.
Next I use some apple cider vinegar for conditioning. I dilute it 1/2 vinegar, 1/2 water and keep it in a glass jar with a lid. This isn't ideal, and I'd like to get a squirt or spray bottle for it as well. I only apply it to the bottom half of my hair, because it causes my fine, thin hair to get a bit greasy if I use it anywhere near my scalp.
Every once in a while, I shampoo with a high quality, natural shampoo that I happened to have around. It served as a nice transition from when I stopped no-'poo temporarily, and has helped me to ease back into it without it being obvious that I was transitioning back again. Soon I don't think I will need to use it anymore at all.
I wash my hair only every 2nd day. Back when I started, last April, I was a shower-every-day kind of girl, and my hair would get so greasy without being washed daily. Between the no-'poo and gradually spacing out my showers (taking advantage of days at home, when I could toss it up in a ponytail!), I've managed to get it to the place where I can almost always go 2 days in between. The picture of my hair above is actually taken on a 2nd day, without showering, and you really can't tell.
Once in a while, I notice that my hair is a bit dry, but then again, I'm struggling to stay hydrated enough with a summer pregnancy, and it has been a dry summer here so far this year. I have experimented once with using my homemade mayonnaise as a deep conditioner, but I didn't find the results particularly impressive, so I haven't bothered much since then.
I stumbled across a blog post the other day, about how a mother has adapted a similar method for her daughter's beautiful, long hair. She uses a natural bar soap, every 5 days, and then the apple cider vinegar rinse for conditioning. Looks like it's working well for her. Check it out!
For my kids, I continue to use just water on Caden's short and fine hair, and maybe 1-2 drops of Dr. Bronner's Castile Soap
on Abbie's slightly longer (but still very fine) hair. I wash their hair about 1-2 times per week and I don't ever find that it looks dirty. I mean, aside from the smears of yogurt and jam and spaghetti sauce. 🙂

Have any of you transitioned over to using the no-'poo method? How is it going for you, and do you do it any differently than I do? Any deep conditioning suggestions for me? What are the rest of you using for shampooing?
Disclosure: This post includes affiliate links.