Giveaway Week: 2 Nights at Hampton Creek Inn Bed & Breakfast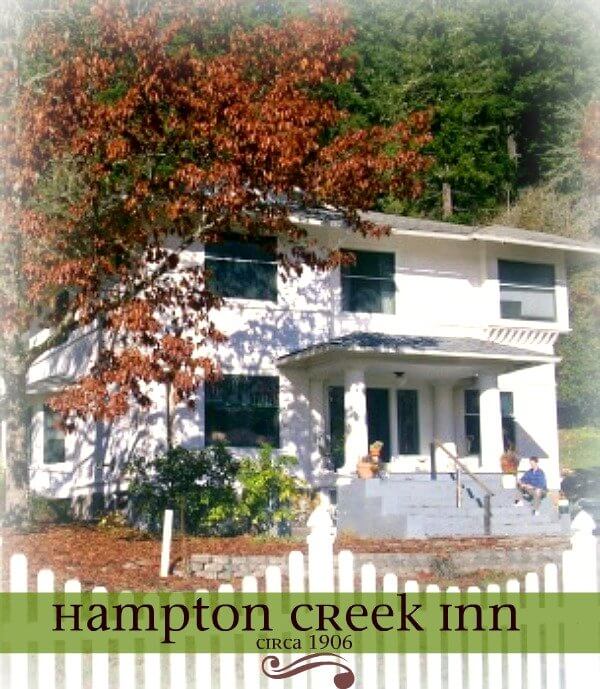 I love eating out, getting away on vacation and staying in beautiful hotels or Bed & Breakfast inns. It's always such a treat. One thing that I don't love, though, is knowing that I am eating foods I wouldn't normally choose to eat at home, and contributing to more wasteful and less sustainable ways of doing things.
Imagine my delight when I heard that my sweet friend Michele and her husband Calvin would be opening Hampton Creek Inn Bed & Breakfast with a focus on simplicity, sustainability, and local, seasonal, nourishing foods.
Now here's something that you need to know about Calvin and Michele… aside from their desire to carefully steward the earth, their bodies and bring God all the glory in the process, they are also some of the most welcoming, gentle and hospitable people that I have yet to meet. At the Relevant blog conference this past fall, I was blessed to meet not only them, but their darling little ones as well. Having an extra half day for sightseeing before my flight left, they so generously invited me to join their family in an excursion and I have rarely felt so comfortable and at ease while being with friends whom I have known for such a short period of time.
If they have this warm and welcoming attitude with someone they took out for a day trip in their car, how much more in their own home which they have lovingly transformed into a quaint and restful inn?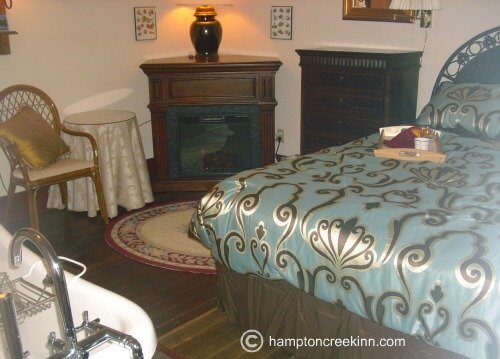 Located in southern Washington (2 hours from Portland, 3 from Seattle), here's what they have to say about Hampton Creek Inn:
Nestled in the gorgeous volcano and waterfall country of Big Bottom Valley in Washington State, Hampton Creek Inn serves as a destination and a gateway to further exploration of local hiking trails, ski slopes, fishing, and quaint shopping. This beautifully-restored historic home (circa 1906) is decorated in a comfortable "modern vintage" style, as the perfect setting for your bed & breakfast getaway, private parties, weddings/receptions, conferences, and gatherings.

Hampton Creek Inn is a sustainable living establishment, serving up locally-grown, natural & organic foods. We would be delighted to design a seasonal dessert menu for your event!

Hampton Creek Inn specializes in providing a tailored experience for each guest. We would be delighted to help meet dietary needs for your event (ie. gluten, dairy, egg, nut-free or vegan baked goods) upon advance request.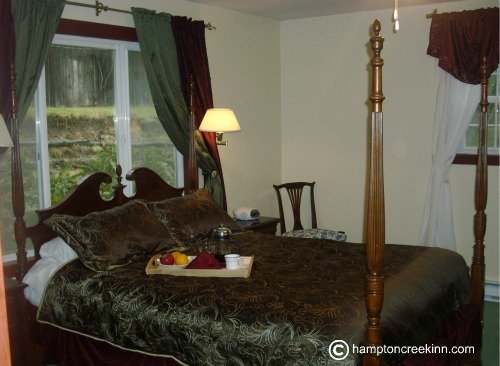 Though we have not personally had the pleasure of staying yet ourselves, we absolutely cannot wait to take a little road trip sometime this spring to go stay at Hampton Creek Inn and enjoy the warm hospitality, the restfulness, and the food… did I mention the food yet? Listen to some of these scrumptious sounding menu items (taken from their seasonal spring menu):
Individual Spring Leek Quiches
Rhubarb Breakfast Cake topped with Fresh Whipped Cream
Fresh Herb & Cream Cheese Omelets
Lemon Lavender Souffle
Cinnamon Oat Waffles with Rhubarb Sauce
Individual Asparagus Frittatas
Hearty Skillet Breakfast (a savory blend of new potatoes, eggs, spring
onions, & cheese)
Dutch Baby Pancakes with Lemon Curd
They can easily accomodate special diets, including gluten-free and dairy-free, as well as vegan or vegetarian. As someone who eats gluten-free on a regular basis and loves healthy cooking, Michele is a whiz at creating delicious dishes for any special dietary needs.
Can you believe that I get to give away a chance to stay and indulge in this wonderful experience? Someone is going to be getting a very amazing late-Valentine's day treat! Husbands (and wives), come and get entered to win this already!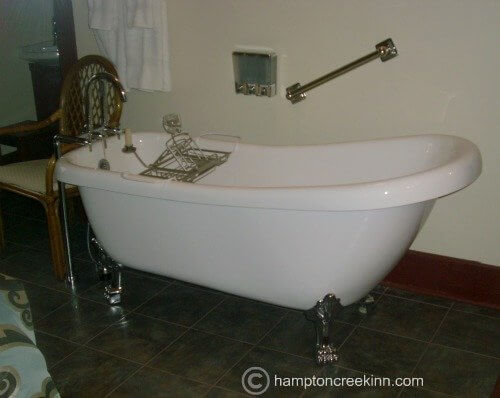 To enter the giveaway, simply click on the link below to fill out a survey form. Rather than having to leave multiple comments for each entry option, you can just complete the one survey and you're done!

Giveaway has now ended.
This giveaway is sponsored by Saving Naturally, helping you live healthy while spending less.