Pregnancy Update: 28 weeks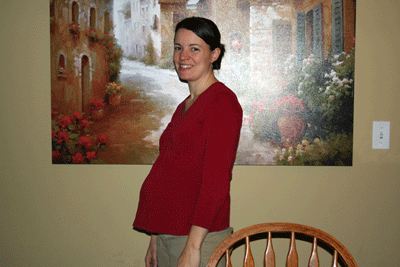 **Too bad the picture behind me didn't turn out too well. It's probably my favorite piece of art in our home. Makes me feel like I'm on a cobblestone street in Europe.  🙂
I'm still enjoying the "golden months", as I like to call them (you know, those middle months where the sickness and early fatigue are gone, and you don't yet feel as big as a whale or like you need a nap just from vacuuming the stairs). I can tell that these days are numbered for me (I am definitely starting to feel big!), but I'm trying to make hay while the sun shines. 🙂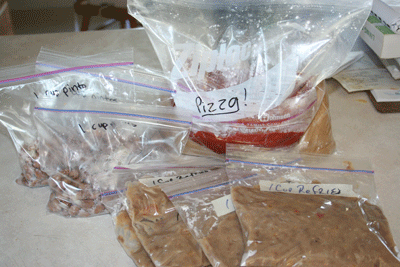 Last Friday, my Mom was visiting from out of town, and we took advantage of the time to do some cooking for when baby comes! Here's my list of what I want to have put away in the freezer by the time I hit 37 weeks:
Pizza dough and sauce x 2- DONE
Lasagna x 1 DONE
Triple batch of soaked tortillas (about 3 dozen)- DONE
Bierocks x 1 DONE
Cheesy Beef and Rice x 2- DONE
Batch of refried beans, in 1 cup portions- DONE
Marinated steaks for the BBQ x 3- DONE
Tomato Sauce x 4- DONE
Meatballs x 2- DONE
Burger Patties with feta and spinach x 2- DONE
Chicken Apple Sausages x 2- DONE
Quinoa Stuffing (to go in fresh tomatoes or peppers) x 2- DONE
Sweet Potato Burritos x 2 (I haven't tried these, but they sound amazing!)- DONE (and yes, they're amazing!)
Lots of bags of cooked beans (black, pinto, kidney, chickpea)- DONE
3 quick breads (zucchini, pumpkin or banana)- 2 loaves DONE (good enough)
2 dozen muffins- DONE
6 loaves sourdough bread DONE
1 bag cookies or bars
Plus, a big bag of lentil vegetable soup that I added in because I made so much- DONE
**Update: As of 37+ weeks, everything is completed except for a third loaf of quick bread, and some kind of cookies or bars. I'm not too concerned about it, and I'll do those final items if I have the time and inclination. But for all intents and purposes, I am considering the after-baby food stash done! 🙂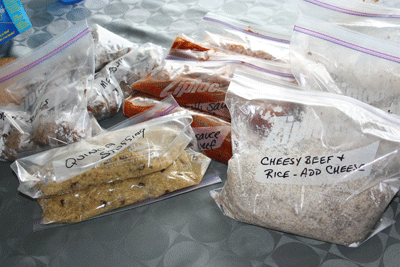 Not only was I able to get a jump start earlier last week, but we had a very productive day on Friday! It feels so good to already have so many of these items checked off as I enter 3rd trimester!
In addition to stocking my freezer, I've also been working hard to get my garden all planted up. I just tilled the cucumber patch the other day and it is ready for seeds, as is the zucchini patch. All that's left to till is the corn patch. Once those three are planted, my garden is entirely planted, and all that is left to do is care for my hot weather seedlings indoors (tomatoes, peppers, watermelons) until some of my early spring crops are finished (ie. peas, turnips, radishes, etc.) and I have some garden space available for them.
Another area I'm working on is Spring Cleaning! I've been attempting to follow along with Simple Mom's party, last week and this week, but there have been too many other things in my schedule to allow me to actually do it on schedule. It will likely still take me the rest of this week, plus all of next week, to get it finished up, but I'll just be happy to have it done, slower pace or not.
One of these days, I'll post up a proper list of my "Before Baby To-Do's", so that you can see the things I'm working on (you can see my initial list here). I'm realizing that 12 weeks (give or take) really isn't very long, and so I am moving into high gear with my list, especially before I run out of energy!
Baby is constantly moving around these days, which is such a joy, even when it keeps me up at night. 🙂 Abbie is constantly asking me whether baby is moving, so that she can feel, and I love her growing excitement about her new brother or sister. Caden has even begun to understand what's happening a bit more and offers the baby lots of kisses, although when we ask him where the baby is, he often still points to himself and says "baby!". I'm afraid he's going to be a bit surprised come August!
Overall, I'm still feeling really well. Even though I feel bigger this third time around, my midwife says I'm
still measuring right where I should be, so that's a good thing. The aches and pains are there, of course, but they're manageable and so worthwhile. The sciatica has so far not been as bad as my last two pregnancies, and for that, I am grateful! Maybe it's all that gardening! 🙂 I would appreciate any tips you that any of you ladies have for aching hips at night, though, as that is proving to be more of a discomfort this time than it has been with my last two babies.
I've also been more tired than usual the last couple of weeks, and discovered why at my midwives today. I had this inkling that my iron was low, despite the fact that I had been supplementing up until just before the blood test I took last month. She confirmed that my iron stores are definitely low, so I'm going back on my favorite iron supplement, and will also be working to get enough iron in my diet through a bit of organic liver, other red meat, molasses, leafy greens, liquid chlorophyll, etc.
Mostly, I am just growing more and more eager to meet this little one, as his or her imminent arrival becomes more of a reality all the time! Our talk of names has increased lately, and it will be interesting to see what name this baby is given. Though we've always chosen names primarily for their meanings (but also because we liked them), this time my husband has some different ideas. He would love to find a boy's name in honor of a godly man in history, and a girl's name reflecting a godly virtue. We have some ideas already, but I'd love to hear any that those ideas spark in you!
Have any name suggestions? Your own pregnancy updates? Please share! 🙂